Facebook

Benefits of Tandem Club Membership
Join Our Club
27/07/2020
The TandemClub server has had a major update to its Linux OS and systems. Please contact us if you see or have any problems with the system. webgroup@tandem-club.org.uk.
04/07/2020
The 48th Annual General Meeting of the Tandem Club was scheduled to take place on Saturday 11 April 2020 at the Easter rally. The Agenda was published in the Tandem Club Journal (vol 288). We said in the TCJ (vol 289) that the 2020 AGM was postponed indefinitely, but of course we don't know if and when we will be able to hold an AGM in 2020. It may be that we cannot meet together until 2021. In these exceptional circumstances the business usually transacted at the AGM has had to be done elsewhere:
Club Accounts – the accounts for the year ended 31 October 2019 were published in the April/May Tandem Club Journal (vol 289). The Treasurer has received no comments or queries from members on the accounts.
Membership fees - As stated in the April/May Tandem Club Journal (vol 289) the annual subscription has been raised from £10 per year to £15 per year.
Election of Officers – Club Officers are elected at the AGM. Committee members and ex-offico officers have been assumed to continue in role unless they have indicated otherwise. Barry Wilson has served as Chairman since 2015 and has been on the committee since 2011. He had indicated a wish to stand down. Further information about this is given below. Janet Wilson has been on the committee since 2011 and has stood down as an Ordinary Member. If anyone is interested in joining the committee as an ordinary member please contact the Secretary. Our thanks go to Barry and Janet for serving the Club diligently over this period.
04/07/2020
Barry Wilson wished to stand down at the AGM so the Committee considered how to deal with this in the absence of an AGM. The outcome was that Peter Weeks, Club Publicity Officer, was willing to stand as Tandem Club Chairman. On 26 April 2020 the Secretary contacted the Committee and Regional Officers to conduct an election.
Nomination of Peter Weeks as Tandem Club Chairman
Proposed by Pauline Fox, Club Secretary
Seconded by Eifion Francis, a former Club Chairman and who, with his partner Jill, is a Regional Officer and oversees the Club's Talking Journal service.
49 individuals (TC Committee members and Regional Officers) invited to vote in lieu of the AGM
2 abstentions, the current Chairman, Barry Wilson and one Ordinary Member, Janet Wilson.
29 votes received, all were in favour of Peter Weeks being the Chairman of the Tandem Club.
No other votes, objections or comments received.
Peter Weeks was therefore elected as Tandem Club Chairman with effect from 1 May 2020. This will be subject to formal discussion and election by members at the next Annual General Meeting.
Our congratulations and thanks go to Peter as he takes up the role of Chairman. He has also, fortunately, agreed to continue as the Club's Publicity Officer for the time being.
27/05/2020
On page 4 of the April/May Tandem Club Journal (Vol. 288) there is a notice regarding the increase of the subscription rate. Please remember to change your Standing Order before your next renewal date. The club is unable to do this for you.
If you are unable to do this via on-line banking and need a paper form please contact the treasurer.
Tony Prichard (Joint Treasurer)
25/04/2020
Due to the COVID-19 outbreak, the National rally 2020 in Corsham has been postponed. This will now take place in 2021 as the 50th National rally. We have sent an email to everyone who has booked onto the rally to let you know your options. Please let us know if you haven't received this.
The rally website is available for information Tandem 2020 National Rally in Corsham
03/08/2020
Very helpful Chris. I've been hoping someone would report an actual loading since the new policy for Azuma was posted by LNER (as shown and linked in our Tandems on trains page). Did you use a strap to hold the front up? We used an Arno strap when we loaded our Thorn into the mock up carriage in win
... more
02/08/2020
Thanks so much John and Brian - very helpful. I'll check out the suggestions!
01/08/2020
Thanks to the Tandem Club for quickly providing an answer to our request - we're now the proud new owners of an Orange Thorn Raven. Thanks also to Cliff and wife for passing it down to us.
28/07/2020
Hi Spencer, i saw this old post and i have just put my longstaff tandem on for sale section if you are interested - it should fit you both well. i anticipate you are probably sorted but then again it is a rare beast you are after!
04/06/2020
Just a reminder to everyone in the LA Group, our rides are still suspended until further notice. Please continue to send me your photos from your lockdown rides. Thanks for all the photos I've received so far. Email stephen.webb001@gmail.com
31/07/2020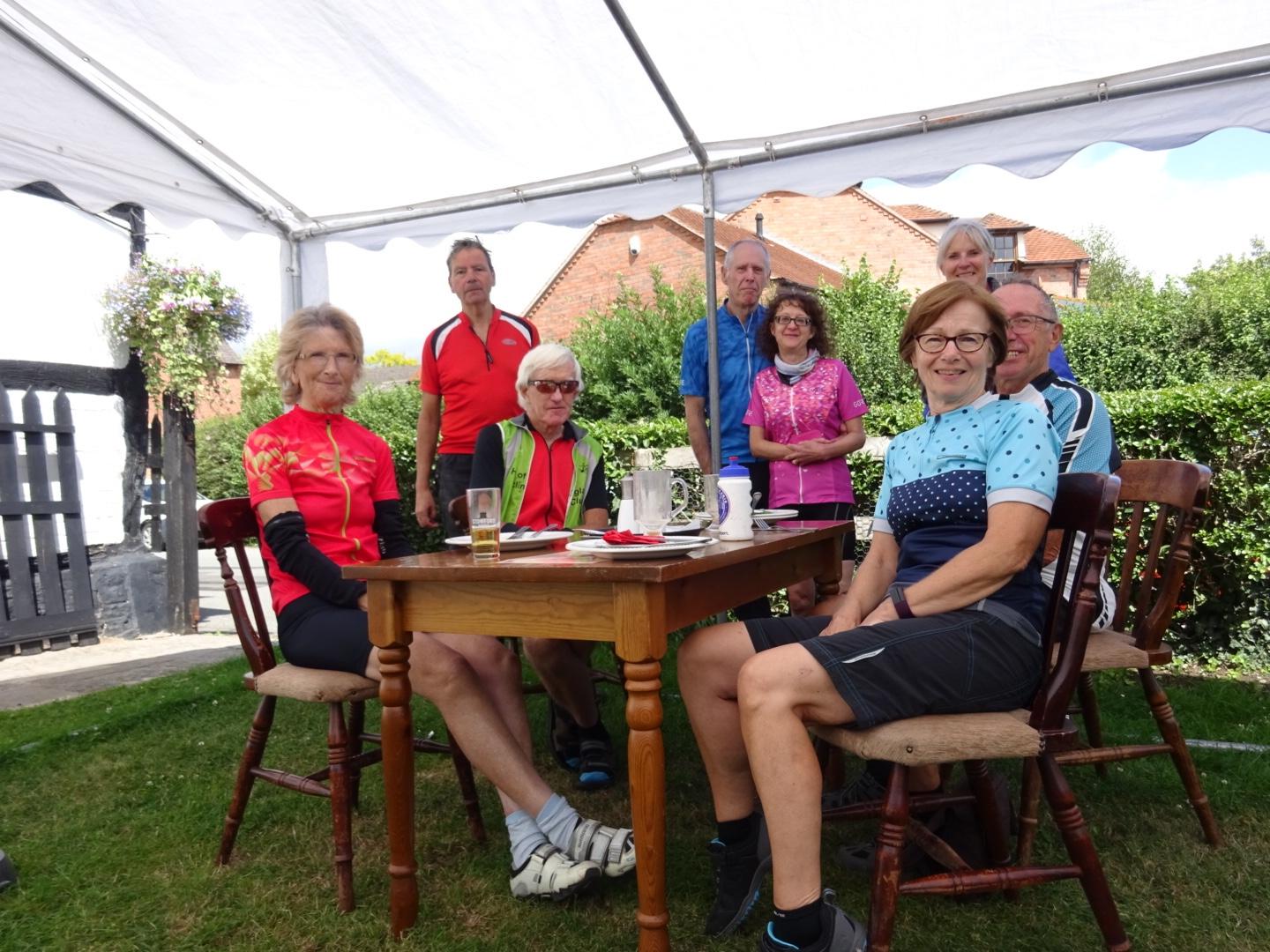 On July 26th 4 tandem crews had a 32 mile pootle through some Worcestershire lanes, lunch was taken at The Galton Arms in Himbleton.
06/06/2020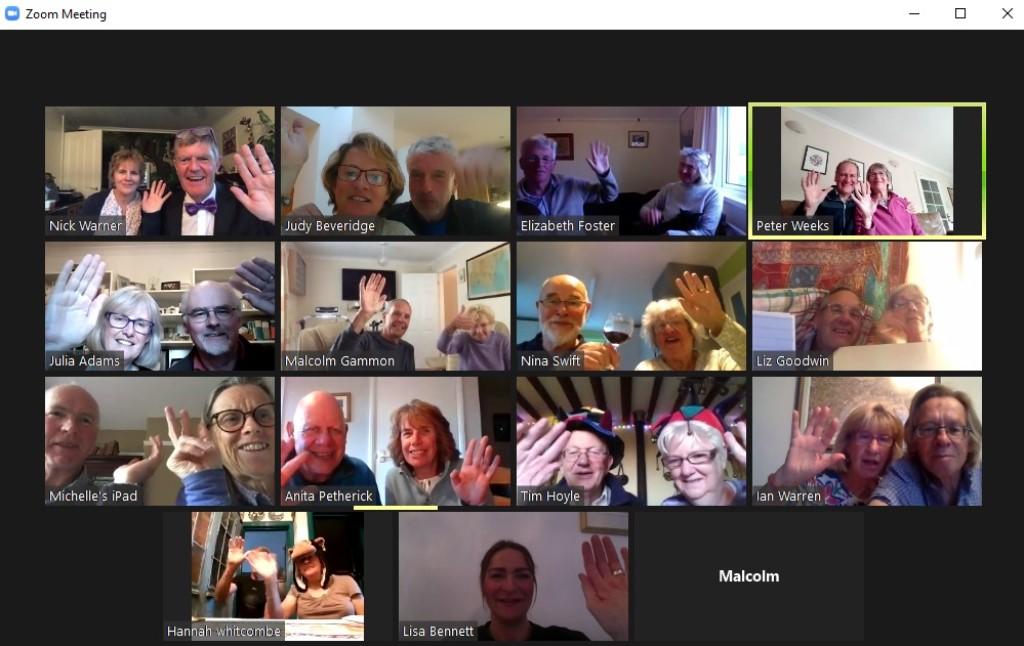 The second Taunton group quiz was very well supported. Nick and Rachel hosted the Zoom event and 14 tandems took part. There were seven rounds of (very hard) questions but the most popular was Malcolm and Grace's Generation Game. Twenty topical items were briefly shown including hand sanitizer, toilet roll, flour, pasta and as a nod to the past, a cuddly toy! We then had 45 seconds to write down all the items with the Generation Game theme tune playing in the background.
It was good to see everyone again and another evening is planned with a slight change of format.
05/07/2020
Just a reminder to everyone in the LA Group, our July ride will not be going ahead but I don't think it will be long before we can get together for LA Group rides again. Please continue to send me your photos from your lockdown rides. Thanks for all the photos I've received so far. Email stephen.webb001@gmail.com