Tandeming with a disability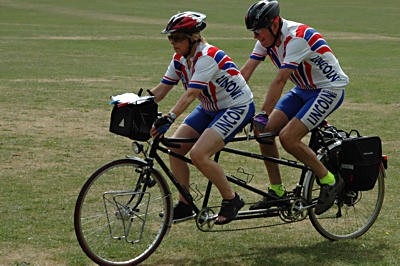 The Tandem Club has a Disabilities Liaison Officer who may be able to help with queries related to disabled people and to visually impaired cyclists.

The Club does not have facilities to offer tandems for loan but see below for organisations with this facility. People with disabilities are welcome as members and to participate in Club activities.

You may find 'Doing Sport Differently' helpful.

Contact: - Mark Noble - telephone: 01732 848432: e-mail: disabilities@tandem-club.org.uk
---
Talking Journal

For visually impaired members, the Tandem Club produces its bi-monthly journal as a Talking Journal, available on CD and also as an MP3 file which can be accessed directly from the Club's website, or downloaded to the device of your choice, including BWB devices.

Contact: - Eifion & Jill Francis
email: talking-journal@tandem-club.org.uk
---
Time Trialling with the CTT

Alan has negotiated with the CTT (Cycling Time Trials) on behalf of disabled stokers that the disabled person may apply for a dispensation to ride in solo events on a tandem, provided the field is not full and this dispensation applies (in his case) to his own county and the adjoining counties. The reason for this is that if a person wishes to time trial often there may not be many events for tandems in a person's own area.

Anyone interested should either contact Alan or contact the competitions secretary of the CTT as each person will need to apply for their own dispensation direct to the CTT. To find contact details for the CTT secretary, look at the CTT website, at the following address: - https://www.cyclingtimetrials.org.uk/
---
The organisations below offer various combinations of tandems and captains (steerpersons).
---
Facebook
There is a Facebook Group offering to match pilots and stokers. The Tandem Club offers this link for information only and does not endorse it. Tandem Pilot & Stoker Matching Service
---
Manchester Velodrome

For the more adventurous, how about trying lapping around the Manchester Velodrome?

Under Sport For All, British Cycling will provide a steersperson and a track tandem free of charge to disabled riders. I have tried it and it's quite an experience!

Contact: - Paul West, Disability Cycling Coordinator, Access for All, Manchester Velodrome, National Cycling Centre, Stewart Street, Manchester, M11 4DQ
---
Life Cycle UK - Two's Company

Life Cycle UK is a charity that helps people take up cycling by equipping them with the skills, the knowledge and the confidence to make cycling part of their everyday lives. Their Two'sCompany initiative is aimed at helping visually impaired people to ride on tandems with a sighted captain.

To find out more, have a look at their web site: -

https://www.lifecycleuk.org.uk/tandem-rides

For more information, contact them via the link on their website.
---
Bury Tandem Club for Blind and Partially Sighted People
A friendly club and charity of about 30 people who enjoy cycling. All of our rear riders, called stokers, have a visual impairment and range from very experienced club cyclists who have lost their sight to younger people who have discovered the joys of cycling through the club.
Website: www.bury-tandem-club.org
---

Charlotte's Tandems have a lots tandems located all around the country.
These are available on free loan to stokers with a disability or additional need, so that they can cycle wherever, with whomever and whenever they like.
If you would like to borrow one then please contact Alex via their website
Open to stokers with any disability: visual, learning, physical, whatever and of any age.
Charlotte's Tandems Web site - Charlotte's Tandems on Facebook
---
Coventry VISTA
Coventry Visually Impaired and Sighted Tandem Association (Coventry VISTA, for short) is located in the Earlsdon district of Coventry.
Our aim is to enable the Visually Impaired to discover and enjoy the pleasures of cycling. We promote and encourage Tandem Bicycle riding for both leisure and competitive interests.

For more information see https://sites.google.com/site/coventryvista/home
---
Wheels for Wellbeing Supporting disabled people to cycle in London.

For more information see the Wheels for Wellbeing website.
---
If you are not sure about getting into sport with a disability then see below.
---
British Cycling has a useful 'Guide to Paracycling' explaining the various classifications and competitions.
---
RADAR the disability rights people; Doing Sport Differently

Doing Sport Differently is a guide written by and for people with lived experience of disability or health conditions. It covers the benefits of sport and fitness and how people with disabilities can get involved whether playing, watching or coaching. Its not just for the next Baroness Tanni Grey-Thompson, but for everyone!
Please see the following link to download the free PDF: Doing Sport Differently
---
Vision of Adventures offers tandeming courses
---
Tandem Trekkers is a West Yorkshire based tandem cycling club for blind and visually impaired riders.
---
Wheels for Wellbeing exists to enhance disabled people's lives by ensuring that anyone can access the physical, emotional, practical and social benefits of cycling.
---
Open Country helping people with disabilities to access and enjoy the countryside. They include tandeming.
---