Facebook

Benefits of Tandem Club Membership
About Our Club
16/10/2019
We are always looking for ways to raise awareness among potential new members who don't know there is a Tandem Club.
In the latest copy of the TCJ are 5 Club stickers in a white envelope. Please put these on your tandem (on all your tandems if you have more than one). People admiring your tandem out on the road are sure to spot them and ask about the Club. This is your chance to tell them about what we do and get them interested.
If you need more stickers please get in touch.
Thank you for helping to raise awareness of the Tandem Club amongst potential new members.
Peter Weeks Publicity Officer
17/11/2018
We have been working on making the website more mobile phone friendly. Its not complete yet, but hopefully most pages should display better on these devices.
01/03/2018
You can now get an email sent to you with a link to the journal in audio MP3 form sent to you once Eifion has done his magic. Email
webgroup@tandem-club.org.uk
to set this up for you or you can set it up the next time you renew, there is a checkbox on the membership form.
15/12/2017
The rally is being held in Bensheim, a small town in the south of Hessen, about 30k north of Heidelberg.The dates are 9/5/18-13/5/18. Arrival on the 9th and departure on the 13th with rides on the 10th, 11th and 12th. Participants can choose a long ride (80-100k), medium 60-80k or short 40-60k) The base is at the
Allee Hotel
:-
alleehotel@alleehotel.de
A double Europa room costs €540 for 4 nights inclusive of breakfast and the evening meal. Bookings are to be made direct to the hotel quoting Tandemtreffen 2018 The rally is being organised by Reiner and Marion Bünger and their email is :-
TT2018@fam-buenger.d
e The German rallies are very social affairs and we thoroughly enjoyed last years, we have already booked for this one.
E-mail Jane Taylor for more information
.
18/10/2019
We are looking to purchase a Circe Helios that we can carry on our VW campervan. What hav3 you? The Thorn we have is too large and awkward to carry despite the S&S couplings.
01/10/2019
I have disabled the website account named Christopher Tyler. Christopher Tyler if you are a legit person please contact us to get your account re-enabled.
17/10/2019
I lift our tandem up by myself but it is onto the roof of a normal height car. Strap the front wheel to the frame first. Hold a strap between my teeth. Open the drivers door. Grab the tandem by the frame and lift it off the ground to chest height. That's high enough for me to angle the tandem to
... more
17/10/2019
I just wanted to warn Sellers in particular about an approach I recieved last night for my tandem which is on sale on this site. After an initial enquiry I received the following from preboisp482@gmail.com. "Hello, I am okay with the Terms and Condition of sale as seen on the advert including Your F
... more
25/06/2019
Please note the date for the August group ride has changed from the 11th to Sunday 4th of August due to a clash of dates
06/09/2019
Due to road closures in Stafford on 15th September the ride will now start from Market Drayton. Full details in the whats on section.
21/05/2019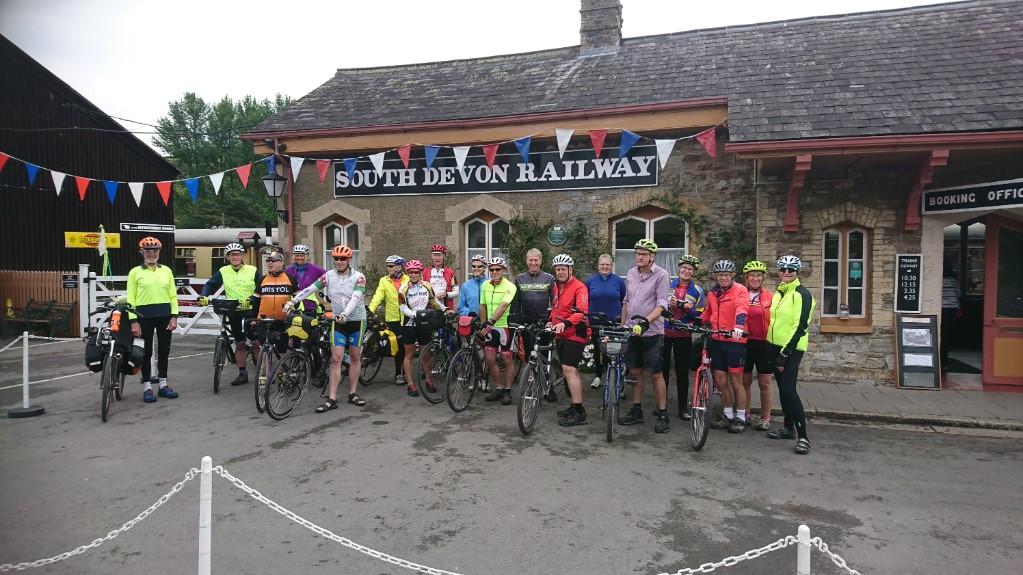 When I first learned of the Dartmoor Way I decided it was a ride I'd like to complete. When I asked at our Christmas meal if anyone would like to join us, I was surprised and overwhelmed at the response.
After looking at the Sustrans route I soon realised that some alterations would be needed to make it Tandem friendly, after all we weren't going to be riding mountain bikes!
So, on the 18th May 10 Tandems and 3 solo bikes left Buckfastleigh station for the first stage of our 2 day ride, the weather was better than anticipated, so that was a bonus. After riding up through the Teign Valley we had a pleasant lunch at the Teign House Inn and then a further stop at Whiddon Down. After climbing up through the extremely picturesque villages at Skaigh and Belstone we joined the Granite way at Okehampton Station for the final leg to Lydford.
We all enjoyed an evening meal together at the Castle Inn where Karl and Lisa set us a quiz.
On Sunday we headed off to the west side of the moor and enjoyed fantastic views and bright sunshine. We had a longer than anticipated lunch stop at Clearbrook due to staffing problems. We then tackled the challenging climbs around the south side of the moor before we found ourselves back at Buckfastleigh.
I'm pleased to report that we all made it back and I think we all felt a great sense of achievement, after riding over 90 miles with just over 8,500 feet of ascent.
Thanks for your help Karl and Lisa and thanks to all of you that joined us on the ride, it really wouldn't have been the same without you.
Andy and Anita.

03/07/2019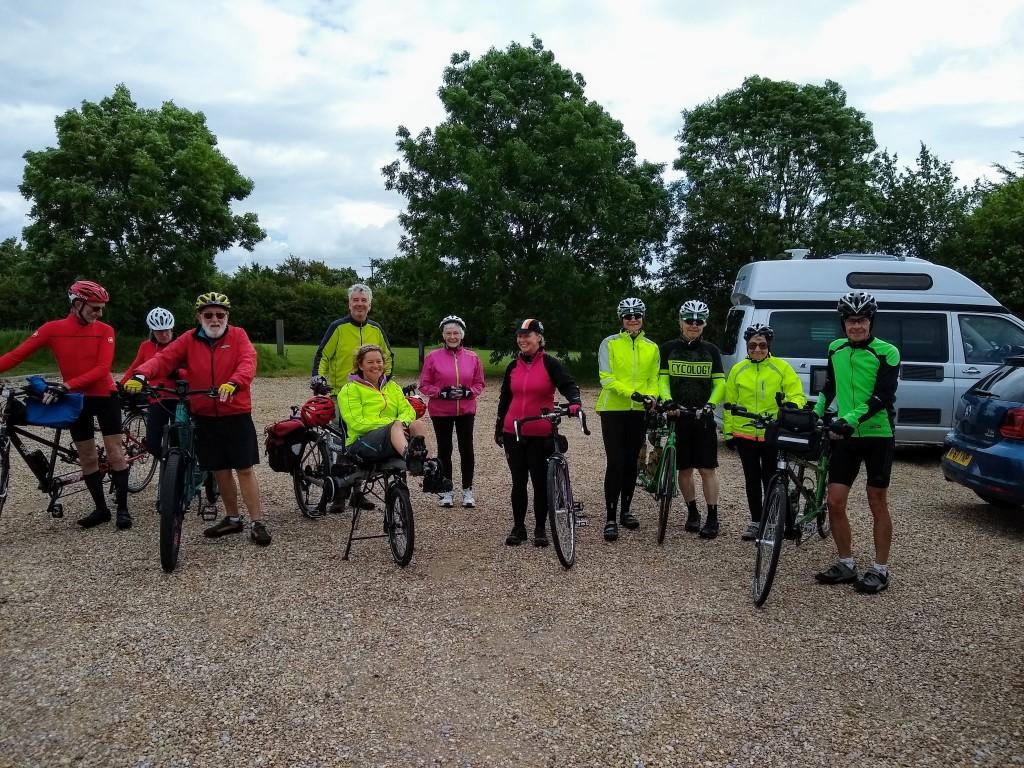 Len and Gill Hampson organised their first ride for the group in June which started and finished at the Lime Kiln Inn near Long Sutton.The route wound around the quiet lanes of South Somerset taking the group through beautiful countryside and pretty villages. There was a stop half way round at Hambridge village green where the riders were treated to homemade cake provided by the organisers. The riders then returned to the Lime Kiln Inn for Sunday lunch, drinks and general socializing.