Facebook

Benefits of Tandem Club Membership
About Our Club
16/01/2020
The Tandem National Rally will be held in Corsham, Wiltshire from Saturday 23th May - Saturday 30th May 2020. The rally website is now available for information and bookings are open ! Tandem 2020 National Rally in Corsham
29/10/2019
Bookings can be made for the 2020 Easter Rally, which is being held at Greenhill Leisure Park, Bletchingdon, just north of Oxford.
Please book early to be sure of securing a pitch on the campsite here.
16/10/2019
We are always looking for ways to raise awareness among potential new members who don't know there is a Tandem Club.
In the latest copy of the TCJ are 5 Club stickers in a white envelope. Please put these on your tandem (on all your tandems if you have more than one). People admiring your tandem out on the road are sure to spot them and ask about the Club. This is your chance to tell them about what we do and get them interested.
If you need more stickers please get in touch.
Thank you for helping to raise awareness of the Tandem Club amongst potential new members.
Peter Weeks Publicity Officer
17/11/2018
We have been working on making the website more mobile phone friendly. Its not complete yet, but hopefully most pages should display better on these devices.
19/01/2020
Getting to and from Munich airport was quite easy too. There is a cycle path to and from the airport that joins the Isar Radweg to Munich and we had no problem taking the tandem on the local train back to the airport early in the morning.
15/01/2020
Getting a bit worried about insurance here, though I am sure you have that in hand. Maybe just a demo by a tandem would suffice for the children to watch and ask questions?
02/01/2020
After the ITR 2020 in France Carl & Julie Mattson are riding to Bordeaux, staying two nights then going by train to Nantes. We will then ride the Atlantic Route 1 to the Spanish Boarder for 18 days. This is a self supported ride, 40-50km per day, no long range reservations, eat when we are hungary,
... more
22/12/2019
Recently we bought - on a whim - a couple of Livall smart helmets in Lidl. They have many innovative features and it needs some practice to optimise for your riding styles. For communications there are built in speakers and microphone and via an app, riders can join a "group" and communicate with ev
... more
13/01/2020
Tandem Club Runs List for LA, PR and FY postcode areas 2020
RO Stephen Webb Mobile 07940 372433 Landline 01539 729660 email stephen.webb001@gmail.com
Date

Start

Time

Coffee

Lunch

Miles

Leaders

9th February

Kendal College

Milnthorpe Rd, Kendal LA9 5AY

9.15am for 9.30am

Beetham Old Post Office

Carnforth

36

Stephen and Jeanette Webb 07940 372433

8th March

Carnforth

Meet at Railway Station

Market Street LA5 9ET

9.15am for 9.30am

Woodies,

Crook 'O' Lune Picnic Site

Ashton Hall Garden Centre

30

Paul & Jeannette Rodman 07768 647745

5th April Note : First Sunday in April

Across the Ferry to Wray Castle Start Kendal College

LA9 5AY

9.15 for 9.30am

Cafe Ambio, Ings

Wray Castle NT property

42

Stephen and Jeanette Webb 07940 372433

10th May

Great Eccleston Square, post code PR3 0ZB

9.15am for 9.30am

Light Ash Myerscough

Scorton

35m

John & Anne Hall

01253 592136

14th June

Padiham leisure centre, Park Rd, Padiham Lancashire. BB12 8ED

9.15am for 9.30am

Café by the River, Read garden centre

The Old Stables, Towneley Hall.

36

Malcolm & Gillian Noon

07805 078360

12th July

Waddington Fell Start Scorton Picnic Area

PR3 1BU

9.15 for 9.30am

Puddleducks, Dunsop Bridge

Waddington

44

Simon & Hayley Brown 07757 203423

9th August

A Circuit of the Howgills Start Sedbergh

9.15 for 9.30am

Orton Scar Cafe or Chocolate House

Ravenstonedale

44

Mike & Helen Nott

015242 61566

13th September

The Eden Valley Start Crosby Ravensworth

9.15 for 9.30am

Mrs Millers, Culgaith

Upfront Gallery and Coffee Shop, Unthank

45

Paul & Jeannette Rodman 07768 647745

11th October

Sunderland Point Lancaster Park & Ride at M6 J34

9.15 for 9.30am

RSPB Reserve Leighton Moss

Heysham

38

Simon & Hayley Brown 07757 203423

8th November

Beetham Nurseries, Pool Darkin Lane, LA7 7AP

TBC

Start with a coffee at Beetham

J

Grange Over Sands

30 - 35

Mike & Helen Nott

015242 61566

13th December

Club Dinner – The Crooklands Hotel

12:30 for 1:00pm

Where would you like to go in 2021? Please bring along ideas for rides J

Potential pre-lunch ride. TBC.

10th January 2021

January ride to finalise 2021 rides.

Start : Hornby

10:00 am for ride, 1:00pm at the Cafe

Ingleton (TBC)

Bridge House at Wray 1pm to 2pm

Short ride back to Hornby after lunch

21

Stephen and Jeanette Webb 07940 372433

14th February 2021

Kirkby Lonsdale and The Arnside & Silverdale AONB Start : Carnforth

9.15 for 9.30am

Kirkby Lonsdale

Arnside

32

John and Janice Cowburn 07518 656919

14th March 2021

Kirkby Stephen and Brough Castle

Start : Crosby Ravensworth

9.15 for 9.30am

Kirkby Stephen

Brough Castle

40

Stephen and Jeanette Webb 07940 372433
30/12/2019
What will the "T Shirts look like ( front and back )
01/01/2020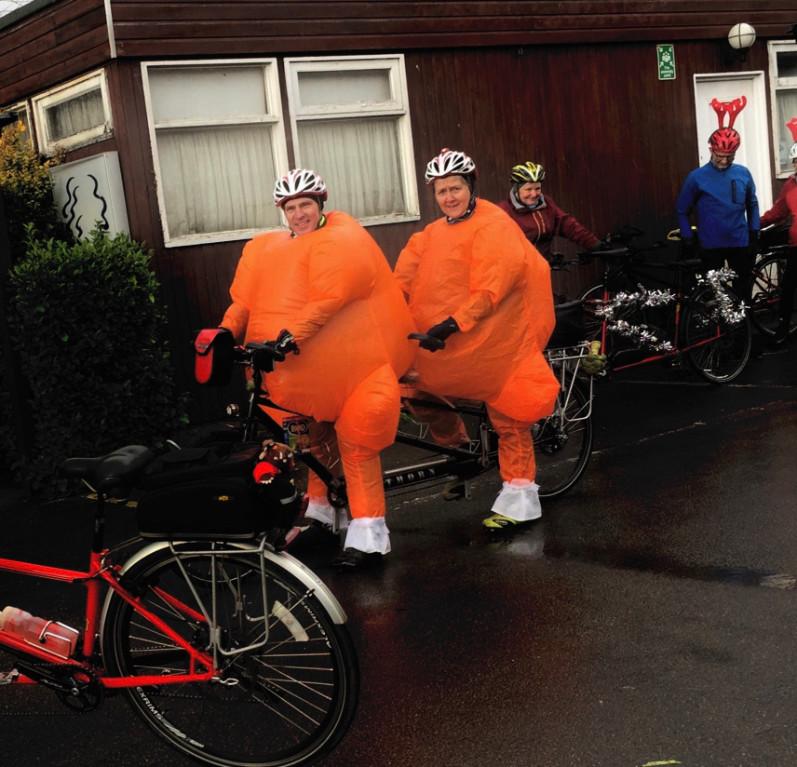 The Taunton group met at the Walnut Tree at North Petherton for their Christmas Meal and ride – a record number of 40 people attended the meal.
The fancy dress/decorated tandem competition is always amazing. Rob and Sally stole the show dressed as oven ready turkeys. They cycled the 18 mile route and must've roasted! Other costumes included Christmas trees with flashing lights, reindeers, and of course Santa himself.
Coffee and biscuits is a great way to start then Ian led the ride with daughter-in-law Sarah as his stoker to provide much needed pedal power - Lisa had just had a replacement shoulder operation and will be back in action later in the year. Heavy rain delayed the start but fortunately the sun came out as 14 tandems and 2 solos cycled to North Newton. We then continued across the levels and up the 'steep' hill into North Curry where we re-grouped. From there we made our way to Burrowbridge and then alongside a very high River Parrett up to Huntworth and back to North Petherton. A lovely ride with lots of friendly chatting and numerous comments from those watching us pass by. Thanks must go to Richard and Michelle for keeping the group together.
The Christmas Meal was as good as always and it's lovely to see so many people attend. The trophy for the most rides done in the year was awarded to Nick and Rachel who rode 9 out of the 11 rides in 2019, including the successful 100 mile Tour de Dartmoor weekend organised by Andy and Anita with help from Karl and Lisa. The Christmas quiz was won by Tim and Mary and Ian and Lisa were presented with gifts in appreciation of their work as Regional Officers.
30/12/2019
After Salviac, France "ITR 2020". My wife and I from the United States are riding to Bordeaux for a couple of days. Then by train up to Nantes and then riding along the Atlantic Velo Route 1 to the Spanish Boarder. We are planning to ride 50 k per day. That should give us time to enjoy the towns and country side. This is a Self Supported Ride. Come and Join along with us for any amount of days.