Facebook

Benefits of Tandem Club Membership
About Our Club
22/05/2019
We have finished preparing the joining instructions, programme and routes for this year's National Rally.
A link to the webpage has been emailed to those booked on the rally. If you have not received the email, please contact the organisers using email address: tcn2019@tandem-club.org.uk
27/12/2018
Details of the location and camp site for the 2019 International Rally are now available.
STOP PRESS: BOOKINGS ARE NOW OPEN.
17/11/2018
We have been working on making the website more mobile phone friendly. Its not complete yet, but hopefully most pages should display better on these devices.
01/03/2018
You can now get an email sent to you with a link to the journal in audio MP3 form sent to you once Eifion has done his magic. Email
webgroup@tandem-club.org.uk
to set this up for you or you can set it up the next time you renew, there is a checkbox on the membership form.
15/12/2017
The rally is being held in Bensheim, a small town in the south of Hessen, about 30k north of Heidelberg.The dates are 9/5/18-13/5/18. Arrival on the 9th and departure on the 13th with rides on the 10th, 11th and 12th. Participants can choose a long ride (80-100k), medium 60-80k or short 40-60k) The base is at the
Allee Hotel
:-
alleehotel@alleehotel.de
A double Europa room costs €540 for 4 nights inclusive of breakfast and the evening meal. Bookings are to be made direct to the hotel quoting Tandemtreffen 2018 The rally is being organised by Reiner and Marion Bünger and their email is :-
TT2018@fam-buenger.d
e The German rallies are very social affairs and we thoroughly enjoyed last years, we have already booked for this one.
E-mail Jane Taylor for more information
.
03/06/2019
This suspension stem gets a reasonable review in the CTC mag (june/july 2019). Quite a lot of money at £150. I could do with some suspension up front. Has anyone tried this stem on a tandem?
27/05/2019
On a slightly different tack, the mid drive motor is best fitted to the rear bottom bracket.
Fitting the Bafang to the front eccentric is not possible due to insufficient clearance.
The main disadvantage with fitting
26/05/2019
Rear Wheel to a 10 years old Dawes Galaxy, 48 holes with disc now in workshop. If I need to change a new wheel, which I hope I don´t need to.
Is there a lot of difference between 40 holes and 48 holes? Bes
23/04/2019
Note the ride on Sunday 28th will have coffee in Marshfield rather than Castle Coombe.
21/05/2019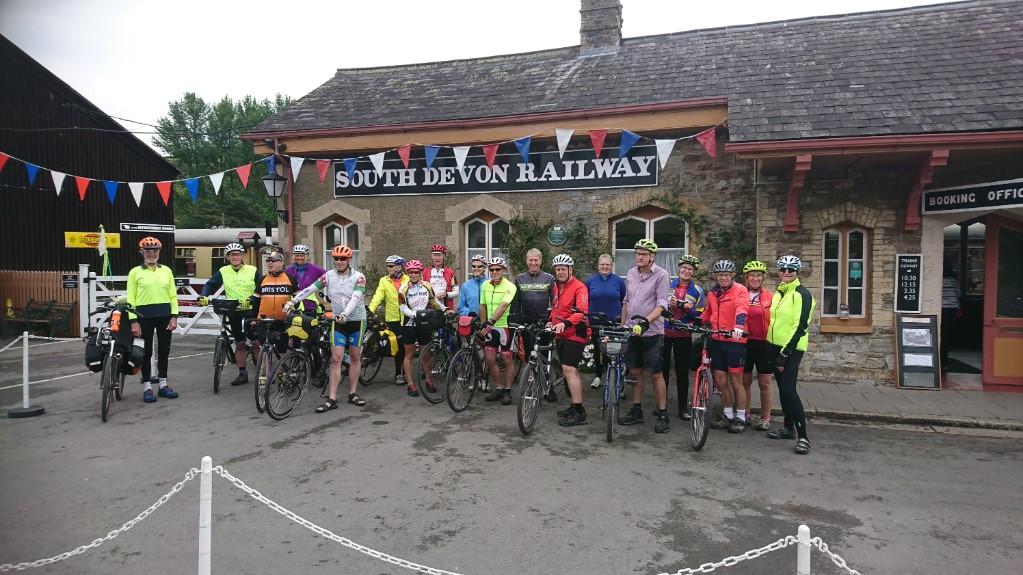 When I first learned of the Dartmoor Way I decided it was a ride I'd like to complete. When I asked at our Christmas meal if anyone would like to join us, I was surprised and overwhelmed at the response.
After looking at the Sustrans route I soon realised that some alterations would be needed to make it Tandem friendly, after all we weren't going to be riding mountain bikes!
So, on the 18th May 10 Tandems and 3 solo bikes left Buckfastleigh station for the first stage of our 2 day ride, the weather was better than anticipated, so that was a bonus. After riding up through the Teign Valley we had a pleasant lunch at the Teign House Inn and then a further stop at Whiddon Down. After climbing up through the extremely picturesque villages at Skaigh and Belstone we joined the Granite way at Okehampton Station for the final leg to Lydford.
We all enjoyed an evening meal together at the Castle Inn where Karl and Lisa set us a quiz.
On Sunday we headed off to the west side of the moor and enjoyed fantastic views and bright sunshine. We had a longer than anticipated lunch stop at Clearbrook due to staffing problems. We then tackled the challenging climbs around the south side of the moor before we found ourselves back at Buckfastleigh.
I'm pleased to report that we all made it back and I think we all felt a great sense of achievement, after riding over 90 miles with just over 8,500 feet of ascent.
Thanks for your help Karl and Lisa and thanks to all of you that joined us on the ride, it really wouldn't have been the same without you.
Andy and Anita.

21/02/2019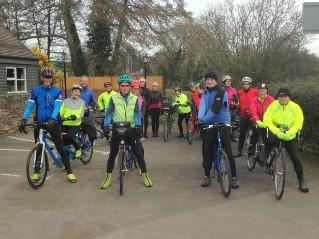 Richard and Michelle organised the February ride for the Taunton Group. The route that was planned took into account that it would probably be cold and icy or wet and miserable. It was in fact a perfect spring like day. The skylarks were singing and there were snowdrops in abundance.
11 tandems left Hestercombe and set off on a route that circumnavigated part of Taunton. We were pleased to have Neil and Bridget from the West Country group join us although trying to keep up with them up the few hills was difficult! Trish and Paul left us near Trull and the remaining 10 tandems headed to the Cross Keys Pub for lunch. Finding a venue suitable for large numbers is becoming increasingly difficult but they put us in the Conservatory which we had to ourselves – perfect!
The ride back to Hestercombe was short - just as well after all the roast dinners that had been consumed!
It was good to see Grace back on the bike after an enforced rest from cycling and to catch up with tandem friends