Facebook

Benefits of Tandem Club Membership
About Our Club
29/10/2019
Bookings can be made for the 2020 Easter Rally, which is being held at Greenhill Leisure Park, Bletchingdon, just north of Oxford.
Please book early to be sure of securing a pitch on the campsite here.
26/10/2019
The Tandem National Rally will be held in Corsham, Wiltshire from Saturday 23th May - Saturday 30th May 2020. More info to follow.
16/10/2019
We are always looking for ways to raise awareness among potential new members who don't know there is a Tandem Club.
In the latest copy of the TCJ are 5 Club stickers in a white envelope. Please put these on your tandem (on all your tandems if you have more than one). People admiring your tandem out on the road are sure to spot them and ask about the Club. This is your chance to tell them about what we do and get them interested.
If you need more stickers please get in touch.
Thank you for helping to raise awareness of the Tandem Club amongst potential new members.
Peter Weeks Publicity Officer
17/11/2018
We have been working on making the website more mobile phone friendly. Its not complete yet, but hopefully most pages should display better on these devices.
22/11/2019
Depending upon the make of the hearing aids you might be able to use an iPhone as a remote microphone connected to the hearing aids by bluetooth. This would work for my Oticon aids. For some aids you can also get a multipurpose device that connects to the hearing aids via bluetooth or magnetic loop
... more
20/11/2019
Thank you for letting us know- thought it was a very long shot!
20/11/2019
Hello Tandem Clubbers. We're looking for a Circe Helios or similar for our family. After a 178 mile trip this summer with our 6 year old hitched up to his dad with a follow me Tandem and our 2 year old in a trailer pulled by mum, we need to move on to a tandem solution! Thank you for reading thi
... more
15/11/2019
S&S machine in the USA makes the hard side travel cases for your Tandems that have 26" wheels. 26X26X8" travels as a regular case without any extra charges.
20/11/2019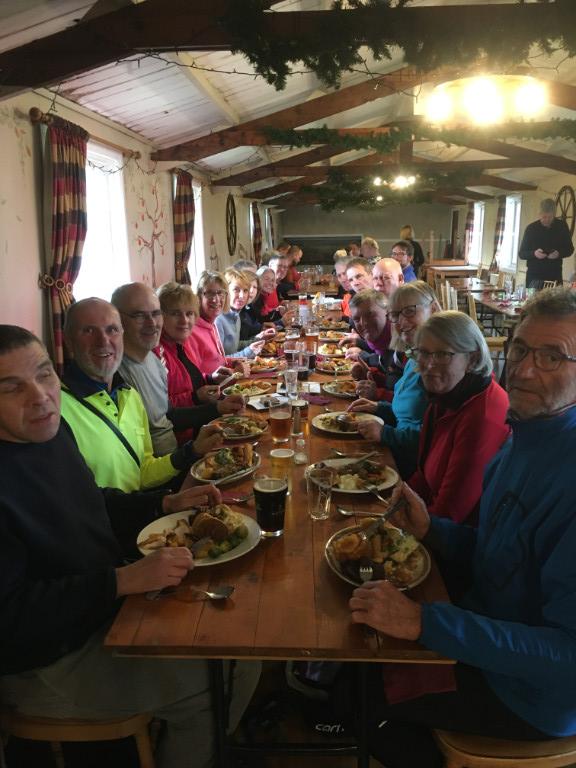 11 tandems and 2 solos joined us for the November ride around the Somerset Levels. Everyone was well wrapped up and the weather was kind to us as we left The Crown at Catcott and rode to the Avalon Marches Hub for tea and cakes – Grace and Malcolm dropped by to say hello.
The group then cycled the Shapwick Heath Reserve path for some gentle bumps and bird watching. A group effort saw everyone safely through the cycle gate at the Ashcott Road end before cycling through Meare to the Westhay Reserve and some very bumpy off roading – Well Done All!
We then put some speed on to cross Tillham Moor – where it was quite cold – back to the Crown for a lovely carvery – veggies catered for too!
Special mentions go to David and Fiona who managed two punctures in short time after our tea stop – we met them back at the pub and commiserated.
David from Somerset Sight joined us again with Ed as his pilot.
And we should all say a big CONGRATULATIONS to Martha who was on her first Tandem Club ride snuggly sat behind her Mum and Dad – she is 15 months old!
This was the first ride we have planned and led and would like to thank everyone for their positive comments about the route and meal – in fact Ian has managed to persuade us to have another go in July 2020 when the marshes will have their summer coat.
Rex and Hannah Whitcombe
06/09/2019
Due to road closures in Stafford on 15th September the ride will now start from Market Drayton. Full details in the whats on section.
26/10/2019
Note the ride on 26/10/2019 has been cancelled.
26/10/2019
The 2020 Easter rally is now open for bookings