Facebook

Benefits of Tandem Club Membership
About Our Club
27/12/2018
Details of the location and camp site for the 2019 International Rally are now available.
STOP PRESS: BOOKINGS ARE NOW OPEN.
17/11/2018
We have been working on making the website more mobile phone friendly. Its not complete yet, but hopefully most pages should display better on these devices.
01/03/2018
You can now get an email sent to you with a link to the journal in audio MP3 form sent to you once Eifion has done his magic. Email
webgroup@tandem-club.org.uk
to set this up for you or you can set it up the next time you renew, there is a checkbox on the membership form.
15/12/2017
The rally is being held in Bensheim, a small town in the south of Hessen, about 30k north of Heidelberg.The dates are 9/5/18-13/5/18. Arrival on the 9th and departure on the 13th with rides on the 10th, 11th and 12th. Participants can choose a long ride (80-100k), medium 60-80k or short 40-60k) The base is at the
Allee Hotel
:-
alleehotel@alleehotel.de
A double Europa room costs €540 for 4 nights inclusive of breakfast and the evening meal. Bookings are to be made direct to the hotel quoting Tandemtreffen 2018 The rally is being organised by Reiner and Marion Bünger and their email is :-
TT2018@fam-buenger.d
e The German rallies are very social affairs and we thoroughly enjoyed last years, we have already booked for this one.
E-mail Jane Taylor for more information
.
15/12/2017
Orange have discontinued their 'freeserve' and 'fsnet' email service so renewal reminders are not being delivered. If you had a freeserve or fsnet e-mail address which has been discontinued please let the renewals secretary know your new e-mail address. e-mail:
renewals@tandem-club.org.uk
20/01/2019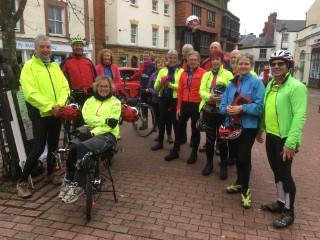 Rob and Sally organised the January ride for the Taunton Group where a last minute surge in numbers saw eight tandems and one solo gather in the centre of Wiveliscombe on a chilly but dry morning. Fortified with coffee from the White Hart pub we set off on a circular route which we had described as 'undulating'. We completed twenty miles on quiet roads and back lanes with approximately 500m of climb passing through Ford, Pitsford Hill, Ash Priors, Halse, Oake, Nynehead, Langford Budville and then back to Wiveliscombe. Ian and Lisa well and truly christened their clean shiny new tandem on the muddy lanes but at least no one accidentally went off route into the farmyard which has a mud and slurry lake about a foot deep, as Rob and I had done when planning the route a couple of weeks ago.
The views on this route are beautiful and the verges and hedgerows at this time of year festooned with snowdrops. We saw pheasants, free range chickens, the usual farm livestock and even alpacas. There were even moments when the clouds gave way to patches of blue sky although the sun remained elusive.
We returned to the White Hart for lunch where we were also joined by Rex and Hannah. The White Hart catered excellently for our large group although there was some haggling over dessert when there were only six portions of apple and blackberry crumble left and ten people wanted them (me included). I kept my head down and fortunately there were more gallant people than I who gracefully made other choices. I was glad because the crumble was superb!
23/04/2019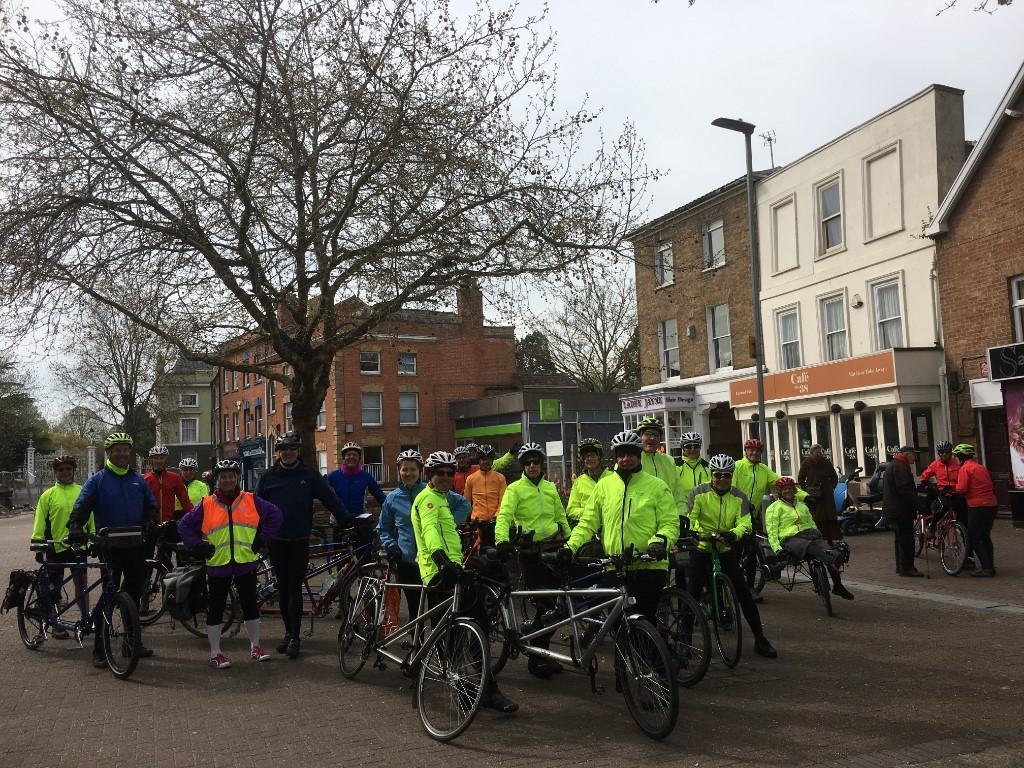 Nick and Rachel organised the April ride for the Taunton Group which started and finished in the centre of Taunton. 11 tandems and 1 solo took the Bridgwater and Taunton canal towpath passing parts of the town the busy motorist never gets to see: the back of Screwfix, the rear aspect of Taunton Part Worn Tyres, and the local dump. It was refreshing when we reached the countryside. The day was cold and dark with low cloud, but the fields of oil seed rape glowed, as did the high vis yellow line of cyclists. We turned off the towpath to go through North Curry and then climbed some challenging ridges that emerge from the Somerset levels. We had a wholesome lunch at Monks Yard near Ilminster then took a ridge road back towards Taunton with views to the Bristol Channel and the distant Mendips. The sun emerged for a brief surprise visit and the skylarks rose and sang at full volume. A pub called the Farmer's Arms manifested itself in the middle of the countryside. We dived in, warmed up again, and generated an atmosphere of good cheer. No one seemed to want to leave. Then it was downhill all the way back, so much descent that I am still convinced that Taunton got itself lowered by 200 feet or more of altitude while we had been away. We finished with a formation tandem circuit of Vivary Park. Great company making a very happy day.
21/02/2019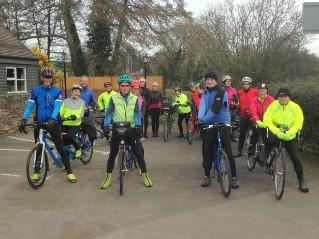 Richard and Michelle organised the February ride for the Taunton Group. The route that was planned took into account that it would probably be cold and icy or wet and miserable. It was in fact a perfect spring like day. The skylarks were singing and there were snowdrops in abundance.
11 tandems left Hestercombe and set off on a route that circumnavigated part of Taunton. We were pleased to have Neil and Bridget from the West Country group join us although trying to keep up with them up the few hills was difficult! Trish and Paul left us near Trull and the remaining 10 tandems headed to the Cross Keys Pub for lunch. Finding a venue suitable for large numbers is becoming increasingly difficult but they put us in the Conservatory which we had to ourselves – perfect!
The ride back to Hestercombe was short - just as well after all the roast dinners that had been consumed!
It was good to see Grace back on the bike after an enforced rest from cycling and to catch up with tandem friends
03/07/2019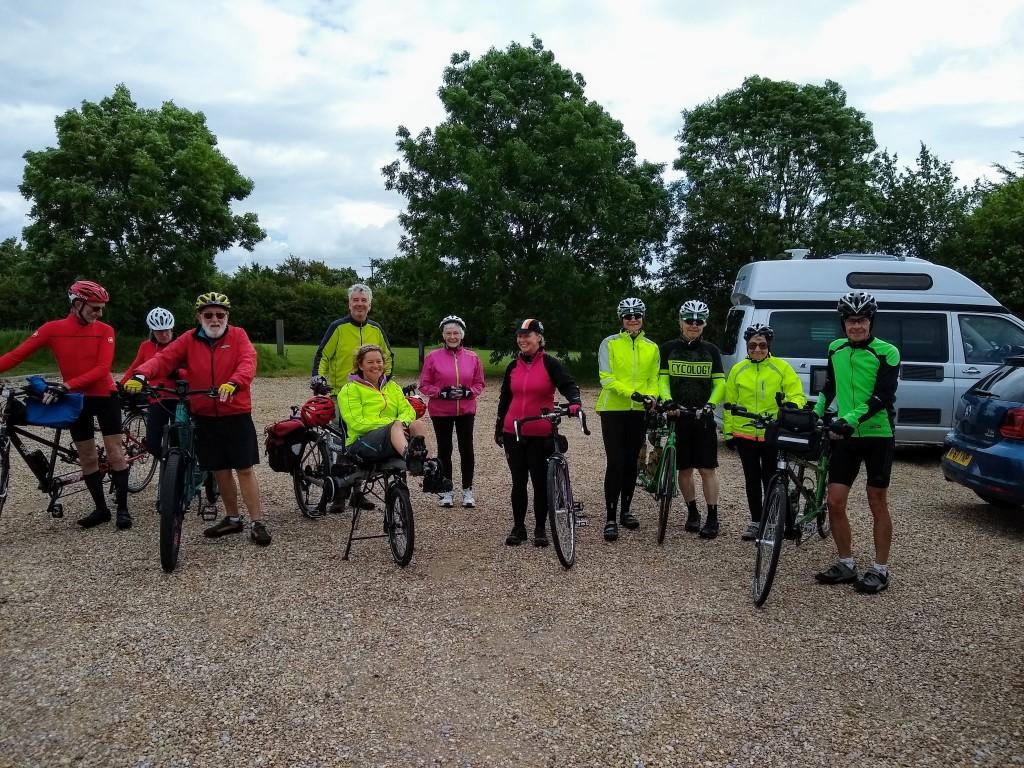 Len and Gill Hampson organised their first ride for the group in June which started and finished at the Lime Kiln Inn near Long Sutton.The route wound around the quiet lanes of South Somerset taking the group through beautiful countryside and pretty villages. There was a stop half way round at Hambridge village green where the riders were treated to homemade cake provided by the organisers. The riders then returned to the Lime Kiln Inn for Sunday lunch, drinks and general socializing.