Tandem 2014 - U.K. National Rally

Saturday 24th. - Saturday 31st. May 2014

Treborth Hall Farm
Bangor
Gwynedd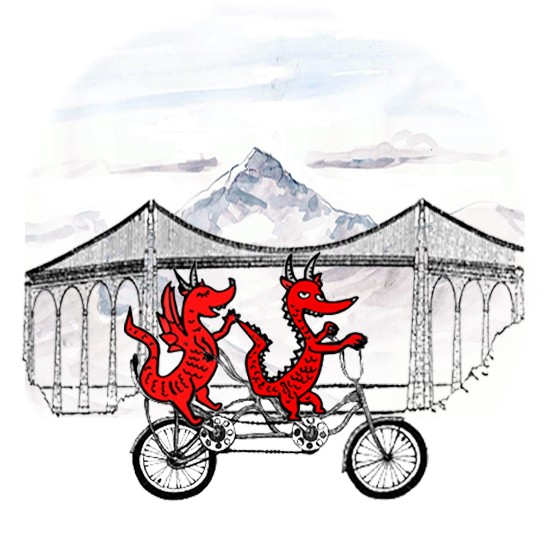 Menai Bridge

Britannia Bridge

Snowdon
The event was organised by Chris and Mike Simpkins with the help of a small group of friends and took place in Bangor, one of the six cities of Wales and the smallest. A university town with some ten thousand students. It lies on the North West coast of Wales with the island of Anglesey just across the Menai Straits accessed by the Menai Suspension Bridge The bridge, designed byThomas Telford was completed in 1826.
The campsite lies between the Britannia and Menai Suspension bridges close to routes 5, 8 and 85 of the National Cycle Network and is only a short distance from the Snowdonia National park.

Adjacent to the campsite is the Treborth Botanic Garden owned by Bangor University and open to the public. It formed a useful back entrance to the campsite.
The Campsite
Treborth Leisure is not just a campsite but a complex including holiday cottages, a golf course, golf driving range and a fishing lake. We used their Rally Field where we set up all the usual facilities for our National rally.
Entertainment
The usual set of evening activities started with a welcome party on the opening Saturday and ended with a picnic and Hog Roast on the final Friday. In between we learned to dance Merengue in wellingtons! We learned to count in Welsh and then played Bingo in Welsh at the final evening we learned how to say the longest village name Llanfairpwllhgwyngyllgogerychrndrobwllllantisiliogogogoch by singing it to the tune of the Ash Grove.

The Routes
Some excellent routes had been worked out by Chris and Mike Simpkins. Each day we could choose from a selection of destinations and degree of difficulty. This ranged from the 'family friendly' to the 'challenging'. Destinations included the castles of Caernafon, Conwy and Beaumaris. Those who chose Beaumaris on Thursday and arrived early were able to see the Queen's Baton departing for Menai Bridge en route to the Commonwealth Games. Routes can be found here

Velocio Trophy and Hill Climb
These two competitions took place on Wednesday and details can be found on their own page.

Walks and alternative rides in the area
These suggestions are to give you alternatives to the rides that have detailed route sheets. These are listed along with the Route Information.
Map showing location of Treborth Leisure