Facebook

Benefits of Tandem Club Membership
About Our Club
29/10/2019
Bookings can be made for the 2020 Easter Rally, which is being held at Greenhill Leisure Park, Bletchingdon, just north of Oxford.
Please book early to be sure of securing a pitch on the campsite here.
26/10/2019
The Tandem National Rally will be held in Corsham, Wiltshire from Saturday 23th May - Saturday 30th May 2020. More info to follow.
16/10/2019
We are always looking for ways to raise awareness among potential new members who don't know there is a Tandem Club.
In the latest copy of the TCJ are 5 Club stickers in a white envelope. Please put these on your tandem (on all your tandems if you have more than one). People admiring your tandem out on the road are sure to spot them and ask about the Club. This is your chance to tell them about what we do and get them interested.
If you need more stickers please get in touch.
Thank you for helping to raise awareness of the Tandem Club amongst potential new members.
Peter Weeks Publicity Officer
17/11/2018
We have been working on making the website more mobile phone friendly. Its not complete yet, but hopefully most pages should display better on these devices.
15/11/2019
S&S machine in the USA makes the hard side travel cases for your Tandems that have 26" wheels. 26X26X8" travels as a regular case without any extra charges.
14/11/2019
Hello, we use ETA for our car and bike breakdown. Fortunately never needed to use the bike breakdown. Used the car breakdown once in the last decade with good service.
12/11/2019
We have experience of German Trains (only Bavaria and Hessen states) with our tandems. We have traveled on almost every type of train with our tandems, except ICE (that's their High-Speed train) and never had an issue. They are not S&S tandems but the full 2.1meters or so, and we never had a pro
... more
01/11/2019
Alan, We're new to this as you are. We visited JD Tandems in early July and had a test ride on two models. Recommend doing that. We bought an Orbit from then in August. Very happy with our choice.
Marney Frere
19/08/2019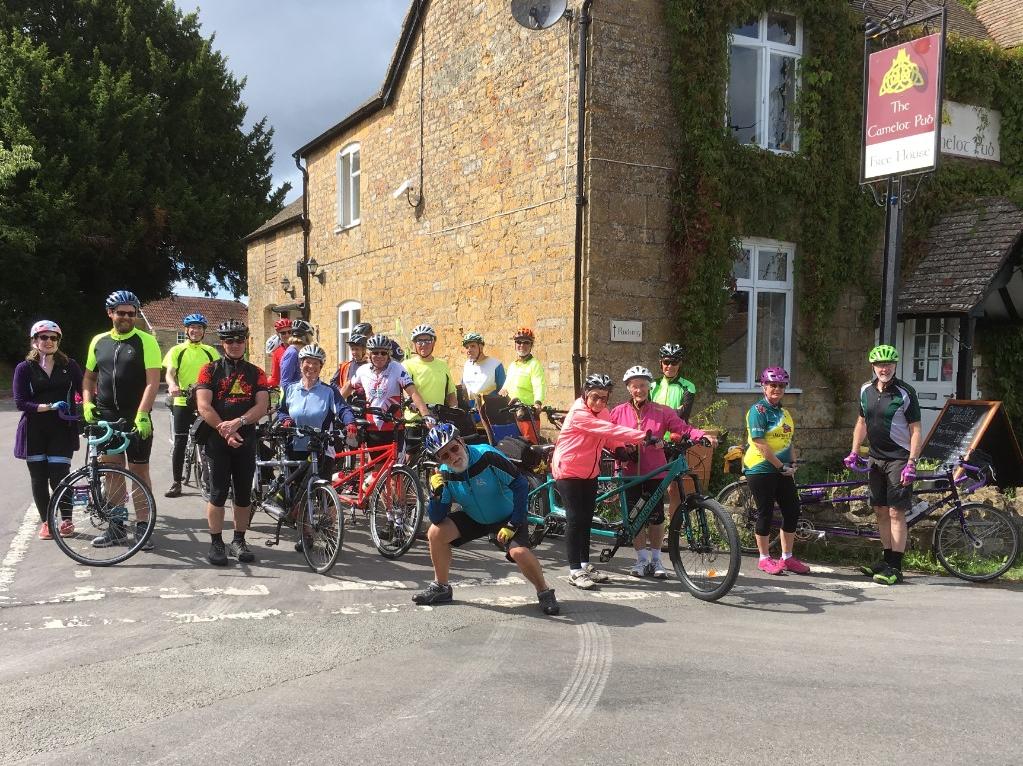 Chris and Chris organised the August Ride where an eleventh hour weather reprieve saw 10 tandems and a solo gather at The George Hotel, Castle Cary for pre-ride coffees.
Machines varied from recumbent tandem, "Moustache " E tandem, lady back elect. assist.model,to a sparkling new "Dolan".
Jamie and Becky were welcomed to their inaugural ride with the Taunton group as was David from "Somerset Sight ".
Negotiating a service company road closure within the first half mile, on foot, the ride followed quiet lanes through Pitcombe to Wincanton. Having crossed over the A303, we continued on unchallenging terrain via South Cheriton to Milborne Port where we just managed to avoid crossing the county boundary into Dorset. From there we continued through Charlton Horethorne and Compton Pauncefoot to a well-deserved lunch at The Camelot Inn at South Cadbury.
Suitably refreshed we pedalled on through Sparkford and North Barrow to return to Castle Cary for tea and cake, having said goodbye to Rex and Hannah en-route to their onward journey home.
Having largely avoided vehicular traffic and serious fluctuations in elevation a pleasant and easy-ish ride was enjoyed by all in the most benevolent weather.
26/10/2019
Note the ride on 26/10/2019 has been cancelled.
06/09/2019
Due to road closures in Stafford on 15th September the ride will now start from Market Drayton. Full details in the whats on section.
15/10/2019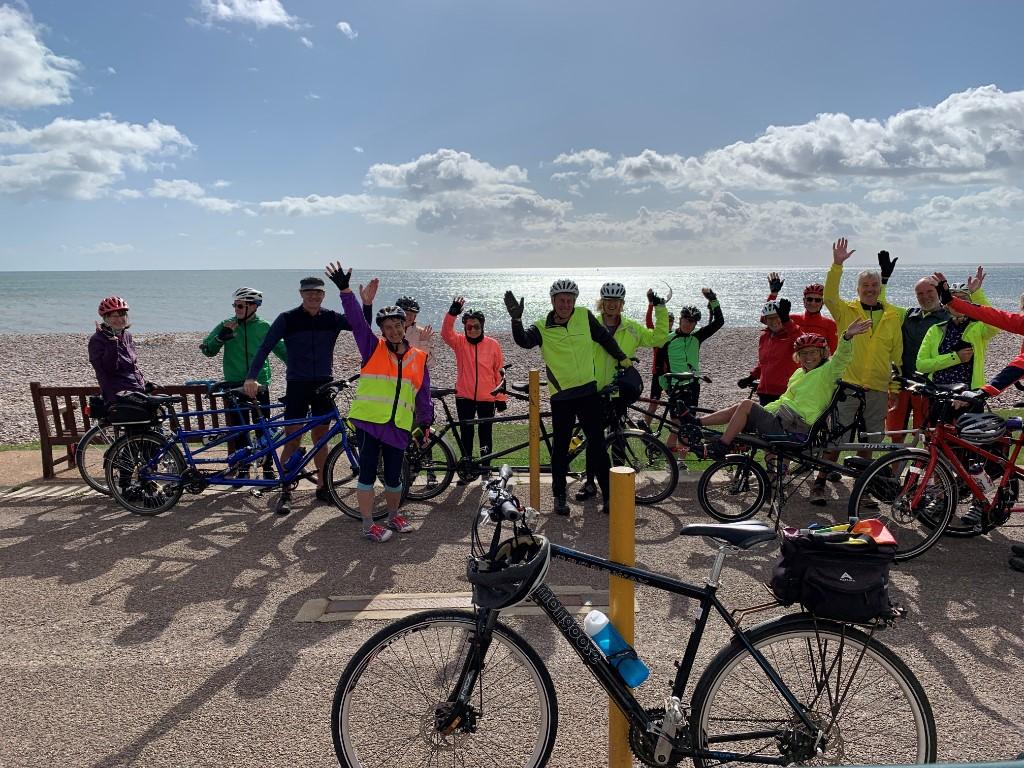 Mark and Liz organised the October Ride where 8 tandems and 3 solos met at Escot Country House. Escot has very large grounds with a maze and a variety of captive animals -they include red squirrels, European otters, wolves and the Scottish wildcat- some are on a plan to be reintroduced to the wild.
Our route was fairly sparse on steep hills for Devon, passing the hamlets of Fairmile and Coombelake then past Kings School at Ottery St Mary. We then went to Tipton St John where we crossed the river Otter. Now on the east side, we went through the particularly pretty village of Harpford before crossing the main Exeter to Sidmouth road. The route then took us to Otterton Mill for a coffee stop. Beavers have been seen on the river Otter just upstream from this village in previous years but have been more elusive this summer.
We then cycled on down to the sea at Budleigh Salterton where the sun came out for our photos .It is a great spot for swimming , but a bit cold these last few weeks and had we more time ,we might have visited the creamery at the town end of Budleigh beach ,with a huge range of ice creams. Our lunch booking at the "Lamb and Flag "in Ottery was, however more pressing.
We took a fairly similar route back up the Otter to the pub in the town. They did us proud with prompt service for our pre- booked meals. Ed, local to Ottery told us it's a pub famous for serving Christmas dinner to people on their own, following a first dinner funded by a local lady.
Back to Escot for the end of the ride -this one a 25 mile trip. The day started with fantastic sunshine and then was more mixed .For the first week of October, we were very lucky to have no significant rain and sunshine at the seaside at Budleigh.
Mark and Liz Nicholson