Facebook

Benefits of Tandem Club Membership
About Our Club
22/05/2019
We have finished preparing the joining instructions, programme and routes for this year's National Rally.
A link to the webpage has been emailed to those booked on the rally. If you have not received the email, please contact the organisers using email address: tcn2019@tandem-club.org.uk
27/12/2018
Details of the location and camp site for the 2019 International Rally are now available.
STOP PRESS: BOOKINGS ARE NOW OPEN.
17/11/2018
We have been working on making the website more mobile phone friendly. Its not complete yet, but hopefully most pages should display better on these devices.
01/03/2018
You can now get an email sent to you with a link to the journal in audio MP3 form sent to you once Eifion has done his magic. Email
webgroup@tandem-club.org.uk
to set this up for you or you can set it up the next time you renew, there is a checkbox on the membership form.
15/12/2017
The rally is being held in Bensheim, a small town in the south of Hessen, about 30k north of Heidelberg.The dates are 9/5/18-13/5/18. Arrival on the 9th and departure on the 13th with rides on the 10th, 11th and 12th. Participants can choose a long ride (80-100k), medium 60-80k or short 40-60k) The base is at the
Allee Hotel
:-
alleehotel@alleehotel.de
A double Europa room costs €540 for 4 nights inclusive of breakfast and the evening meal. Bookings are to be made direct to the hotel quoting Tandemtreffen 2018 The rally is being organised by Reiner and Marion Bünger and their email is :-
TT2018@fam-buenger.d
e The German rallies are very social affairs and we thoroughly enjoyed last years, we have already booked for this one.
E-mail Jane Taylor for more information
.
27/05/2019
I think that 250 watts is more than enough, even for a tandem. I had an electrified tandem catch me whilst out on my solo bike, while out climbing a Derbyshire hill just recently - about 5%-10% gradient to 400m. I'm reas
26/05/2019
Rear Wheel to a 10 years old Dawes Galaxy, 48 holes with disc now in workshop. If I need to change a new wheel, which I hope I don´t need to.
Is there a lot of difference between 40 holes and 48 holes? Bes
26/05/2019
Rear Wheel to a 10 years old Dawes Galaxy, 48 holes with disc now in workshop. If I need to change a new wheel, which I hope I don´t need to.
Is there a lot of difference between 40 holes and 48 holes? Bes
19/05/2019
Hi, we are staying nearby, not camping, and arriving Friday. Anyone riding on the Saturday?
31/12/2018
Lisa and Ian organised the December ride and Christmas Meal for the Taunton Group where 15 tandems met at The Walnut Tree in North Petherton. We Started with Coffee in the Hotel which gave everyone a chance to change into their Fancy Dress. We then went for a short ride through Durleigh, Chilton Trinity and into the centre of Bridgwater where we stopped at the Bandstand for a group photo and an impromptu Carol Service.
A short ride back to the Walnut Tree saw another 4 tandem crews join us for an excellent Christmas Meal.
The annual award for the most Group rides attended went to John and Judy for the 3rd consecutive year! Fierce competition for this year's Fancy Dress, which included a Christmas Tree with Fairy, Mary and Joseph (complete with a baby Jesus), went to the 2 Sugar Plum Fairies (with Christmas Music) – well done Nick and Rachel. This year's Christmas Quiz was won by Andy and Anita and a special prize was awarded to Richard and Michelle for the 'most bagged Trig Points' (long story!). The meal finished with the usual singalong provided by James and Nick.
Lisa and Ian were presented with gifts and thanked for organising another successful year for the Taunton Group.

21/05/2019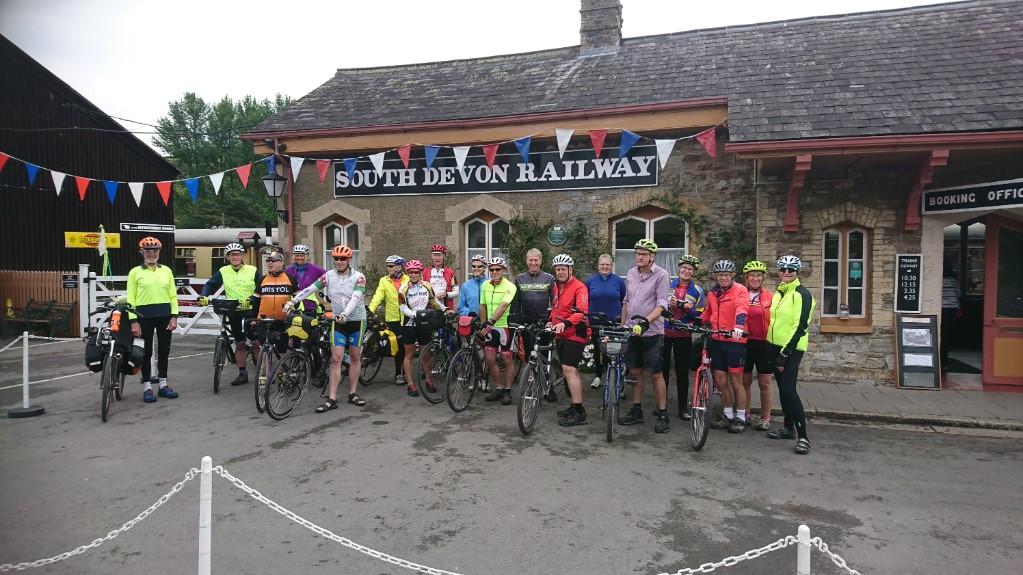 When I first learned of the Dartmoor Way I decided it was a ride I'd like to complete. When I asked at our Christmas meal if anyone would like to join us, I was surprised and overwhelmed at the response.
After looking at the Sustrans route I soon realised that some alterations would be needed to make it Tandem friendly, after all we weren't going to be riding mountain bikes!
So, on the 18th May 10 Tandems and 3 solo bikes left Buckfastleigh station for the first stage of our 2 day ride, the weather was better than anticipated, so that was a bonus. After riding up through the Teign Valley we had a pleasant lunch at the Teign House Inn and then a further stop at Whiddon Down. After climbing up through the extremely picturesque villages at Skaigh and Belstone we joined the Granite way at Okehampton Station for the final leg to Lydford.
We all enjoyed an evening meal together at the Castle Inn where Karl and Lisa set us a quiz.
On Sunday we headed off to the west side of the moor and enjoyed fantastic views and bright sunshine. We had a longer than anticipated lunch stop at Clearbrook due to staffing problems. We then tackled the challenging climbs around the south side of the moor before we found ourselves back at Buckfastleigh.
I'm pleased to report that we all made it back and I think we all felt a great sense of achievement, after riding over 90 miles with just over 8,500 feet of ascent.
Thanks for your help Karl and Lisa and thanks to all of you that joined us on the ride, it really wouldn't have been the same without you.
Andy and Anita.

23/04/2019
Note the ride on Sunday 28th will have coffee in Marshfield rather than Castle Coombe.
28/01/2019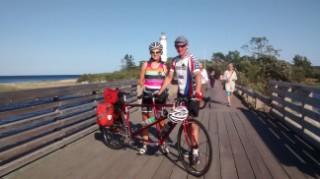 Having recently taken over the role of Regional Officer from John & Judith Skinner, we would like to take the opportunity to thank them for their hard work. Kay and I were approached to take over this role whilst on the International Tandem Rally in Oland Sweden. If you haven't tried one of the clubs rallies, either National or International, we would highly recommend it.
We would love to hear from anyone in the region who would like to suggest or organise rides. Please make contact with John & Kay Fazakerley either by e-mail jdfazaks@yahoo.com or by phone 07581630033 we will endeavour to assist with the organisation and advertise the ride to our members.