Facebook

Benefits of Tandem Club Membership
Join Our Club
04/07/2020
The 48th Annual General Meeting of the Tandem Club was scheduled to take place on Saturday 11 April 2020 at the Easter rally. The Agenda was published in the Tandem Club Journal (vol 288). We said in the TCJ (vol 289) that the 2020 AGM was postponed indefinitely, but of course we don't know if and when we will be able to hold an AGM in 2020. It may be that we cannot meet together until 2021. In these exceptional circumstances the business usually transacted at the AGM has had to be done elsewhere:
Club Accounts – the accounts for the year ended 31 October 2019 were published in the April/May Tandem Club Journal (vol 289). The Treasurer has received no comments or queries from members on the accounts.
Membership fees - As stated in the April/May Tandem Club Journal (vol 289) the annual subscription has been raised from £10 per year to £15 per year.
Election of Officers – Club Officers are elected at the AGM. Committee members and ex-offico officers have been assumed to continue in role unless they have indicated otherwise. Barry Wilson has served as Chairman since 2015 and has been on the committee since 2011. He had indicated a wish to stand down. Further information about this is given below. Janet Wilson has been on the committee since 2011 and has stood down as an Ordinary Member. If anyone is interested in joining the committee as an ordinary member please contact the Secretary. Our thanks go to Barry and Janet for serving the Club diligently over this period.
04/07/2020
Barry Wilson wished to stand down at the AGM so the Committee considered how to deal with this in the absence of an AGM. The outcome was that Peter Weeks, Club Publicity Officer, was willing to stand as Tandem Club Chairman. On 26 April 2020 the Secretary contacted the Committee and Regional Officers to conduct an election.
Nomination of Peter Weeks as Tandem Club Chairman
Proposed by Pauline Fox, Club Secretary
Seconded by Eifion Francis, a former Club Chairman and who, with his partner Jill, is a Regional Officer and oversees the Club's Talking Journal service.
49 individuals (TC Committee members and Regional Officers) invited to vote in lieu of the AGM
2 abstentions, the current Chairman, Barry Wilson and one Ordinary Member, Janet Wilson.
29 votes received, all were in favour of Peter Weeks being the Chairman of the Tandem Club.
No other votes, objections or comments received.
Peter Weeks was therefore elected as Tandem Club Chairman with effect from 1 May 2020. This will be subject to formal discussion and election by members at the next Annual General Meeting.
Our congratulations and thanks go to Peter as he takes up the role of Chairman. He has also, fortunately, agreed to continue as the Club's Publicity Officer for the time being.
27/05/2020
On page 4 of the April/May Tandem Club Journal (Vol. 288) there is a notice regarding the increase of the subscription rate. Please remember to change your Standing Order before your next renewal date. The club is unable to do this for you.
If you are unable to do this via on-line banking and need a paper form please contact the treasurer.
Tony Prichard (Joint Treasurer)
25/04/2020
Due to the COVID-19 outbreak, the National rally 2020 in Corsham has been postponed. This will now take place in 2021 as the 50th National rally. We have sent an email to everyone who has booked onto the rally to let you know your options. Please let us know if you haven't received this.
The rally website is available for information Tandem 2020 National Rally in Corsham
21/04/2020
Full refunds are being issued for the Easter Rally. An email has been sent to all those who booked on the rally giving details.To contact the rally organiser: tce2020@tandem-club.org.uk
The 2020 AGM, scheduled to take place on Saturday 11 April 2020, has been postponed to take account of current guidance on avoiding social gatherings. The Club Secretary can be contacted via: secretary@tandem-club.org.uk
08/07/2020
The closing date for content of the next Tandem Club Journal is 22nd July and we could do with a few more 'Lockdown Rides/stories' please.
Email words and photos (as attachments) to 'editor@tandem-club.org.uk'
08/07/2020
We are still undecided. I think we will make a decision towards the end July. As I understand, we still have the B&B booking available to us, but as soon as we decide one way or the other, I will let them know. I am sure, once there all will be fine but we are wary of overnight stops and getting foo
... more
05/07/2020
I'd suggest Lands End to Bristol. Still remember fighting the wind all the way from Bath to Lands End when we did this 40 years ago.
04/07/2020
Any wheels for sale meting this description eagerly considered!
I live in norfolk and can collect if nearish or will pay p and p
Please rsvp or call me on
07717302558
philtregear@gmail.com
Many thanks
Phil Tregear
21/04/2020
Sadly this year's International rally has been cancelled due to uncertainties caused by COVID-19. Full refunds will be made to all those who booked on the rally. The refunds will be processed starting 27th April. An email has been sent from Bob and Mary with a little more detail. Further information is available from: tci2020@tandem-club.org.uk.
29/06/2020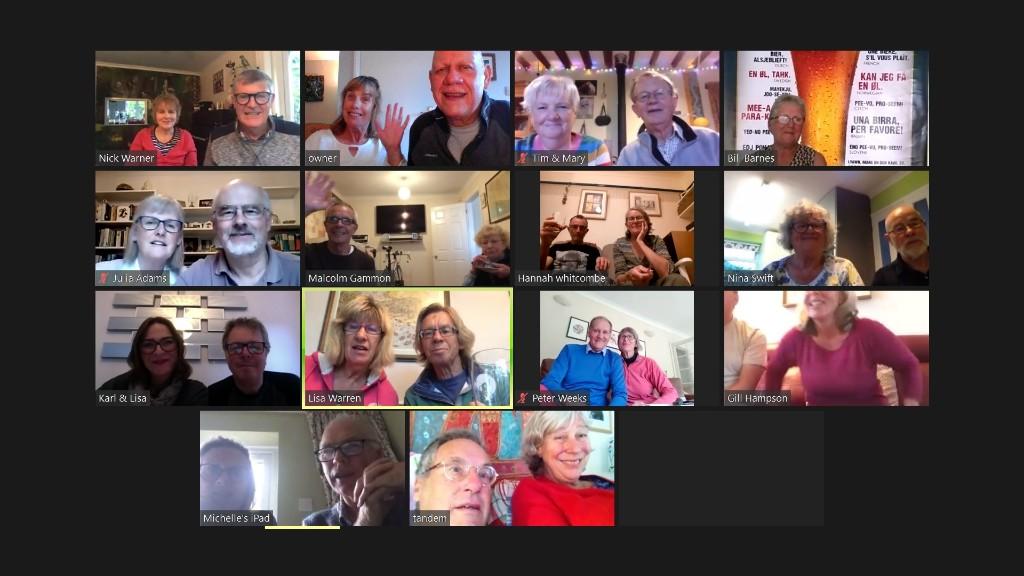 Round 4 of the now regular two weekly Zoom virtual quiz night for the Taunton Group saw 14 couples arrive and a move away from the regular quiz format. Organised by Malcolm & Grace it was eyes down for our first Bingo night, all the Bingo cards were emailed out in advance and we played two exciting games. From the outset it was clear we had some hardened Bingo regulars keen to show their expertise, others however were completely new to the game and took some while to grasp the concept with questions like "what do we do with the blank squares"…………. All this was put to one side once the games got underway with everyone remaining very focused and surprisingly quiet as they all concentrated on crossing their numbers off.
Two games proceeded with a line then a full house in each game and a coffee break in between. Winners were Gill & Nick in the first game and Karl & Ian in the second. Huge cash prizes were awarded (chocolate 10 pence pieces) which unsurprisingly are still awaiting to be claimed.
Everyone is now waiting with anticipation to see what the next quiz night brings as James and Liz promise to conjure up something a little different.
06/06/2020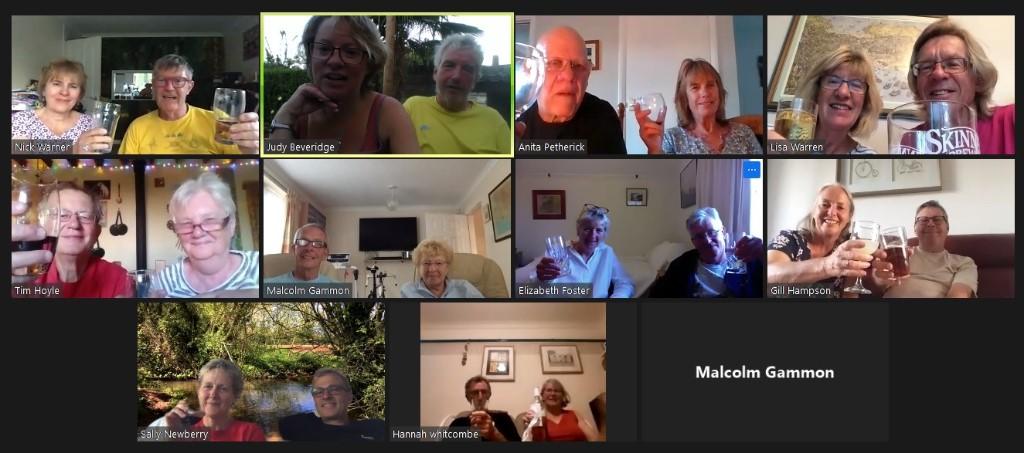 A third quiz was organised by Nick and Rachel for the Taunton group. Ten couples attended and questions ranged from trees to gin and 'seconds' (highest, longest etc).
Malcolm suggested a bingo game next time and to get us into the spirit, Grace's questions were based on the bingo nicknames that callers have traditionally used: half a crown in pre-decimal currency was two & six - 26! The pre-decimal currency also featured in Ian and Lisa's questions so perhaps some of us are 'of a certain age'.
A new feature this evening was newsround and we learned that John and Judy had been out and about; their questions were based on their rides. Tim and Mary's tandem is still locked down in France, Mark and Liz are still hoping to work in the Shetlands and many of us were looking forward to meeting up with family (socially distanced of course!) Several members have birthdays in May. We usually celebrate with them on a Tandem Club Rally but not this year. Many happy returns went to Grace, Katherine, Rachel, Ian and Len.
09/05/2020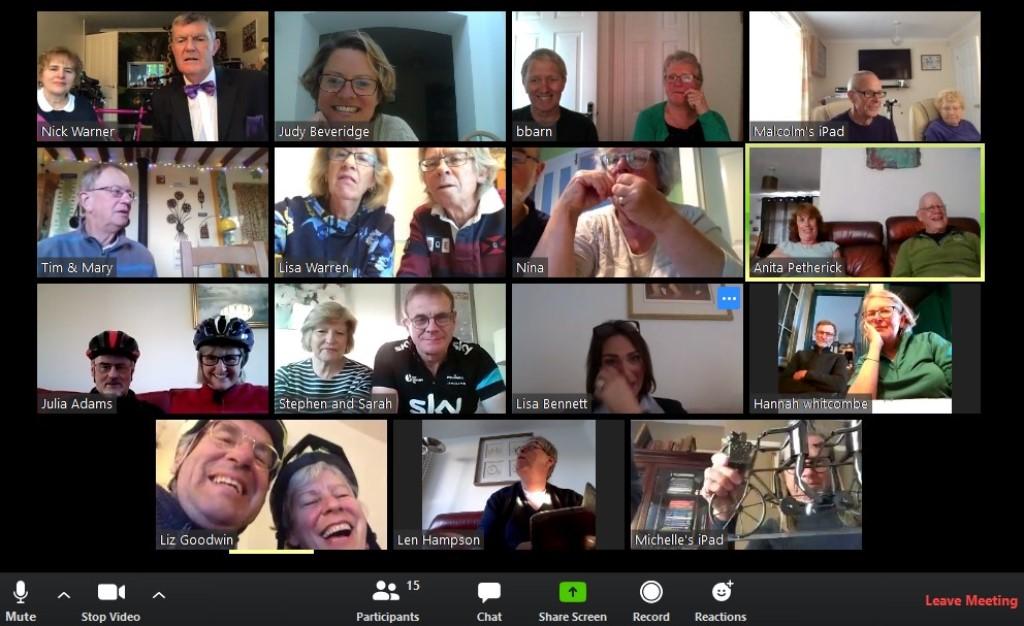 The Taunton group is widely spread, some live in deepest Devon and others near Street and Weston super mare. We missed riding tandems as a group but we could get together on Zoom. Nick and Rachel invited us to join them for an evening of intelligent questions, less intelligent answers and a bit of banter. Maybe even a song. We are not great on the old internet technical stuff but some were members of Zoom and had managed to set up some successful small meetings before. I guess many of you are familiar with it: when it works - it works well.
Many people offered to supply questions. There were seven rounds of ten questions; topics were varied from local geography to music, general knowledge and of course cycling. Scores were unimportant. When marking the quiz, double points and bonus points were awarded willy nilly. There was bound to be a virtual prize but the winner was unknown and unimportant.
We weren't sure of the dress code: some wore cycle helmets and Lycra and Nick looked particularly smart in his tuxedo with purple bow tie and cummerbund complimenting his bright pink tandem in the background.
Refreshments were provided although could be better but we did enjoy seeing inside everyone's home.
The evening was supported by 14 tandems and 1 solo. (the other half was actually out on his bike). Lots of fun was had and a date was set for the next quiz. No one was going anywhere!
Many thanks to Nick and Rachel for organising this get together.