Facebook

Benefits of Tandem Club Membership
About Our Club
25/07/2019
STOP PRESS: The routes have been published -an email has been sent to all those booked on the rally. You must bring your own copies of the routes to the rally.
Please email tci2019@tandem-club.org.uk if you did not receive the email, or have have any problems with the routes.
​ Bookings closed on 21st July
17/11/2018
We have been working on making the website more mobile phone friendly. Its not complete yet, but hopefully most pages should display better on these devices.
01/03/2018
You can now get an email sent to you with a link to the journal in audio MP3 form sent to you once Eifion has done his magic. Email
webgroup@tandem-club.org.uk
to set this up for you or you can set it up the next time you renew, there is a checkbox on the membership form.
15/12/2017
The rally is being held in Bensheim, a small town in the south of Hessen, about 30k north of Heidelberg.The dates are 9/5/18-13/5/18. Arrival on the 9th and departure on the 13th with rides on the 10th, 11th and 12th. Participants can choose a long ride (80-100k), medium 60-80k or short 40-60k) The base is at the
Allee Hotel
:-
alleehotel@alleehotel.de
A double Europa room costs €540 for 4 nights inclusive of breakfast and the evening meal. Bookings are to be made direct to the hotel quoting Tandemtreffen 2018 The rally is being organised by Reiner and Marion Bünger and their email is :-
TT2018@fam-buenger.d
e The German rallies are very social affairs and we thoroughly enjoyed last years, we have already booked for this one.
E-mail Jane Taylor for more information
.
15/12/2017
Orange have discontinued their 'freeserve' and 'fsnet' email service so renewal reminders are not being delivered. If you had a freeserve or fsnet e-mail address which has been discontinued please let the renewals secretary know your new e-mail address. e-mail:
renewals@tandem-club.org.uk
11/08/2019
WANTED
Tandem Roof carrier, anything considered
mr.paulclements@gmail.com
06/08/2019
Hi Ian
We have a splitting Thorn explorer that we are thinking of selling....if you wnt more infor please email me at richardabbott34"at"gmail.com. Please replace "at" with @.
Regards
Richard
05/08/2019
Hi Adam,
Sorry we went away for a few days. I left technology behind.
My email is Jenny.mander1@outlook.com
05/08/2019
Hi Britta,
I'm sorry you can't see the details. I will have to contact the web master. No it doesn't have ss couplings.
Best Karin
21/05/2019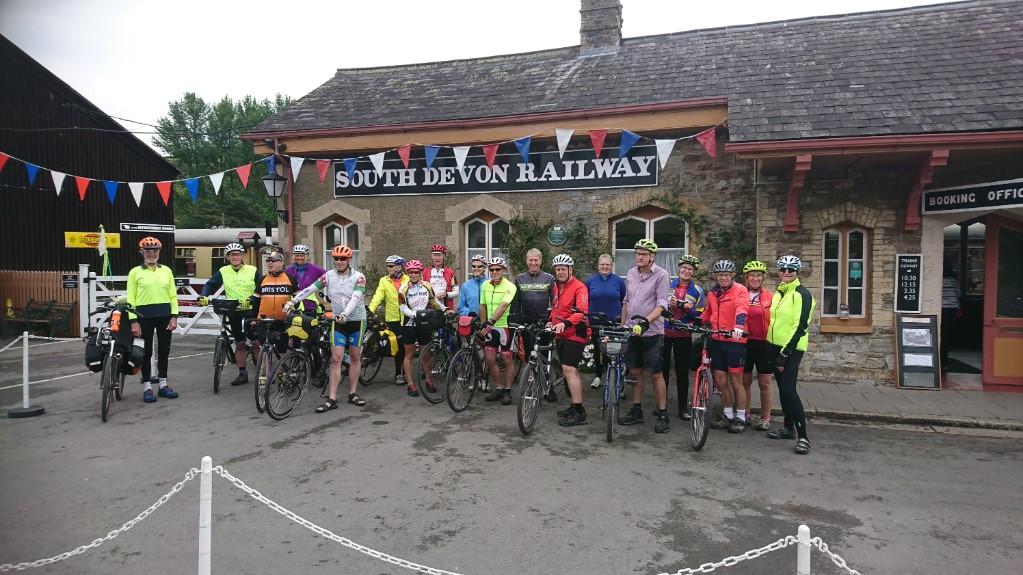 When I first learned of the Dartmoor Way I decided it was a ride I'd like to complete. When I asked at our Christmas meal if anyone would like to join us, I was surprised and overwhelmed at the response.
After looking at the Sustrans route I soon realised that some alterations would be needed to make it Tandem friendly, after all we weren't going to be riding mountain bikes!
So, on the 18th May 10 Tandems and 3 solo bikes left Buckfastleigh station for the first stage of our 2 day ride, the weather was better than anticipated, so that was a bonus. After riding up through the Teign Valley we had a pleasant lunch at the Teign House Inn and then a further stop at Whiddon Down. After climbing up through the extremely picturesque villages at Skaigh and Belstone we joined the Granite way at Okehampton Station for the final leg to Lydford.
We all enjoyed an evening meal together at the Castle Inn where Karl and Lisa set us a quiz.
On Sunday we headed off to the west side of the moor and enjoyed fantastic views and bright sunshine. We had a longer than anticipated lunch stop at Clearbrook due to staffing problems. We then tackled the challenging climbs around the south side of the moor before we found ourselves back at Buckfastleigh.
I'm pleased to report that we all made it back and I think we all felt a great sense of achievement, after riding over 90 miles with just over 8,500 feet of ascent.
Thanks for your help Karl and Lisa and thanks to all of you that joined us on the ride, it really wouldn't have been the same without you.
Andy and Anita.

21/02/2019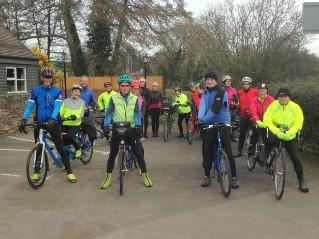 Richard and Michelle organised the February ride for the Taunton Group. The route that was planned took into account that it would probably be cold and icy or wet and miserable. It was in fact a perfect spring like day. The skylarks were singing and there were snowdrops in abundance.
11 tandems left Hestercombe and set off on a route that circumnavigated part of Taunton. We were pleased to have Neil and Bridget from the West Country group join us although trying to keep up with them up the few hills was difficult! Trish and Paul left us near Trull and the remaining 10 tandems headed to the Cross Keys Pub for lunch. Finding a venue suitable for large numbers is becoming increasingly difficult but they put us in the Conservatory which we had to ourselves – perfect!
The ride back to Hestercombe was short - just as well after all the roast dinners that had been consumed!
It was good to see Grace back on the bike after an enforced rest from cycling and to catch up with tandem friends
25/06/2019
Please note the date for the August group ride has changed from the 11th to Sunday 4th of August due to a clash of dates
24/07/2019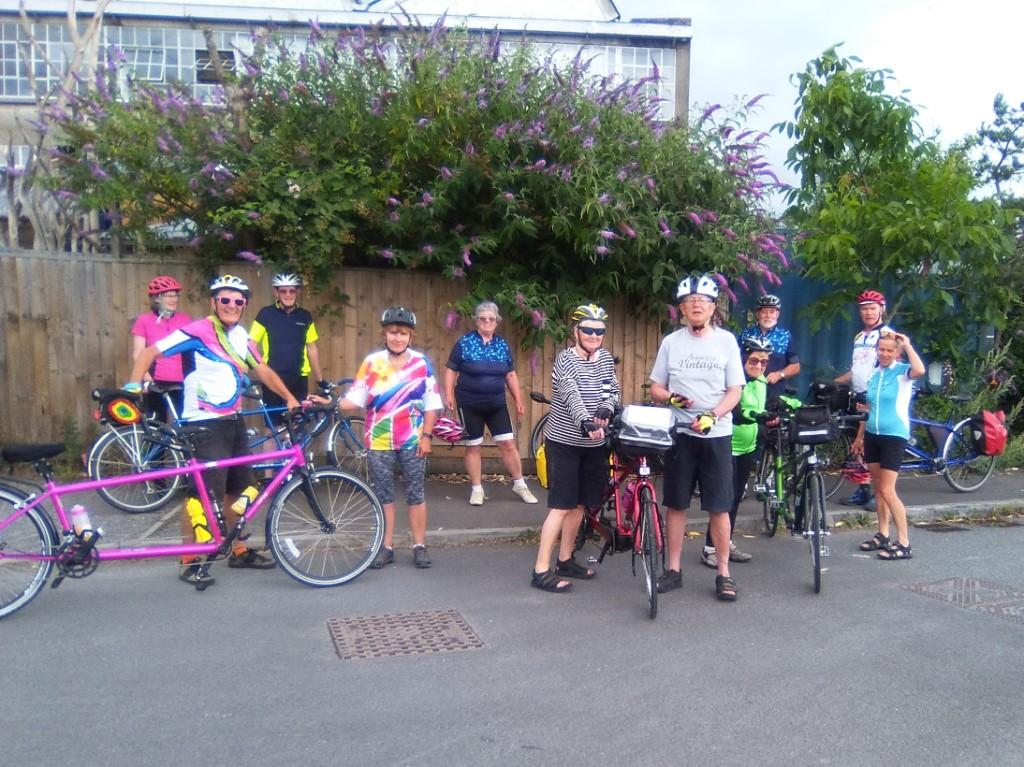 Clive and Emma organised the July ride for the Taunton Group. Eight tandems and three solos met at the Red Brick Building in Glastonbury to ride across the Somerset Levels.
We set off on the National Cycle Network lanes to Ashcott, Shapwick and Catcott before turning north at Cossington.
We stayed on the lanes passing the peat farms to East Huntspill and then onto a coffee and cake stop at Rich's Cider Farm. The clouds had cleared and we were all able to enjoy the sunshine at the outside tables.
The return journey took us across the lanes towards Westhay Moor. We all declined the option to stop again at Sweets tearooms and continued through Godney and back to our start point for a lengthy lunch.