Taunton Group – August Ride Report
Five tandems and one solo met at the North Curry community café for the august ride of the Taunton regional group. With the weather forecasted to be a mixture of sunshine and showers and with consideration of summer holidays season it was a great relief to see a good turn out once again from the regional members.
After enjoying morning coffee we departed heading south towards Fivehead into bright sunshine. It was a pleasant start to the ride passing through quiet lanes lined with trees which was very reminiscent of a French countryside scene. Continuing on a Southerly course the group passed through Isle Abbots and Puckington before turning east. A brief comfort stop was taken on the outskirts of Martock with very fortuitous timing as the first shower of the day done its best to get us all wet. Lunch was taken at the "Halfway House" at Pitney which coincidentally was exactly half way through the ride. This hostelry has been awarded CAMRA pub of the year on several occasions and it was certain that a "real" pint of beer would be served. It should not go unmentioned that the sandwiches served were of an incredible size with each slice of bread being about an inch thick with ample filling between. This resulted in a surplus of chips being passed up and down the table to no avail.
Leaving the lunch stop we proceeded down onto the Somerset levels and headed generally northwest through Pitney and Moorlinch before turning south once more to return to the start point having covered 45 miles in total, and managing to avoid virtually all of the days showers.
Many thanks to Philip & Kathy for a superb choice of both route and refreshment stops.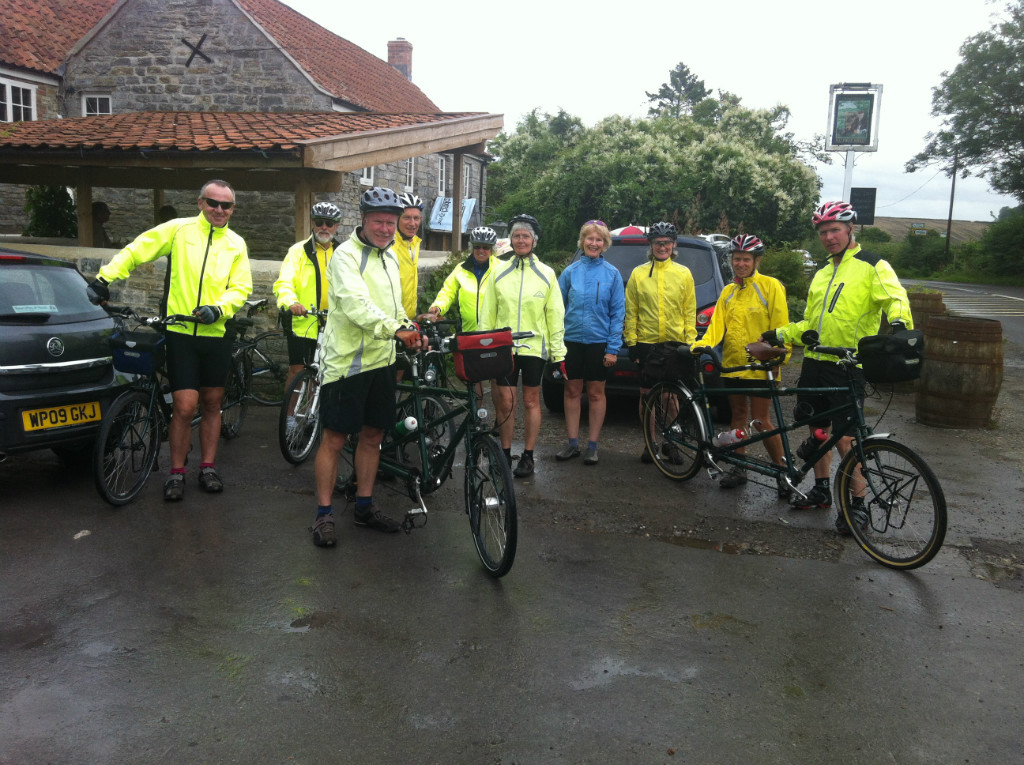 Group Photo at the "Halfway House"
August 2015.html