Wanted
Things wanted.
To add a response or post a new message you need to have an account and be logged in. You can get emails sent to you by enabling the Send Forum Emails tick box in your user preferences. Note you need to login to the website to add replies. See our help information
here
for more information.
You can add to this discussion topic using the entry box at the bottom of this page, when logged in.
Login
Road tandem for 6'3" and 5'5"
Mr Nicholas Dover
2020-08-18 10:02:05
Hi
My 8yo daughter and I have been using a tag-along on my road bike but it's time to graduate - we're going to be doing same daily commute for a few more years I reckon, and last winter we did almost every day so we're committed! I ride a 59cm Concorde steel frame so would love to find something similar in tandem format - happy go a bit older, maybe 80's onwards. Can't spend an enormous amount - maybe £700 upper limit. I live in Bristol but can travel a couple of hours to pick up.
Many thanks
Nick
Mr Nicholas Dover
2020-08-18 10:11:21
Ah, that should say 4'5"... I can't seem to edit or delete?
Neil Frowe
2020-08-18 11:44:09
Hi Nick,
We were in the same position.
Rather than buy a kiddy back we found this Dawes Galaxy Twin Tandem. Note the lower rear crossbar. I fitted a crossbar mounted saddle (from Holland Bike Shop as hard to find here) and kiddycranks, but your daughter is taller than mine so the seat tube saddle might be ok.
I used bars from a Raleigh Twenty for the stoker, and moved the Arai lever to the front bars.
You should find one for £350 ish. It rides beautifully, and we've been cycle camping on it. She loves it.
Hope this helps,
Neil Frowe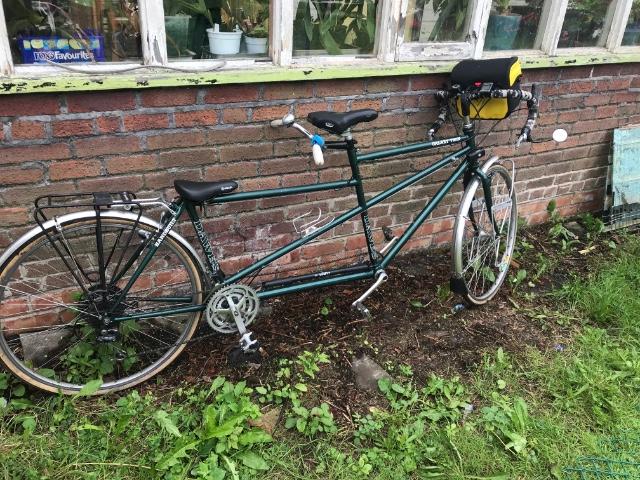 James Acworth
2020-08-18 11:46:39
Hello Nick. I bought my Thorn Voyager Childback from Bristol 4 years ago when my daughter was 10. she's now 14 yrs, 4' 9", and 66kg. It's probably a Medium at the front and an XXS at the back, as with most of them, though there are some L/XXS around. I'm 5'11" and the bike was a tiny bit on small side for me, but it makes it very manouevrable. We've just upgraded to a bigger Thorn Tandem but could have carried on with this for a while longer. I have two mods which will greatly extend the usefulness of the bike to you:

Thorn crank shorteners
https://www.sjscycles.co.uk/componentstandem-specific-parts/thorn-crank-shorteners/
which make the pedals much easier to reach for a youngster. The regular crank arms at the back are 165mm long centre to centre which is really too much for an 8yr old.
And a Cane Creek Thudbuster Long Travel https://www.sjscycles.co.uk/seat-posts/385-x-270-cane-creek-thudbuster-lt-anodised-suspension-seat-post-black/, which a) greatl extends the seat tube meaning you can keep the bike till your daugher is way bigger - I'd say it would be fine up to 5ft, and makes riding on the back much smoother - esp if you like doing a bit of cross country and paths, which we do all the time.
Finally, I have a roof carrier - also possibly for sale - which means you can take it anywhere to start your rides, rather than always having to start from home.

If interested, please send me an email on james.acworth@gmail.com and I'll send photos, specs and price. I am in Abingdon but could deliver to Bristol.
James Acworth
2020-08-18 12:01:28
NIck just re-reading and realising you're 6"3'. That might mean mine is out of the question... But I'll send you measurements and you can decide. Plenty of scope to lift pilot saddle and heighten the headset
Mr Nicholas Dover
2020-08-18 12:10:40
Thanks both for your replies!
Neil - that Dawes looks absolutely ideal! I will keep an eye out for one.
James - although that sounds excellent, I do worry it might be a bit small for me if you felt at the upper end of it at 5'11" - I've bought road frames for myself that are 57cm and tried to make them work but regretted it - 58TT/59ST makes me so much more comfortable.
August 2020
2020-08-18 12:35:15
The other option - which we started out with - is a set of 'kiddycranks' on the rear seat tube, connected to the left-side rear crankset (ie making that a double), using the same sized ring as fitted to the kiddycrank set. You can move the kiddycranks up and down the seattube to suit various child leg lengths until they're able to reach the main set of pedals.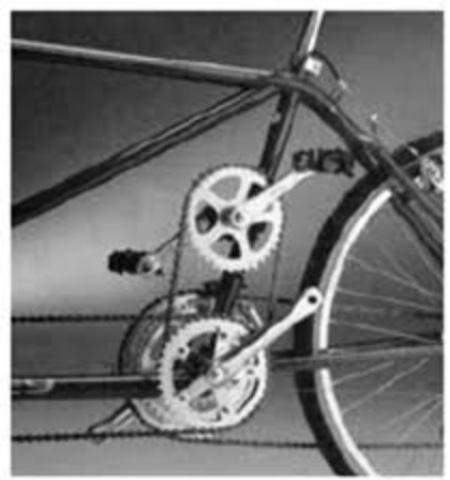 Mr Nicholas Dover
2020-08-18 14:09:13
Martyn Aldis
2020-08-18 16:17:49
Just a few thoughts about sizing - probably all understood already by most readers here but perhaps worth going over.
The captain needs to be able to stand over the top tube with ease, feet far enough apart for the cranks to be rotated while the bike is dead upright. This usually means a shorter actual seat tube than on a solo especially a traditional solo with a horizontal top tube.
Length considerations are similar to a solo and frames made for drop bars will normally be shorter than those made for straightish bars. On sportier 700c tandems there is a risk of toe overlap if the frame is short and the bike has solo road bike steering geometry. I think toe overlap is unhealthy on any bike, worse on a tandem and the more so with a child high up at the back. (An adult stoker can often save the day on a slow topple.) Our 700c Cannondale has slight toe overlap without mudguards with my size 10 shoes which limits the use we make of it. It's a good bit lighter and faster than our 26" wheel Thorn tandems but not as comfortable or as useful for us.
Mr Nicholas Dover
2020-08-19 09:25:48
Thanks for this, Martyn - I am indeed used to a horizontal top tube with only an inch or 2 of stand over clearance. As mentioned, my solo frame is 59 ST and 58 TT (c-c) so if I understand you aright, I should perhaps be aiming for same TT reach, but a slightly shorter ST in tandem? If so, are we talking an inch or 2 down? I can only ride on drops - my wrists get bad in anything other than hood position, and I've done 30 years of road riding on nothing else! I have size 12 feet and do get a little toe overlap so maybe I'm used to avoiding the ugly consequences there...
Martyn Aldis
2020-08-20 08:57:02
Having read your posting title again I see your daughter is already taller than the average for adult UK women so really you need an adult sized tandem (large / medium ) to suit a tall captain and average to tall stoker. The 58cm top tube horizontal dimension should be easy to find and if you can adjust to the sight of a lot of seat post exposure and a big stack of headset spacers you should find a good bike fairly easily.
Sizing frames by seat tube length is really something of a historical anachronism so I would say get the reach to match with bars you are happy with and don't get a small frame at the back or your daughter will be cramped in no time.
Mr Nicholas Dover
2020-08-20 10:53:32
Ah - I made a mistake in my post heading and could neither edit nor delete it as far as I could tell - she's only 4'5"
Mr Nicholas Dover
2020-08-23 21:33:18
Matthew Stephens
2020-08-23 21:55:27
Hi Nick,
I would say that one on Ebay is def over priced. Only 501, very old 18 gear so 6 speed rear block & old basic shifters. You should be able to get something a lot better than that, but may just need to bide your time until right one comes along.....