Wanted
Things wanted.
To add a response or post a new message you need to have an account and be logged in. You can get emails sent to you by enabling the Send Forum Emails tick box in your user preferences. Note you need to login to the website to add replies. See our help information
here
for more information.
You can add to this discussion topic using the entry box at the bottom of this page, when logged in.
Login
looking for Circe Helios (ideally) or another tandem suitable for 8 year old stoker
Duncan Greig
2019-07-01 09:20:25
I'm looking for Circe Helios (ideally) or another tandem suitable for 8 year old stoker. We live in central London, and currently use a Follow-Me-Tandem to join her Islabike to my bike, but my daughter is outgrowing this setup, so we want to move up to the real thing. The small wheels of the Circe appeal for manuverability in traffic, but whatever we get, it needs good brakes!
Alistair Skinner
2019-07-20 12:40:22
Hi Duncan We have a Circe Helios for sale fitted with 11 speed Alfine hub, front disc brake rack and mudguards. We bought the tandem new 2 years ago to go on the back of our camper van, the van is now sold and we have bought a Co Motion tandem which is why the Circe is up for sale. Its only done 500km and is in very good condition, the only slight hiccup is we live in France, but I can get it delivered to the UK this month. Please let me know if you are interested.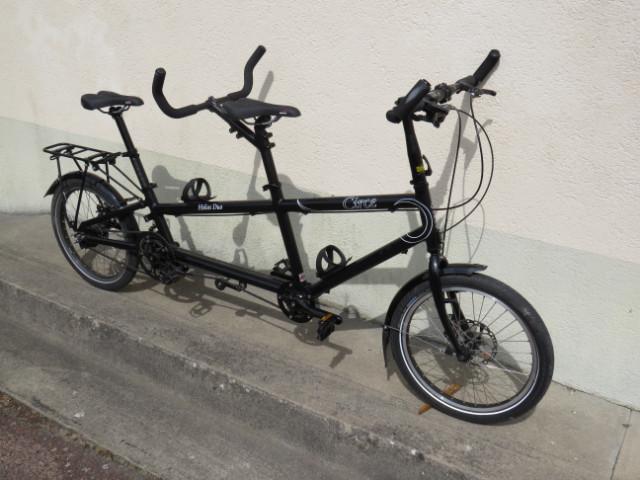 Jenny
2019-07-30 17:28:09
Hi Duncan,
We are selling our Circe Helios too. I bought it when the children were little to use on the commute to school. The children are older now and enjoy riding solo, so with regret the Circe is up for sale to make space in the garage. We are selling it along with the Pendle Tandem rack for £700. It is currently in my parents garage in nr Bristol. Let me know if you are interested.
Jenny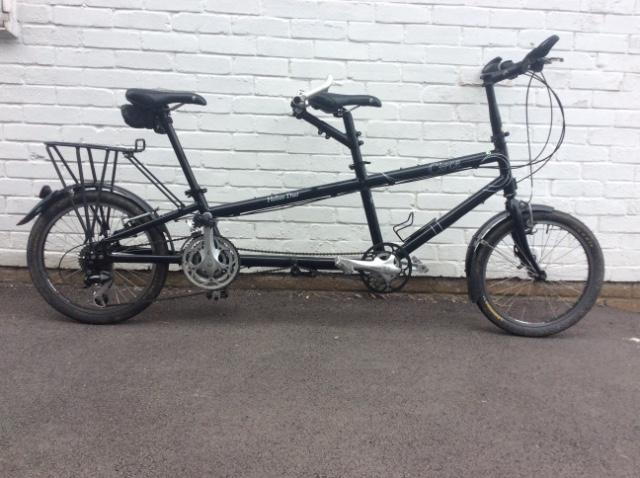 adam robinson
2019-07-30 21:35:35
Hi Jenny,
If Duncan doesn't take your helios I'd be interested in it. I'm after a bike that would accommodate either my wife or me as pilot (~10 inch height difference) with my 6 year old son on the back and daughter in a bike seat - it looks like the helios will do that.
Thanks
Adam
adam robinson
2019-07-30 23:00:01
Sounds perfect! I don't want to take your bike from Duncan's wanted ad if he's keen though - shall we give him a chance to respond?
I'm in Cambridge so collection may be tricky, but we'll be staying in Bristol for a couple of days on the way home from a holiday in Cornwall at the end of August (we used to live in Bristol and are visiting friends) so could collect then if it's still available.
Adam
Jenny
2019-07-31 06:16:40
Perfect.
It's even easier to pick up if your coming up from Cornwall to. We're just 5minutes from junction 19 of the M5(technically not Bristol ).
Take Care and have a fabulous holiday in Cornwall.
Jenny
adam robinson
2019-08-01 17:59:09
Jenny, do you have an email I can get in touch with to dicuss the bike?
Adam
Jenny
2019-08-05 21:22:32
Hi Adam,
Sorry we went away for a few days. I left technology behind.
My email is Jenny.mander1@outlook.com
2019-09-23 16:58:12
Hi there. i am also looking for a Circe Helios or (something else suitable) for my 8 year old boy. Can anybody help.
adam robinson
2019-09-23 17:09:25
adam robinson
2019-09-23 17:16:35
there's also a kiddyback on sale on this site at the minute in Bristol...
Garmon ap Garth
2019-09-23 18:02:28
I've also have a Circe Helios and highly recommend (it'll be a few years before I list it here for sale!).
I am a bit nervous about the quick release on the seatposts and handlebars though - it's very convenient, but is potentially tempting for theives. I've tried a couple of locks to tie them, but the distance makes it difficult, so would love to hear if anyone has found a good solution (or maybe better not to worry about it!).
Michael Hughes
2019-09-25 12:23:29
It might be worth checking out the Ecosmo The new price is £350 and you can find it listed on E Bay.
It has 20 inch wheels, 7 speed deraileur gears and adjusts over quite a wide range.
Although you would have to pay the return postage the company allows you a month to make up your mind about it.
Our own one is currently on loan to friends in Prague who have children aged 12 and 7. Both have ridden as stoker with me on separate occasions.
A feature that takes a little getting used to is that each rider can freewheel independently thus the pilot can check that the stoker is actually working or a tired stoker can take a rest if needed.
We have no trouble about braking when we are out together on it and my wife and I have a combined weight around 130 kg or 20 stone.
Duncan Blackeby
2019-09-29 16:52:51
Hi, I'm also called Duncan and also looking for a circe Helios! My son is only 3.5 but we tried one at the weekend and he really enjoyed it. Please let me know if anyone is selling one. Thanks, Duncan
Christopher Tyler
2019-09-30 15:40:12
I have in good condition, contact me via christophertyler818@gmail.com
Duncan Blackeby
2019-09-30 19:46:39
Thanks Chris, I've emailed you.
Duncan Blackeby
2019-09-30 21:20:36
Just to warn others, I googled Chris' email address after seeing his reply in another thread and uncovered lots of pages stating it is a scam account. Be careful!
Terry Barnaby
2019-10-01 07:55:05
I have disabled the website account named Christopher Tyler. Christopher Tyler if you are a legit person please contact us to get your account re-enabled.
Melissa Loucas
2019-11-20 14:36:44
Hello this is a message for Alistair Skinner above. Did you sell your circe in the end? If not, we are interested. Please let me know! Many thanks, Melissa
Alistair Skinner
2019-11-20 21:12:41
Hello Melissa
Sorry the Circe has been sold.
Melissa Loucas
2019-11-20 21:46:26
Thank you for letting us know- thought it was a very long shot!