Discussions
Discussion of anything related to Tandems. Opinions expressed on this discussion board are those of the contributors and not necessarily those of the Tandem Club. Postings or extracts may be published in the Tandem Club Journal.
To add a response or post a new message you need to have an account and be logged in. You can get emails sent to you by enabling the Send Forum Emails tick box in your user preferences. Note you need to login to the website to add replies. See our help information
here
for more information.
You can add to this discussion topic using the entry box at the bottom of this page, when logged in.
Login
Gare du Nord to Calais by Train
Alan MacDonald
2023-04-14 11:44:19
Dear TC Members
Has anyone had recent experience of travelling with a tandem (ours splits) from Gare du Nord to Calais (any station) for a ferry or Eurotunnel back to the UK. We are aware of the general rules for TER/TGV trains, but the Hautes de France region seems to be silent on the transportation of bikes in general. In fact some threads imply that bikes aren't accepted, but could go as luggage if broken down enough to fit the 130cm x 90cm luggage ruling and are covered. Asking SNCF doesn't get a firm confirmation one way or the other about bike spaces and you cannot book bike spaces on their website. Many thanks for any assistance.
Peter Mynors
2023-04-14 14:40:27
If your tandem is splittable, have you considered taking it on Eurostar?
Before covid we often took our splittable Pino tandem on Eurostar. It was built so that each half would fit within the original 90 x 120 cm standard for hand luggage on Eurostar/TGV (not 90 x 130 – some baggage racks were only 122 cm wide). When Eurostar stopped allowing this, they still let us to take the two bagged-up halves as checked baggage as if our tandem was two bicycles. It ought to be possible to take a split conventional tandem in the same manner.
We use tailor-made covers made from ripstop nylon with a long zip, which weigh so little that we can put them at the bottom of a pannier while on tour and forget them. We don't use any padding but have lots of "Fragile" tape stuck all over the bags. The baggage handlers can feel the frame inside each bag so they can choose a sensible hold for lifting.
Whenever possible we change at Lille or Brussels rather than Paris. But the rules are still changing frequently as the service recovers from covid and Brexit, so you'd need to check the latest position with Eurostar.
Peter
Alan MacDonald
2023-04-15 00:22:43

Hi Peter
We've been in touch with Eurostar. This is our preferred option. However, they require the bike to be in a box, not just a cover. We'd rather have certainty when we arrive at the station, so we have discounted this option. We also looked at the global luggage service promoted by Eurostar. They require a hard case bike box, which is something we cannot accommodate with our tandem.
We've decided to take the TER train from Gare du Nord direct to Calais Ville and be at the station early (following a intercities night service) to bag space on the train for our bike. Fingers crossed!
Best wishes
Alan
Martin Bates
2023-04-15 09:31:14
It would be interesting to hear how you get on after your return.
Our preferred route after Eurostar started making things difficult for cyclists in general was the Newhaven - Dieppe ferry. The Avenue Verte cycle Route to Paris starts there, so maybe no trains at all!
Cheers
Martin
Peter Mynors
2023-04-15 09:36:17
Hi Alan
Your TER to Calais option sounds a good choice for this year. The Eurostar website implies that the current restrictions are only temporary, but it would seem worthwhile for the Tandem Club and/or Cycling UK to get in touch with Eurostar to try and influence the longer term rules, at least for splittable tandems.
When we took our tandem to the USA we bubble wrapped the two halves and put them in canvas "housses" designed for TGV use. See attached photo at Boston airport (we also had a wheelchair because my wife doesn't walk). Once bagged up the bike was simply treated as oversized luggage. The same should apply with Eurostar who offer an oversized baggage service for items up to 165 x 135 x 57 cm. The charge is £60 per item which is more than the cycle charge, but might be worth considering.
When the channel tunnel was still at the planning stage there was much debate about the carriage of cycles. One the outcomes was that Eurotunnel had to provide a service for people with cycles. The Channel Tunnel Act 1987 states at Section 19(3) that "The Concessionaires shall make provision for the conveyance by means of shuttle trains of pedal bicycles and of motorcycles of which the cylinder capacity of the engine is less than 50 cubic centimetres". Hence the current service they offer from the Holiday Inn Express at Folkestone. The Eurotunnel website tells you how to get to Folkestone by train but not how to continue by train the other side. I will write to Eurotunnel (as a founding shareholder) suggesting they add this information. There is lots on their website about the joys of cycling in France but nothing about how you get by train from Coquelles to your start point.
[Historical note: I attended the channel tunnel parliamentary hearing as an expert witness on highways. As a result the approach roads from the M20 were altered to the layout that now exists. We didn't get it quite right – it was assumed that turn-up-and-go would be the norm, not pre-booking, so only a few people would use the terminal building. Hence today's rather convoluted layout downstream from the entry plaza.]
Peter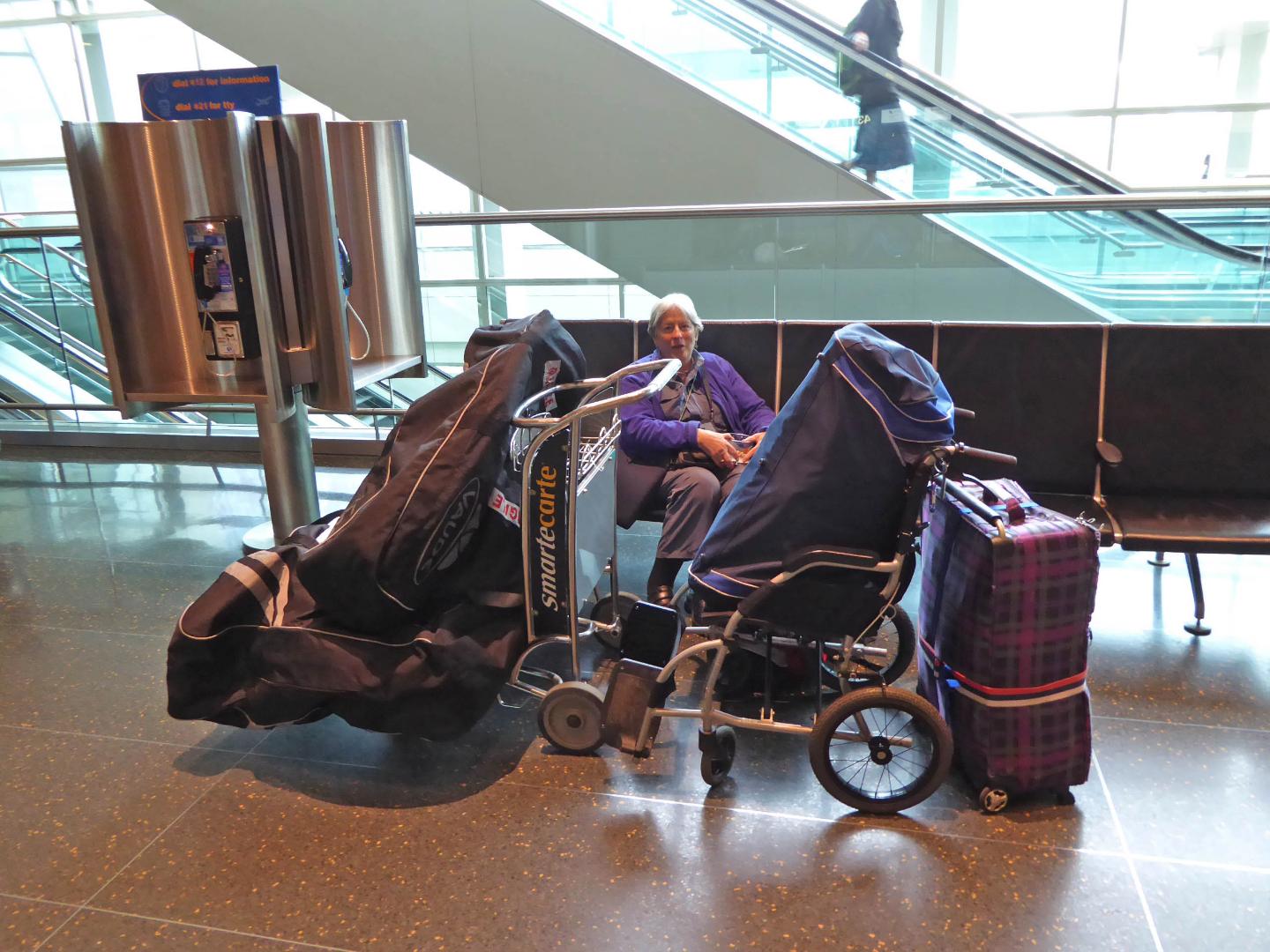 Alan MacDonald
2023-04-15 16:56:39
Hi Martin
We did think about the option of cycling to Dieppe from Paris, or even a train part of the way there. The problem for us was the time of the crossing and needing to be close to the port for the morning crossing.
Peter
We've investigated the Eurotunnel bike shuttle, which was our second favourite option, if Eurostar wasn't available. However, the first TER to Calais didn't arrive until after the pick up time, so meant an overnight stay in Calais! We're going to take the ferry and hope for kind weather...
I'll come back here again once our trip is completed and let everyone know how successful it turns out to be!
Sheila Ward
2023-04-16 08:26:55
A slightly oblique reply but we cycled from Caen to Paris over three very hot days a few years ago - a pleasant way to get there, and the cycle paths in the city centre are excellent. Can share route if required. We recommend the France Albion hotel which has a tandem-sized inner courtyard for safe parking (don't bother with their breakfast - better at a cafe round the corner!).
Alan MacDonald
2023-04-16 14:39:10
Hi Sheila
Kate and I investigated this as an option, with potential trains from Gare St Lazare to Caen or Le Havre, but time pressures or a complete rethink of our plans wasn't what we wanted to do. We're going to Geneva and cycle the Rhone Valley. I'll post the end result for the benefit of other club members.