Discussions
Discussion of anything related to Tandems. Opinions expressed on this discussion board are those of the contributors and not necessarily those of the Tandem Club. Postings or extracts may be published in the Tandem Club Journal.
To add a response or post a new message you need to have an account and be logged in. You can get emails sent to you by enabling the Send Forum Emails tick box in your user preferences. Note you need to login to the website to add replies. See our help information
here
for more information.
You can add to this discussion topic using the entry box at the bottom of this page, when logged in.
Login
Drag brake
Terry Carpenter
2022-02-13 11:41:06
Hi am very new to the club having just joined today, we have a Roberts tandem with Campag group set. The drag brake which has no manufacture stamp on it popped a brake pad out whilst riding on Wednesday and I didn't find it, after a bit of research I'm not able to find a replacement pad,can anyone point me in the right direction as I would like to keep the original caliper. I will try to load a few pictures.
Many thanks
Terry&Caroline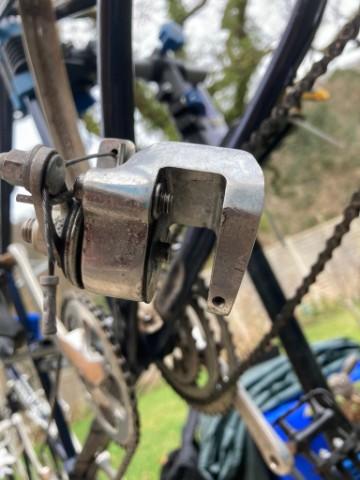 Stuart Hibberd
2022-02-13 13:25:11
Could be a Hope mechanical disk caliper.
Check out pictures on this page https://www.hopetech.com/history/the-nineties/
If so pads from here.
https://ebcbrakesdirect.com/bicycle/hope/mechanical-caliper/Mechanical/10000305
Stuart
Terry Carpenter
2022-02-13 14:30:36
Thanks Stuart I'll check with them tomorrow by phone, online it seems they're out of stock.
Terry
Mark Tipping
2022-02-14 12:46:32
If you find a source of hope cable brake pads please share the info here, together with a fellow member we cleared out the last ebc stock from them at least 5 years ago to ensure we had ongoing supplies, so any current stockist we would love to hear about, once you have secured your supply of course!
Pippa and John Hand
2022-02-15 09:11:54
We have also experienced problems in obtaining spares for Hope components, however, Leisure Lakes at Breaston, Nottingham and Sshokwave in Nottingham (not a mis-type) have been able to help us in the past. Hope themselves have not been forthcoming with items to maintain their tandem specific equipment or, for that matter, their lights. We have had a tandem specific freehub, a hub shell and a Hope Bottom Bracket fail alongside Hope1 lighting which failed catastrophically during an overnight Audax. We have been most disappointed with these expensive items. Often we have found the best option is to use items of European or Japanese manufacture for longevity.
Hope this helps.
Pippa and John
Terry Carpenter
2022-02-15 12:00:03
I was able to locate a set of pads from https://ebcbrakesdirect.com but the downhill version were still out of stock and I am on their waiting list for when back in stock.
Thanks for the replies.
I have another tech question, I have campag cantilever brakes front and rear and would like to try a set of V brakes, are these a direct fit on to the lugs on the forks? If so does anyone have any advice for a good quality V brake system?
Many thanks
Terry and Caroline
Terry Carpenter
2022-02-15 19:53:11
Thanks Stuart Yeh I meant cantilever, I'm not sure I can do this due to the levers on my bike but I will run all this by my bike mechanic guy.
Many thanks
Terry
Stuart Hibberd
2022-02-15 18:04:37
Assuming that you meant that you have Cantilever brakes not caliper brakes.
Then you need to measure the spacing of the brake pivots. To fit v brakes you will need a spacing of over 70mm. A lot of older frames designed for cantilever brakes will have a spacing of around 60mm which causes the v drake arms to stick out at an angle rather than being nearly vertical, its also difficult to align the pads with the rim when the brake arms are sticking out at an angle.
You also need to bear in mind what type of brake lever you are using. V brakes need a longer pull than cantilevers or caliper brakes, so if you have drop bars you will probably need to source compatible drop bar brake levers. ie Cane Creek BL4200, Tektro RL-520 or Dia Compe 287V.
I would look at v brakes from the above companies or Shimano.