Discussions
Discussion of anything related to Tandems. Opinions expressed on this discussion board are those of the contributors and not necessarily those of the Tandem Club. Postings or extracts may be published in the Tandem Club Journal.
To add a response or post a new message you need to have an account and be logged in. You can get emails sent to you by enabling the Send Forum Emails tick box in your user preferences. Note you need to login to the website to add replies. See our help information
here
for more information.
You can add to this discussion topic using the entry box at the bottom of this page, when logged in.
Login
About to get a Moustache
Andrew Blee
2021-11-21 18:15:02
I thought to say hello. Myself and the long standing wife first had a Dawes tandem in 1985. Was it 531 tubing back then? It wasn't stiff enough and the wheels not strong enough.
Since then we had a Thorn child back tandem which was swapped for a triplet when we had two children. We had another Thorn tandem for LeJoG in 2004 (see pic)
Now we are about to start again, collecting a Moustache e-Tandem next week. We have had a Moustache hybrid with the same Bosch CX motor, Shimano 11 speed 11-42 gears for three years. It has been an excellent bike carrying huge grocery loads up steep local hills again and again.
I'm feeling very confident that the Moustache Samedi e-tandem will perform. Super stiff aluminium frame and plenty of room to be comfortable.
There is just a small question about whether we ride it back from London to Stroud (90 miles) with limited November daylight or get a van.
Fingers crossed and I'll report back.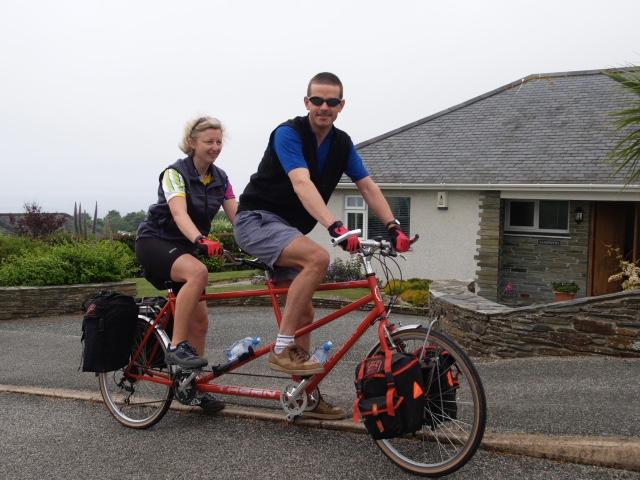 tony barcroft
2021-11-21 20:35:16
Congratulations! (We're getting one in 2 weeks).
in answer to your question - I'd probs do it over 2 days - not because of the distance (which is doable) but more that it's a new bike, you haven't been riding together on one for a while and you don't want to be having teething troubles when you're on the clock (and they always happen when you are!).
Would be very interested in how you find it.
Tony
Bob Cordran
2021-11-21 20:49:26
Congrats. I would be a little wary of that journey as a maiden voyage, for the reason Tony gives. I didn't have any major issues out of the box (not that I assembled it myself) other than an annoying click, which I eventually tracked down to the left side front crank spindle (if that's the right term) not having been greased. However, it's a long way from home if something needs attention.
Looking back, I should also have worn in the brake pads properly when new - i have done this after subsequent pad replacements and it is astonishing how much difference it makes - and that is not something I'd necessarily want to do whilst navigating out of London! The brakes are a huge step up from the puny v-brakes i had on my previous tandem (a Dawes Duet), so I didn't initially realise that were functioning at a fraction of their proper capacity when it was new and the pads hadn't been bedded in. You're probably much more clued up on these things than I was, though.

They are amazing bikes though - so enjoy, and best of luck.
Bob