Discussions
Discussion of anything related to Tandems. Opinions expressed on this discussion board are those of the contributors and not necessarily those of the Tandem Club. Postings or extracts may be published in the Tandem Club Journal.
To add a response or post a new message you need to have an account and be logged in. You can get emails sent to you by enabling the Send Forum Emails tick box in your user preferences. Note you need to login to the website to add replies. See our help information
here
for more information.
You can add to this discussion topic using the entry box at the bottom of this page, when logged in.
Login
1930's Tandem
Graham Blackburn
2021-02-16 13:58:32
I have my father's 1930's tandem which I propose to restore , I have all the original parts.
Has anyone done this before and do they have any advice please.
many thanks
graham blackburn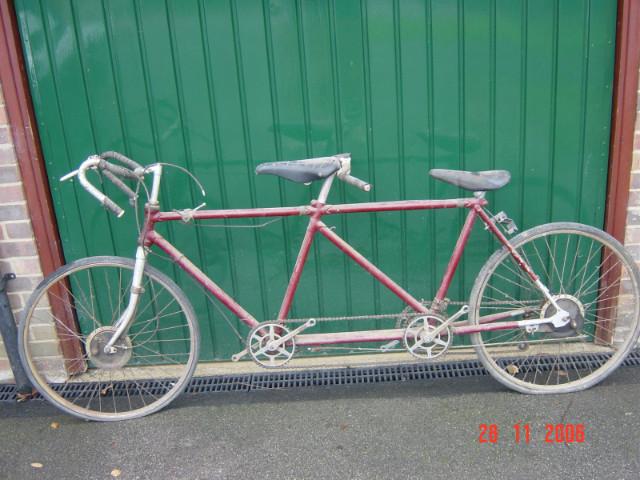 Chris Peachey
2021-02-16 16:40:56
Restoring a pre-war tandem to it's ORIGINAL spec would not pose too many difficulties BUT the moment you try to upgrade it to CURRENT spec you will run into numerous problems. Just about every part of the machine will different to modern tandems.
Pre-war machines had very poor brakes few gears. After 90 years steel frames are usually rusty to the point of being unsafe to ride. The cost of your project should be carefully considered before you start.
Chris
Martin Lowe
2021-02-16 16:54:08
As a member of the Veteran Cycle Club I can assure you that we often ride bikes from the 1930s and earlier - even Victorian. The motto of the club is Restore, Research, Ride - so my I suggest the advice you seek will be available at Veteran-Cycle Club – For Whatever You Ride (v-cc.org.uk) You will find expert advise there, especially if you join for the bargain price of £25 per year, or you are likely to find buyers for your excellent machine. You would probably enjoy the runs to when they restart.
Pippa and John Hand
2021-02-17 09:23:06
We can only endorse Martin Lowe's comments. We have ridden in a variety of VCC events and Leroica style events on vintage tandems and solo bikes; even at a "normal" event we are looked on as being very retro. All good fun and we are looking forward to the return of such events in the future.
Pippa and John
Mark Silver
2021-02-22 15:11:51
Graham
I endorse Martin and Pippas words. The place to be about old bikes (and tandems) is the VCC.
From over forty years playing with the old bikes (and tandems), I've never had a single machine fail by rusting through. Yes, steel rusts, but it's always been obvious beforehand if the frame is on it's last legs. A solo I ride hard everyday is getting on for fifty years old, and I also ride a 1930's solo at weekends, again quite energetically, and after some years of this neither steel frame shows any signs of letting me down.
Are you intending to try for a restoration in as near to original specification as possible, or fitting modern parts instead? Either way, as I believe I've mentioned before in previous discussions, there isn't any money in it, as old tandems just are not valuable. Even a plain respray would quite possibly cost more than the price you'd get for the whole machine.
That being said, as long as you have the original parts and they aren't worn out, then there is great pleasure in rebuilding and (gently) riding machines that are nearly a century old. Looking at the photo, yours has drum brakes front and rear, which I'm not a great fan of. If they were ever effective, then ninety years later their retardation ability has usually gone. So gently does it on trying to stop on a sixpence. The old transmission of cranks and three speed hub may need new chains, but such is the quality of the old equipment that the rest may well be serviceable.
Any idea what make the tandem is? I have a quiet thought as to this, so I enquire if there are on the headtube, or halfway down both seat tubes any remains of a big letter S?
Graham Blackburn
2021-03-13 12:06:29
Dear All
Thank you for your responses. I have joined the Veteran Cycle Club.
I am not sure what the make is but the decal on the font headset reads
Parker Walker Special - Hull
I appreciate that the value of the tandem may not be as much as i spend but it is the project which i enjoy.
Martin Lowe
2021-03-13 19:48:33
Graham,
Please send photos with a close ups of the frame decal, any numbers or letters on the frame and the history of the tandem to News and Views, which is the bi-monthly magazine of the VCC. It will be interesting to see the members' response. Don't send it to their Boneshaker magazine which is more research based and is only published 3 times a year so responses are much slower - but is a great read.
I look forward to seeing it in N&V.
Graham Blackburn
2021-03-31 20:56:20
Dear All
The markings on the bottom of my 1930's tandem read:-
BRITISH
TT / 9
MADE
Does anyone recognise these markings? I think that TT is for twin tube since the bottom tube is a twin tube
2021-04-07 18:15:47
Graham, I have restored dozens of tandems and to their original specifications. I would look into the reasons for restoring it as the value will never reach the cost of restoration. If as you say it will be more of a labour of love then the value lies in the satisfaction of the work and the result. Go for it! Incidentally the letters TT9 are probably lug casting marks and not the frame number. I know who has TT9 it is a Sun tandem. I would like to see more photos to determine it's make. In Hull there were a couple of tandem makers, Jack Kirk and Cliff Pratt but I think Cliff's were more modern in design. I have never heard of the name Peter Walker and back in the 60s/70s I knew probably all the cycle dealers. There were very few pre-war tandems made with cross over drives and the only Jack Kirks I saw were direct drives but Peter Walker may have had this one made specially for him. David Tudor
2021-04-10 15:00:43
Just to add a few more words, the frame design is identical to a BSA even the pump pegs are in the right place. The hubs are Blumfield but I can't see whether it is a Trivelox mechanism or Cyclo. The lever looks to be a Cyclo. A photo of the drive side would be helpful.
Chris Beeching
2021-04-10 22:19:07
I think the suggestion of hunting for an 'S' is unlikely to bear fruit if the intention is to see if the tandem is a Selbach. They have a distinctive feature in that the lower headset bearing is a massive Timken roller bearing, considerable larger than the upper 'conventionally balled' race. This tandem looks to have two conventional head races so is unlikely to be a Selbach. More likely a Sun.
Graham Blackburn
2021-04-13 00:13:03
Dear all
Thank you for all your advices.
To answer your questions:-
I joined the VCC and with help from one of their chaps established that it is not a Sun or a BSA but a Tandem built by a frame builder for Parker Walker and Sons a bike shop in Hull, for my Father c1937. Apart from the lug markings there are no other numbers on the frame. I did wonder if it was an AJS which has the same style of frame with the pump brackets in the same place.
The hub brakes have had new shoes
The gear is a Cyclo 3 speed , which I have dismantled and replaced the ball bearings. This was one of the hardest jobs to do but there is a very good YouTube video explaining how to do it.
The wheel spindles have been cleaned up and ball bearings replaced.as have the peddles.
The frame and forks have been repainted ,
The wheels will be re-spoked by a professional this week
The cables need refurbishing, Does anyone know who does this sort of thing?
I have and will spend far more than the tandem will be worth but it will go to my eldest son who is a very keen cyclist and it will stay in the family
Mark Silver
2021-04-15 11:47:23
Graham
Good luck on getting your machine going: it sounds like you're most of the way there.
Observations on the machine as pictured.
1/ The tandem has cross-over drive, i.e. the front to rear chain is on the left side of the machine. In my experience the size of the two chainrings is between 32 and 44 teeth. On yours, they look larger, I would estimate at 46 tooth. I am suspicious that these cranks and chainrings aren't correct for cross-over drive, as they need the pedal threads to be as for left hand cranks. My guess is that they are standard, drive side cranks with normal right-hand thread. In theory, if you run these as they are, the pedals will unscrew when used. I confess, I ran a tandem exactly like this for some years, and it never went wrong, but I did do the pedals up very tightly indeed.
2/Quick wheel spoking talk. The number of times any one spoke cross over any other spoke is called (unsurprisingly) the number of cross. On 40 spoke (rear) wheels, the usual pattern gives 4x ("four cross"), and for 32 spoke (front) 3x. Make sure when you have your wheels rebuilt, that the wheelbuilder follows the existing spoking pattern, i.e. 1x. Some wheelbuilders don't appreciate on very large flange hubs such as yours, a higher number of crossings results in the spoke having a sharp bend where it exits the spoke nipple at the rim. This will inevitably snap the spoke at this kink, normally sooner rather than later.
Another possible pitfall is that all modern spokes are made for aluminium alloy hubs, which have appreciably thicker flanges than the old steel hubs such as yours. This means that the "throat", the short length of the spoke that fits through the hole in the hub, is these days longer than on the old spokes made for the thinner, steel hubs. It is essential that the main body of the spoke is as close to the flange as can be, otherwise the leverage exceeds the strength of the right-angle bend to withstand, so the spoke will fail at the head. So modern spokes need washers under the head to take up the extra length of the throat. Most wheelbuilders will know this also, but forewarned is forearmed.
3/ You enquire about new cabling. As was the fashion then, the rear brake cable goes into a slightly curious device on the underside of the drainpipe which has a long length of 1/8" diameter rod sticking out its other end which travels to the rear hub brake. These made sense when on the side of this device there was a heel brake, but I couldn't really figure out why they bothered when no foot brake seems to have been fitted. Anyhow, if you can work in a new Bowden cable I'd persevere with it, otherwise I'd run a new cable all the way to the back, though you'll have to improvise both stopping the outer casing and bolting the cable to the actuator arm on the brake. One used to be able to buy bolt on cable nipples that would fit in the business end of the brake, but I've not seen them in a long while, and would be concerned that they wouldn't clamp the cable sufficiently – nasty if you these are your only brakes. In my experience the inner cable for hub brakes are chunkier than cable for rim brakes, and sadly I can offer no clues from where they can be bought. It's not that difficult to make cables up, but you need the heavy duty soldering iron, fancy flux (bakers fluid?) and solder to do it.
4/ My wondering about looking for the remains of an "S" logo was (as Chris Beeching says) to see if it was a Selbach. What prompts this thought was that there is not the headclip for the top steering race that was pretty well standard on all old tandems. Your machine seems to have a screwed top race, much as most post-war solos had up to the advent of the Ahead system. A very few tandems did have a screwed top race, but I've only seen this on the very last Claud Butlers and those Selbachs with the Timken bearing in the lower race. It's possible it could be a retrofit: as the front forks are a different paint job, maybe they're solo ones?
Note for my fellow Selbach enthusiasts: Selbachs made tandems with both the Timken head and the conventional clamp style. Their short wheelbase machines seem to have the conventional, their taper tube machines the roller bearing. I've seen one Peerless (=SWB) with the Timken head, a rare and lovely machine indeed.
Graham Blackburn
2021-04-15 17:47:27
Dear Mark
Thank you for your observations.
The left hand chain wheels are 42 teeth, and the 2 LH pedals are for left hand cranks, in fact one of the pedals has an L on it to remind me, so they will not unscrew when cycling. I am advised that the markings on the chain wheels date them to 1937 manufacture.
I have passed on your comments to the wheel builder and await his response. They will be stainless steel heavy duty spokes.
You are correct the top ball race does screw into the top of the head. The bearings are not Timken, all balls will be individually placed. The front forks are the original forks, they used to be Chrome but during the 1970's they were painted silver.
Many thanks for your advice.
PS I didn't realise that these conversations are published on the web! I thought that it was just within the Tandem club.
2021-04-22 23:07:29
Graham, I am not sure whether you are in Hull or not but if you can ask the Hull Streetlife museum they may be able to help. Failing that, the oldest bike shops in Hull are Cliff Pratts, Rob Winstanley and Ken Ellerker, someone there may know. If not another avenue is to try to look at a copy of the telephone directory for 1937. It will be held in the Kingston Communications archives. They are independent from BT as they were set up in 1902 by Hull City Council, I believe. In the directory there will be all the cycle dealers in Hull at the time. I didn't remember Parker Walker when I lived in Hull and searching bike shops for tandem spares back in the mid 60s. I would like more photos especially of the headset end as it looks lie someone has put a cycle handelbar stem in. The rear dropouts are Trivelox ends but these were often fitted to tandems and then Cyclo went on instead. BSA were good at that. The frame design is definitely BSA but the front fork rake looks to be less than that on a BSA. Very unlikely to be a Selbach. Good Luck with your search, David
Graham Blackburn
2021-08-04 11:01:47
Dear David
Thanks for the info.
Parker Walker and Sons Ltd had a Bike shop in Hull in the 1930's at 25 Spring Bank Hull. The museum did not have much information but did send me 2 photos of a Parker Walker Hull errand boys safety event which I am not allowed to reproduce. The pictures show young lads on the old errand boy bikes with a metal frame which held a wicker basket over the front wheel.
I have to say that this forum is far superior to the Veteran Cycle Club, they don't seem to have a similar forum but point you to Facebook
Graham Blackburn
2021-08-04 15:44:53
Dear All
Further to my request re Cyclo Gears I have now received detailed instructions from the V-CC which are very good.
Terry Barnaby
2021-08-15 10:25:00
From my experience traditional electrical tin/lead "multicore" fluxed solder works fine. However the cable end needs to be clean and free of grease/oxide. Also you need to somehow splay out the wire strands or bend them around something before flowing the solder around them as you can't rely on just the solder to hold under brake force. Might be easier/safer just to get a new brake cable ?
Alan Jones
2021-08-15 11:33:55
I wouldn't consider a repair to a safety critical item like a brake cable. Why risk a serious accident for the sake of a couple of pounds for a new inner cable . . .
Looking at the photo, a barrel nipple should fit fine.
Alan Jones
2021-08-15 16:07:49
Looking at both ends of the cable, I'd be inclined to use a new barrel nipple cable for the lever end as it's going to get more 'wear' and then fashion something at the drum end, perhaps using a small eye bolt with a grub screw to tension the cable if it will fit in with the attachment point there.
Stuart Hibberd
2021-08-15 16:18:33
Looks like you have got a standard drop bar pear nipple on the drum end and a brass fitting designed to be soldered at the other end.
I would get a new drop bar brake cable drill out the brass fitting to remove the old solder. Countersink the outer hole so you can splay out the end of the new cable and solder it. Its obviously been designed to be fitted that way.
You must consider the strength of the repair and safety first though!
Graham Blackburn
2021-08-15 21:18:20
Thanks Stuart Now to find the correct solder and flux.