Discussions
Discussion of anything related to Tandems. Opinions expressed on this discussion board are those of the contributors and not necessarily those of the Tandem Club. Postings or extracts may be published in the Tandem Club Journal.
To add a response or post a new message you need to have an account and be logged in. You can get emails sent to you by enabling the Send Forum Emails tick box in your user preferences. Note you need to login to the website to add replies. See our help information
here
for more information.
You can add to this discussion topic using the entry box at the bottom of this page, when logged in.
Login
Dawes Discovery Twin wheel hubs
Giles Bresnen
2020-11-28 19:12:05
Hi all,
I'm trying to identify the hub manufacturer on our 2012 Discovery Twin as I'm looking for a freewheel hub. The pic shows the logo on the hub.
Many thanks in advance for your help and advice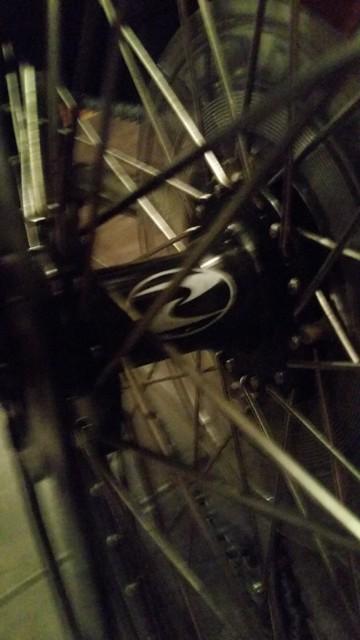 Martyn Aldis
2020-11-29 09:33:53
The two crescents shown in the picture is just the Dawes logo from that period and doesn't say much about who made the hub except that it is whatever Dawes fitted at the time. (Dawes current website shows a return to something close to the old torch of knowledge logo that is rather like the old school road sign from the 1950s and before.....) Your hub has fairly large spoke flanges so it could be a tandem specific hub from one of the Taiwan based companies.
Dawes once had reasonable records about their components but I have no recent experience since the many changes in the last two decades. You could see if Dawes or a Dawes dealer can help.
I guess your problem is with the freewheel mechanism. Terminology is a bit confusing because all types have a freewheel mechanism but only the older design uses a separate "freewheel".
If the freewheel mechanism is failing to catch now and again, it is possible that getting some oil into it might work but moderate quality hubs that would be fine on a hybrid or urban solo bike can't really take tandem loads and do fail. Our Dawes Discovery came with a Shimano Parallax hub and the freehub failed in a few months shortly after our first tour. Shimano XT has done a better for us with just a couple of freehub bodies in fifteen years but strong crews who ride both out the saddle a lot can go through XT hubs fairly fast.
If you want to go further yourself, you could have a look at Sheldon Brown's site for a clear explanation of Shimano freehubs and how to replace the freehub body with new. There are some low end designs by other companies where there is no way of removing or replacing the "freehub like" part but hopefully Dawes didn't use one of those.
Apart from freehubs the other main kind of modern hub has a removeable splined part to take the sprockets but that bit does not hold the bearing or the ratchet track part of the freewheel mechanism. These parts are both a lot further inboard in the hub itself, inside the flange that takes the spokes. These designs normally have cartridge bearings rather than cup and cone. High end mountain bike and tandem hubs such as White Industries use that system. These are easy to service especially if you have the specific instructions - which I'm sorry I can't help with.
Giles Bresnen
2020-11-29 11:25:56
Hi Martyn, that's very helpful thank you very much for taking the time . I have managed to find an email address for Dawes so I will give them a try. The problem with the freehub is the cassette has run loose in the past and has started to wear the splines. The axle runs on cones and bearings . The freehub looks to be removable with a 12mm allen key from the brake side of the hub. Again thank you very much for all your help it's pointed me in the right direction.
Giles Bresnen
2020-12-01 13:02:31
Just a quick update. Emailed Dawes on this address -support@tandemgroupcycles.com- I was contacted with in a day or two and their support was superb, item identified and ordered . Can recommend to others, photos of parts required help.