Discussions
Discussion of anything related to Tandems. Opinions expressed on this discussion board are those of the contributors and not necessarily those of the Tandem Club. Postings or extracts may be published in the Tandem Club Journal.
To add a response or post a new message you need to have an account and be logged in. You can get emails sent to you by enabling the Send Forum Emails tick box in your user preferences. Note you need to login to the website to add replies. See our help information
here
for more information.
You can add to this discussion topic using the entry box at the bottom of this page, when logged in.
Login
Carrying a Tandem in an Estate car
Richard Gale
2020-10-01 19:36:50
Hi from a new member in Aberdeenshire!
We are new to the pleasures of tandem riding and we have a few local back road cycle routes that start directly from the house. However, there are a lot of cycle routes that start further afield. As a result I'm looking at building a loading frame / skid to simplify loading the tandem into the back of the car (Subaru Legacy estate). I'm aiming at only having to remove the front wheel (QR) and water bottles from the tandem. The frame itself will include fixing points for attaching to the car and tandem.
Has anyone already done something similar? And would there be any chance of photos of the finished result? Did it help?
Apologies if this subject has already been covered.
Thanks & Regards
Richard Gale
John Holiday
2020-10-01 20:08:54
If you have a rear tow ball,why dont you just remove the front wheel & sit the tandem on a ball mounted carrier?
It is unlikely to be any wider than you mirrors.
Trevor Muddimer
2020-10-01 22:42:32
I don't personally have one, but the Helton tandem carrier seems to be well liked By the Tandem club.
tony@tonyhutt.co.uk
2020-10-02 11:17:25
In 2016 we hired a Helios electric tandem from Circe Cycles (Cyclecentric) - Shimano Steps system - and managed to get it into the back of our Ford Focus estate, just, without taking the front wheel off. See photo. However it made the luggage packing difficult, and I wouldn't want to do it again. The tandem was excellent for cycling around Bristol and up various hills, including 1 in 5, and the electronic gear change made hill starts easy because it automatically dropped to 2nd gear when stopped. However we live in Suffolk with relatively few hills, so decided not to invest in one. Also it's a bit short in wheelbase compared with our Dawes Discovery Twin.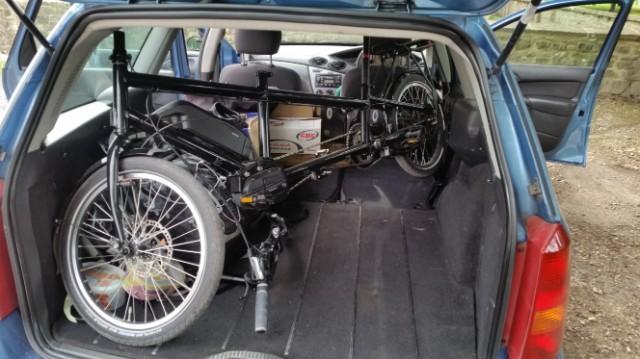 Andrew Duncan
2020-10-02 18:53:39
Andy and Claire Duncan, Suffolk/Norfolk border.
We have a KHS folding tandem with 20" wheels. We had to lower the rear seats but it fits into our Fiat 500. I couldn't believe it myself but it worked.
Martyn Aldis
2020-10-02 21:42:40
Hi Richard,
I like the sound of your plan especially the fixing points.
We carried a full size tandem inside our old Berlingo a couple of times and when I took our Thorn for a bit of frame brazing I used a ratchet strap to secure the bike in case of a bump. In some ways it may seem illogical to worry about crash safety when there is no passive safety when riding the bike itself but on the other hand a bike thrashing about could make an accident worse. The hold down points even in our van-based Berlingo were very feeble but working the rear seat belts as retainers might work well in some estate cars.
I would be interested to see a picture of your cradle when completed.
Richard Gale
2020-10-03 07:24:27
Thanks for the responses..., especially from Andy. The vision of fitting a tandem into a Fiat 500 will now come to mind every time I load (or even think about loading) the tandem into the car! Fantastic!!! Any chance of a photo? In the journal perhaps?
Just to clarify a couple of points: I don't have a tow bar fitted , but I do have a plan to change the car in around 6-18 months (142k on the clock). This means that spending on a new tow bar or roof rack is not a preferred option. Also we are just starting out on this tandem adventure with a Konnect2 Tandem. This may get upgraded at some time in the future......
David isherwood
2020-10-03 10:16:03
Hi Richard
i recently purchased a Circe Eos, 26" b 559 wheels
the reason for the choice was the ease of handling. The seat posts and stem with handlebars are speedily removed along with the wheels and it slides into our ford focus estate with ease
the 26" wheels ensure we still have the "big" bike feel/performance , the frame section is very manageable, its relatively light and the telescopic seat posts allow for a wide range of rider sizes
cheers
david isherwood
Peter Hobson
2020-10-05 13:39:14
You may think it impossible but when i bought my Tandem, Orbit Routier,i removed the wheels and fitted it into a Smart 4 seater car, with the seats down back and front. was a bit of a squeeze but i did it .
Colin Beckwith
2020-10-22 21:39:26
Have put tandems into the following removing only front wheels: Vauxhall Zaphira, VW Passat, Vauxhall Astra Est, Honda Civic (amazingly!), VW Golf Est, Fiat Doblo. Oh and rather obviously Volvo Estate will swallow just about any tandem without removing a wheel!
Charles Kendall
2020-10-26 08:46:41
I really think it is a false economy of time effort and expense to try and fit the tandem inside a car when it is so easy to mount one on a Helton style roof rack. Even if you can easily make space in your car with or without removing/folding seats it is quite a struggle to get the long machine into a car via the rear door especially without wheels. so much quicker to load it on a Helton carrier. It all reminds me of the "how many elephants can you get in a Mini?".
Matthew Stephens
2020-10-26 09:09:38
We have a (British) Pendle roof rack - the front forks bolt on with the bike upright. The rear wheel is strapped in plus there is an extra frame support bar. It is a basic design & would be easy to replicate with box section & a little welding/cutting
It works well & value is ok.
However, if we do not have a fully loaded car, I will always put the bike inside the E class estate, particularly for a long drive. I can leave both wheels on if no passenger. With 1 passenger I will take front wheel off. Recently, I had tandem with no mudguards & both wheels off the bike inside car with front seat passenger plus 1 rear passenger(middle row of seats has 1/3 / 2/3 split seats, so just had the 1/3 up).
I find it much more pleasurable driving without it on the roof - due to wind noise. Bike & rack on the roof also significantly affects the fuel economy by approx 20-25%.
I can fit bike in on my own, but it is easier with two people.
Mark Wilson
2020-11-01 15:37:09
Hi all, long time since being on here but until this week still an avid tandem enthusiast - if you see my Stolen notice in the wanted ads you'll understand the until this week bit. We'll be back!
We have carried not one but two tandems, to the Loire Valley and last year to Alsace, on the back of our Skoda Yeti with four passengers and luggage. We use a Witter towbar mounted carrier, the type that bolts to the towbar flange rather than the towball clamp type. This works very well with the Witter flange type removeable towbar. I do usually remove both wheels, I think I was experimenting when I took this photo!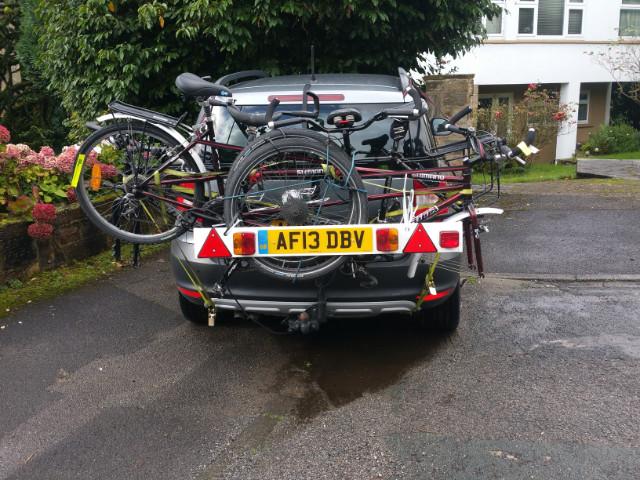 John Coathup
2021-02-01 23:17:54
Providing there are only two passengers, with a bit of thought & very little effort most tandems can be transported in the back of any hatchback or estate car.
Some years ago I managed to fit a Dawes tandem diagonally into a Vauxhall Nova (now Corsa) with the rear seat folded down, removing the 700c wheels, both seatposts & front handlebar & front low rider racks. My wife did have to endure the journey with the fork ends a few inches from her left ear but we managed okay! Wheels either side of the frame along with panniers/bar bags fitted around to support the frame & keep it steady. In the early 1990's there wasn't much choice on racks & those that were available were beyond our budget. I recall it took less than half an hour to put the tandem back together with a multitool.
My father & I are currently having his Swallow restored & whilst he has a Pendle roof carrier we'll probably end up transporting it inside my car again for our forthcoming tours. We are both cracking on in years so it seems more sensible than trying to hoist it onto the top of a car!
Ian Condie
2021-02-02 07:35:34
I read an article a couple of years ago about transporting a tandem in a Honda Jazz (http://www.blayleys.com/articles/cars/) and bought one as a consequence. It is amazingly spacious inside once the rear seats are folded down, and simply requires removal of the front wheel of either our Cannondale (with mudguards) or Santana to fit in. No removal of seats or handlebars are required either. It does mean that your passenger has to sit behind you rather than alongside, but as committed tandemers, we should all be quite used to that! Would highly recommend if you're looking for an incredibly versatile run about.