Discussions
Discussion of anything related to Tandems. Opinions expressed on this discussion board are those of the contributors and not necessarily those of the Tandem Club. Postings or extracts may be published in the Tandem Club Journal.
To add a response or post a new message you need to have an account and be logged in. You can get emails sent to you by enabling the Send Forum Emails tick box in your user preferences. Note you need to login to the website to add replies. See our help information
here
for more information.
You can add to this discussion topic using the entry box at the bottom of this page, when logged in.
Login
New member introduction
Derek Perry
2020-09-08 19:24:19
Evening folks. I thought I'd introduce myself as a new convert to the joys of Tandeming. My wife and live in North Lincolnshire up near the Humber Bridge and have just brought a rather nice Dawes Discovery Twin tandem. We had a test ride whilst on holiday in the Yorkshire dales and decided to give it a try. We both ride road bikes but are of different fitness levels so this was an obvious choice to enjoy our riding together. Our plans are for holidays into europe next year after we have crunched some miles here in the UK. I have a few questions regarding setup etc but I'll save them for a seperate post.
Hope to see you out on the roads
Derek and Wendy.
Chris Cobley
2020-09-09 09:00:31
Like you, we decided different fitness levels meant that a tandem was the only way forward together, and having tried one in Holland on holiday, we bought first a Lee Cooper racing tanem, and then a Dawes Galaxy Twin about 8 years ago on EBay for £500. Since then we've toured both in England and Scotland (using the East Coast mainline from York to Inverness for the Outer Hebrides and separately Orkney) and abroad using P and O from Hull. That would be perfect for you too. We've done 3 tours abroad, the most ambitious 885 miles down the Rhine to Worms and back - in 36 degrees a couple of years ago! If you like I'll send you the schedules for those rides: dates, times, routes and accomodation with costs (then). This Summer's tour was, of course, cancelled due to CV19 !
Derek Perry
2020-09-09 09:26:00
Yes please Chris. If you can send route details that would be much appreciated.
Simon Brown
2020-09-09 12:33:17
We've done similar, taking the ferry to Rotterdam then cycling to Berlin. To return we took the train from Berlin back to Rotterdam which only involves a single change, then cycled to the ferry. On another trip we flew the tandem to Munich by Lufthansa and cycled back, Lufthansa were great and I would thoroughly recommend them.
Happy to share details/discuss if you want, I've found some great places to avoid!!!!!
Peter Hobson
2020-09-09 13:12:58
Greetings Derek & Wendy, pleased to have this opportunity to meet you. I am Pete my wife is Lyn, we live just down the road in Winteringham. We are in a similar situation as yourself. We both have decent road bikes and hybrids. But due to different levels of fitness we decided to get a tandem. As this was the solution to riding together and the way firward to new adventures. Which keeps us together and nit arriving at tge cafe 25 mins ahead. First tried a tandem in Germany a few yeats ago but was a bit of s disaster. As non if us knew what to do. So just over 2 month ago we looked at the idea again. Went to have a look at one tandem that sold eventurly sold for 1900. Had a lesson then on riding a tandem properly and we agreed it was the way forward. We eventualy bought an Orbit Routier Tandem on ebay for 350. A bit batted and bruised. So my bike mechanic qualufications where put to full use. But after 3 days of strippung it down cleaning, greasing , oiling, touch painting and rebuilding, the black rabbit as it is called, is now in a real good condition. We have been out a few times including getting a soaking on Sunday. We are niw building up and looking st doing various tiurs in the UK, Europe and in a few years the world. <>Would be more than happy to meet up and go for a short spin, crunch a few miles in the local area if you like. I have loads of routes around the local area, as i am a guided ride leader for BC. Obviously with a coffee stop along the way. May be start the Humberside Tandem Club.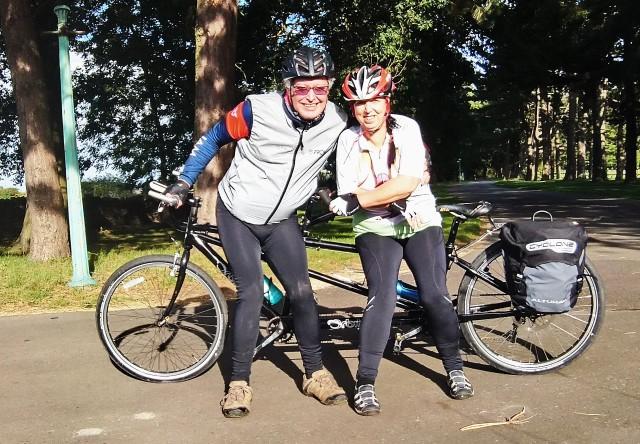 Derek Perry
2020-09-09 18:00:41
Hi Chris, files received so email address removed.
Chris Cobley
2020-09-09 18:00:42
Derek and Wendy
My apologies, as my Mac (and I) cannot evidently manage to attach the files showing our several foreign touring schedules. I have sought advice and now use Google Chrome, but his has still not allowed me to achieve my objective.
If it is allowed, just confirm your email address to me at ccobley@gmail.com, and I will post these to you directly. We live in Bubwith, incidentally, 6 miles North of Howden, so perhaps a Humberside Group is on the cards after all..?
CHRIS AND HELEN
Derek Perry
2020-09-10 22:05:18
Thanks for the welcome and advice regarding our new toy folks. Looking forward to gaining some two up riding around the Humberside and Lincolnshire wolds before heading off further afield. Chris and Pete, happy to meet up for a ride and coffee one weekend. 3 tandems complies with the Rule of Six