Discussions
Discussion of anything related to Tandems. Opinions expressed on this discussion board are those of the contributors and not necessarily those of the Tandem Club. Postings or extracts may be published in the Tandem Club Journal.
To add a response or post a new message you need to have an account and be logged in. You can get emails sent to you by enabling the Send Forum Emails tick box in your user preferences. Note you need to login to the website to add replies. See our help information
here
for more information.
You can add to this discussion topic using the entry box at the bottom of this page, when logged in.
Login
Tandem on LNER Azuma trains
Chris Lee
2020-08-01 08:58:53
For anyone who might be interested we just about managed to cram our tandem in to one of the bike bays on an LNER Azuma train (Durham to Edinburgh).
Their website explicitly says tandems up to 2.5m can be stored with wheels removed. So we removed wheels and rammed it in as per photo, not particularly elegant but they did let us travel
As we've come to expect, default response at the station was 'well you won't be traveling with that' we showed the ticket inspector a print out of the website Bicycle policy and he said he had no problem but the train manager would probably refuse, the train manager wasn't at our end of the train when we put the bike on so no problems.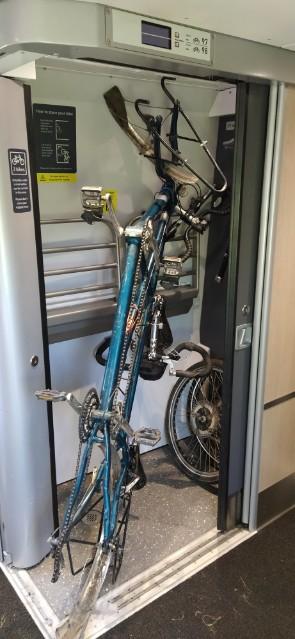 Martyn Aldis
2020-08-03 10:54:47
Very helpful Chris. I've been hoping someone would report an actual loading since the new policy for Azuma was posted by LNER (as shown and linked in our Tandems on trains page).
Did you use a strap to hold the front up? We used an Arno strap when we loaded our Thorn into the mock up carriage in winter 2014. The LNER policy appears to be a direct result from the report on that trial so the cold ride up there from Didcot parkway has been well rewarded.
Chris Cobley
2020-08-04 12:44:24
Chris
I wonder if you could possibly let me have the length of your tandem without its wheels, please, as it looks as though you only just managed to fit it into the tiny space available on the new Azuma trains on the East Coast Mainline ?
We have taken our tandem from York to Inverness twice with little difficulty (except the usual teeth sucking from staff on the platform!), but were told categorically both by platform staff and LNER over the phone that tandems could no longer be carried on Azumas.
So fascinating that you managed to do so ! Well done ! But the length must have been critical, and presumably no other bikes could be put in once yours was there ?
CHRIS COBLEY
Jim Hodgson
2020-08-08 09:26:16
We travelled on an Azuma before lockdown (without bikes) and I was trying to see if 1 tandem would fit into the 2 spaces by splitting it at our splitters. I thought that would be possible and probably less trouble than removing the wheels.
Would that work do you think? Are you supposed to reserve spaces?
Jim
Chris Cobley
2020-08-08 12:12:29
To answer your question first, Martyn, certainly you must book places on LNER trains, and for a tandem that means two spaces.
Secondly, Chris, could I possibly repeat my question about the length of your tandem without wheels (not its height for captain and stoker), because looking at your photo, that appears to be the absolutely key measurement to getting a tandem on an LNER Azuma (which we had been told was impossible by LNER). I would be most grateful, as otherwise its a ferry trip from Hull to Rotterdam (or Zeebrugge) which is much more expensive than LNER to Inverness !
CHRIS COBLEY
Martyn Aldis
2020-08-17 12:28:43
First to pick up on Jim's question posted on the 8th. Our Thorn splits 50/50 and it fits really easily using two cycle spaces in the IET, the GWR version of the Hitachi 400 based train. The space is the same on LNER Azuma. It is more normal for tandems with a single set of couples to divide ahead of the captain's pedals, so more like 60/40 but the longest section should still be fine. You can see both sections of our Thorn are well clear on the deck in the photo linked below.
Yes you must book for two bikes and do get well prepared on the platform in good time and have some fast action straps to hand to prevent sway. The tubular divider is a real pain but some padding should help with that. Do cover S &S couplers with protectors of some sort. They are seriously sharp and could do a nasty injury to someone dashing out of the carriage at the last moment or on similar accidental contact with flesh or fabric. We always take off luggage on the platform and getting that hoisted aboard becomes the stoker's responsibility leaving me to carry the bike halves.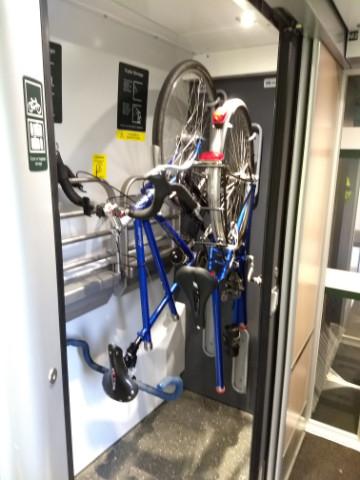 Martyn Aldis
2020-08-17 13:37:51
Secondly about Chris Cobley's question on Azuma. The LNER policy for Azuma is linked on our Tandems on Trains page. Also open "Can I travel with a tricycle or double deck bike?" from the LNER page.
Best to take a printed copy of the LNER policy plus have their link on a smart phone so you are well prepared for any discussion with railway staff. Advice from station staff and phone enquiry isn't much use when it comes to policy for tandems. Just book for two bikes.
You need to be well prepared as far as the physical part of loading goes - no use finding you can't get a wheel off and of course you must take off all luggage. Keep in mind that the train manager has the final word and their job isn't that easy especially with the tight luggage spaces on the new trains.
Chris Cobley
2020-08-25 14:06:42
I would love to hear from anyone else brave enough to risk a tandem on the new Azuma LNER train. Chris Lee's tandem (and ours doesn't split in half either) looks as though it got in my the skin of its mudguards, which I wouldn't really want ot use to prop it up for 200 miles from York to Inverness, next time we go island-hopping in the Highlands. What fastenings are there on board, as I could see none ? One wonders why LNER specify a max length of 2.5m when you have to take both wheels off anyway ? Our Dawes Galaxy Twin only measures 2.45m with the wheels still on ! Chris Cobley
Chris Cobley
2020-08-25 14:18:10
PS And you have to look long and hard to find LNER's "policy" starting with "Travelling with your bike" through "Bikes on our new AZUMA trains" to "Reserve a bike space here", where surprisingly you'll find their AZUMA-specific "policy".
Martyn Aldis
2020-08-25 16:22:41
The links are on this website under Tandems on Trains and I linked it all again in my previous message. The 2.5 metre length appears to be a sensible high-end filter to exclude exceptionally long tandems. Some 29er off-road tandems are very long and of course a triplet is also a tandem but almost certainly too long.
The intention is that bikes are hung on the two hooks you can see in the picture of the tandem in two halves. When we went for a loading trial on a mock-up with a non-separable tandem, I suggested the hooks should be on vertical tracks but this was rejected and as I remember from the report this was in the interests of simplicity which does have merit. I have heard that the hooks are not working out all that well for bikes with really wide tyres but they should be OK for a Galaxy twin provided you can lift the bike. Having your own fast-action strap is helpful.
I agree the rear mudguard is not ideal in the first picture but resting on the rear luggage carrier should be fine and organising a rear mudguard for quick release from the frame end is not difficult. Probably the best solution is to use splittable rear 'guards as devised for the Rinko packing system as shown here. There may well be other useful safe adaptations that would get rid of that mudguard tail.
LNER have gone further than some other companies in allowing tandems onto these trains in spite of the marginal length. This space, used on the UK version for utility rather than seating, is the length at the end of the carriage required to house the door when it is open and the associated mechanism. On some services in Japan this space has windowless seats. The choice of this Hitachi train for the IEP was made in the late 00s and the deal includes using body shells imported from Japan with a lot of more local content and internal design added here in the UK. The off-the-shelf carriage shell design uses techniques and tooling already developed. To cut a long story short the length is just a little less than we would like but had the train been designed in the UK it is quite possible that this space might have been shorter as the idea is to have maximum capacity to carry paying passengers in seats.
LNER have been game enough to let us load making the assumption that we will be well prepared and of course in a positive frame on mind. There is no obligation to carry tandems as there is for solo bikes.
Matthew Hodges
2020-08-26 17:35:17
One of the above posts mentioned the Japanese Rinko Splitable rear mudguard but the Link seemed to suggest it was not stocked here. If that is so and you want them it may be possible to order a set direct from Japan by using https://Buyee.jp
I used it a few years ago to order some bike parts I couldn't get here and it worked ok.