Discussions
Discussion of anything related to Tandems. Opinions expressed on this discussion board are those of the contributors and not necessarily those of the Tandem Club. Postings or extracts may be published in the Tandem Club Journal.
To add a response or post a new message you need to have an account and be logged in. You can get emails sent to you by enabling the Send Forum Emails tick box in your user preferences. Note you need to login to the website to add replies. See our help information
here
for more information.
You can add to this discussion topic using the entry box at the bottom of this page, when logged in.
Login
Advice needed please
2020-07-19 12:16:54
Hi All
I wonder if I may ask for some help.
My brother died last year and among is posessions I came across a Tandem bike. It is a Avalon Skedoddle as per attached.
I have not got a clue what to do with it but wondered if anyone could offer some help.
The history as I know it is in 2019 it was entered into a rally from Birmingham to London . prior to the rally it was fully serviced by Halfords in readiness for the event. (receipt available).
Unfortunatley during the rally the bike left the road and bent the front folks. therefore they are no longer original , however a new set have been fitted but some adjustment needs to be made to the mudguard and front breaks. as I am not expert at this I have left them alone.
As far as I can see all other parts are in fully working order.
I would be interested to know its value and if it is something any member would be intertested in.
I live in the West Midlands
Many thanks
Jim Guinane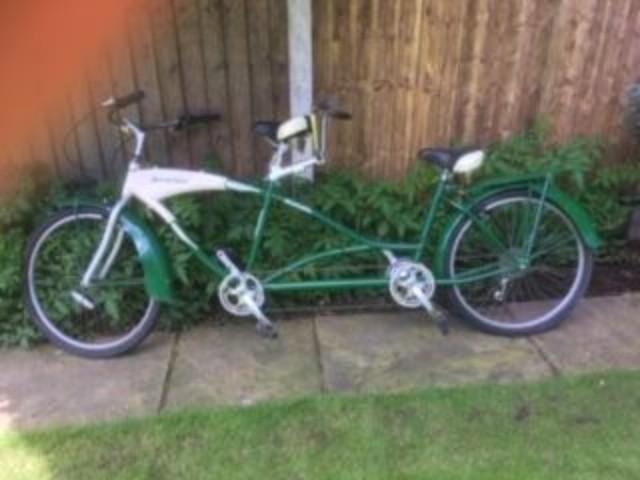 Chris Peachey
2020-07-19 17:22:59
Hi Jim
I have not heard of this make but one sold on E-bay this year for £295. You should be able to find it if you search the name.
I would sugest it is a "budget" tandem judging by the design. Are there any labels giving more info? ie "made in Britain" or a shop name? Probably 25-40years old. I would think the new price today would be under £1000 making the seconhand value no more than £500 but it is an interesting design that would appeal to some buyers. Try it on E-bay for the widest audience, either with a reserve or starting bid of £200+. (Try and take some clearer pictures of both sides.)
Has anyone else seen these tandems?
James Ledger
2020-07-19 18:06:49
Hi Jim, Kate and I bought one of these about 15years ago brand new from our local bike shop in Herne Bay in Kent to use as our pub Tandem, It was £350. great fun for cruising along the sea wall, we sold it to a friend for £200 in good condition, I think they are a replica of the americam Scwinn Cruiser which are more expensive, I've not seen any for sale for some time, but they do attract attention so sell OK.
Jim and Kate