Discussions
Discussion of anything related to Tandems. Opinions expressed on this discussion board are those of the contributors and not necessarily those of the Tandem Club. Postings or extracts may be published in the Tandem Club Journal.
To add a response or post a new message you need to have an account and be logged in. You can get emails sent to you by enabling the Send Forum Emails tick box in your user preferences. Note you need to login to the website to add replies. See our help information
here
for more information.
You can add to this discussion topic using the entry box at the bottom of this page, when logged in.
Login
LEJOG
spencer vanderpal
2020-05-16 12:47:27
Hi All
My wife and i are planning to LEJOG next year, we have been training hard and did plan on doing this year but hay ho that would be. We plan on using a Thorn tandem (see attached pictures) please could i ask if you think the bike is good enough, the rims are 48 SS spokes.
Best regards Spencer and Angela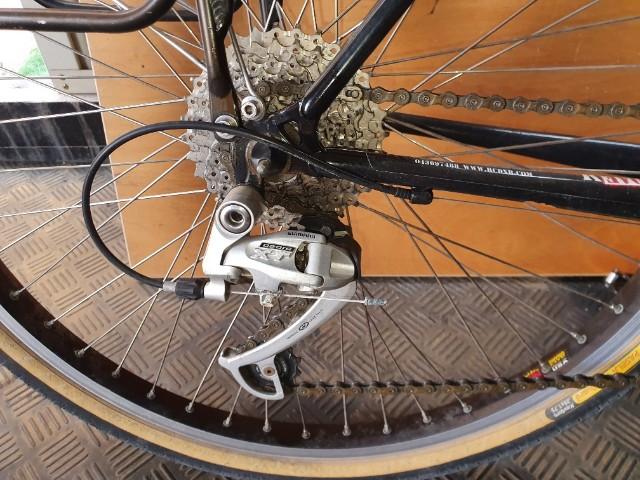 spencer vanderpal
2020-05-16 12:52:46
spencer vanderpal
2020-05-16 12:53:46
Mark Elmy
2020-05-16 13:20:31
Surely the question is what do you doubt about your tandem to give you cause for concern that the tandem can not do LEJOG?
spencer vanderpal
2020-05-16 15:15:57
Hi Mark
Thanks for the responce, my concerns are one i dont know abut this model Thorn bike as i am not into Tandems, also i have been told its best to have disk brakes with a drag brake, i am not sure if i can fit a drag brake onto the bike. Dont know alot about the wheels apart from 48 spokes which to me is alot. Any helpw would be appreciated.
Spencer
Brian Stephen Reid
2020-05-16 15:44:09
Hi Spencer, I'd suggest you go on loads of training rides. If there are any issues with the bike (or the riders), they'll show up....
Enjoy the trip,
Brian
Mark Elmy
2020-05-16 15:53:35
I'd suggest there are many things about your tandem that could be better, could be improved, could increase your speed, could give you a nasty hole in your wallet.
I agree with Brian, ride your bike, ride your bike, ride your bike.
If you do enough miles that you and your stoker feel comfortable in doing the distance, by that time you'll have given the tandem a good shakedown and any weaknessses in either yours or the tandems ability will come to light.
Otherwise, if you're in no great hurry - theres bound to be a bike shop that'll do a repair but Thorn have a good name as tandems - some of the components could ... (see above)
But if you want to go down that route, but a new 753 from Orbit (JD) and it'll be good enough to ride around the world (AS proven by TandemWow girls - Qdos to you both!)
Philip Nye
2020-05-16 21:44:30
Is this set up for you? it looks like a small frame that's been heavily extended for a steersman very much taller than the stoker. If you've been training hard but not on the tandem, then change that now and by next year you'll know how it goes.
It also looks as though the front wheel is smaller than the back but that is probably photo distortion.
If you have the time and are mechanically competent, of course it will get you from end to end. Other options might be faster or more comfortable but could be costly and until you've got some miles in on something you won't know what to look for. Thorn are a respected brand and the gear looks OK from what I can see in the photos. You might want to fit another bottle cage or two!
These guys did it on much worse! http://www.georgemahood.com/books/free-country-a-penniless-adventure-the-length-of-britain/
spencer vanderpal
2020-05-17 17:57:14
Hi All thanks for your great comments, do you think we would need a drag brake for LAJOG
Tim Dowson
2020-05-17 23:52:02
Not sure if you can fit an arai drum brake on the rear (if you can find one) without changing the rear wheel, but an extra rim brake may just be possible. A couple of times in Scottish mountain rain our V brakes wouldn't stop us - though they did prevent acceleration and luckily the other traffic had taken refuge already. Better blocks (salmon koolstop) might help, if the levers and cabling work well too. But I wouldn't want to tour without a backup brake again.
Mark Elmy
2020-05-18 08:01:50
Perhaps some koolstop salmon brake blocks would help?
Stephen Gray
2020-05-18 10:27:01
A drag brake is always useful on a tandem. It won't stop you very quickly but is good for bleeding off speed on a steep or long descent without heating up the rims. If your hub is threaded on the non-drive side (looks like a sprocket or freewheel could screw on there), then you should be able to fit an Arai or similar drag brake. Arai brakes are no longer available new but you can occasionally ge a second hand one. There are alternatives available, I believe.
I assume from the lack of luggage carrying capacity that you will be overnighting at B&Bs, hostels or hotels, so you won't have the extra weight of camping gear. However it looks as though you and your partner are tall, so not featherweights added to which a Thorn tandem is quite a heavy bike in the first place. On long straightish descents the bike will build up quite a lot of speed (40+ mph) if left to run, which can be a bit scary and with very little chance of stopping quickly. If you want to bleed speed off on the descent, you are best braking quite hard for a short period with alternate brakes every so often which gives the chance for the rim to cool off somewhat befor the brake is applied again. You should definitely fit good quality brake blocks as already suggested. Oh yes and carry some spare ones with you!
If you are interested in buying an Arai drum brake, let me know. I have one on a tandem I am going to sell and unfortunately I can not transfer it to our new tandem as it has a rear disk brake.
Stephen Gray
2020-05-18 10:48:16
Suggest you do a practice ride. Load the bike up with a weight equivalent to that which you will carry on your LEJOG. Find some steep or long hills nearby and ride them both up and down. You will then have an idea of whether your barkes will be sufficient. Hills in Devon / Cornwall tend to be steeper but shorter. We had to walk some of them on our singles but we were camping with a full load (20kg plus 17kg for the bikes). Hills in Scotland tend to be longer but not quite so steep. Depending upon route of course. Choices of road in Scotalnd are limited unless you have unlimited time to do LEJoG.
Watever average ride distance you are doing per day, make sure you do several rides of that distance ideally on consecutive days so you know you can do that.
If you can, have a day off half way through.
Martyn Aldis
2020-05-18 11:13:20
There are lots of reasonable routes for this trip. We took a simple route in the opposite direction on our rim brake Dawes and only stopped for rim cooling once at on the A9 at Berriedale although this was also a chance to talk to some other cyclists. The Thorn we bought later has a drag brake which I like for saving my wrist from strain, parking and to reduce rim wear. For rides that even brush the Alps or Pyrennes the drag brake really comes into its own on routes with long steep descents and nowhere to stop and cool rims.
As your Thorn has 48 spoke wheels it may well have a Shimano Tandem hub with a thread on the left for a drag brake.
With a rim brake tandem you can take a serious amount of metal out of the braking tracks on a good length tour especially if it rains a lot and you use smaller roads. The easiest way to check thickness before you go is an Iwanson gauge made for dental work.
Certainly this frame doesn't look an obvious good fit for a tall captain and short stoker and if the history of the front seat post is unknown you might want to replace it making sure you get a robust and long one to have plenty in the frame.
You have the twin plate crown forks which are more comfortable than you would get with a disk brake fork.
With a reasonably relaxed plan say 16 days or 18 days if taking in some sight seeing, I can't see a faster bike would be a great advantage. Getting the luggage weight right down helps a lot. We like to tour with just two small panniers and a saddle bag when using B & Bs. Practiced crew working and a bit of resolution is needed for the short steep hills of Cornwall and Devon and when the weather plays up but it should still be more of a pleasure than a challenge.