Discussions
Discussion of anything related to Tandems. Opinions expressed on this discussion board are those of the contributors and not necessarily those of the Tandem Club. Postings or extracts may be published in the Tandem Club Journal.
To add a response or post a new message you need to have an account and be logged in. You can get emails sent to you by enabling the Send Forum Emails tick box in your user preferences. Note you need to login to the website to add replies. See our help information
here
for more information.
You can add to this discussion topic using the entry box at the bottom of this page, when logged in.
Login
What's the latest on disc brakes?
Mark Silver
2020-03-26 15:40:39
In these troubled times I dream of a new, custom tandem. What's the latest on disc brakes? All I can find on the web seems to be at least ten years old. Has the problem of the vast heat that can be genersted by slowing a tandem melting all the plastic parts been overcome? What's do fellow riders use?
Chris Bishop
2020-03-26 17:40:03
I have seen an article from JD Tandems about discs, either on this site or on the shop site but I can't find it. I recall it talked a lot about rotor size and heat disipation. Their website says rotor should be 200 mm minimum.
We have a trip to the Alps planned for later in the year (fingers crossed) will be able to update after that!
R.N. Goodman
2020-03-26 18:28:23
Hi Mark,
We bought a robust touring tandem from JD Tandems in 2018. They recommended a V-brake on front and 203mm disc on rear. (Cable operated to allow separation of the frame which would be trickier with hydraulics). Also a ratchet V-brake on rear rim.
I undertand that discs on the front require specific disc strength forks to take the increased leverage force imposed by having the stopping force acting nearer the hub. Such forks are available but likely to be heavier.
I'm not sure that any braking system will allow you to brake without care in an alpine descent. Our set up has been brilliant. We came down Mont Ventoux last year quite happily but with careful monitoring of heat on rim and disc. Quite a few stops but then some of these were to calm the stoker as much as calm the brakes!
I must add that planning custom tandems seems an excellent way to pass some time in the present circumstances!
Richard
PS I am guessing you are the Mark Silver I met at the 4 Sight Tandem ride from Hurstpierpoint last year? If so then you may remember having a ride on our tandem
Chris Lee
2020-03-27 08:03:39
We've been through a few brake combinations and are reasonably happy with what we have...
Currently the tandem has 203mm rotors front and rear with TRP spyre callipers and sintered pads. With V-brakes on the rear for emergency/parking.
The rotors have aluminium heat dissipation fins which I was initially sceptical of, but they do get very hot and cool quickly.
You can see the abuse our disks get both from heat and the sintered pads in the photos.
We used to have BB7 with plastic knobs but we melted them, the TRP's are all metal.
We still have to stop and allow the brakes to cool on long winding descents, letting the bike run is not really an option as we'd easily hit +70kph.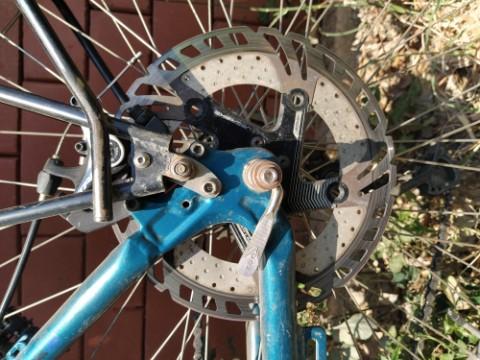 Kevin Smith
2020-03-27 12:43:14
We've just bought a new Tandem with Hope V4 hydraulic brakes, phenomenal, one fingered stopping power, and machined from single billet. They come with sintered pads, and interestingly, a spare set for E bikes, which might be more Tandem suitable that the standard ones. I need to ask Hope on that. With ref to controlling the heat, I think intermittent use rather than draging them would help, I will know better if we manage to get away late summer as planned. The V4 set up is aimed at Downhill MTB racing, all British made too.
Jon Watt
2020-03-27 14:14:08
Our JD Tandem bike equipped with disks has been absolutely fine, really great stopping power and control. My wider experience of disk brakes would also lead me to suggest them as a primary upgrade path. I've never experienced heat based issues with modern disks, they're all designed really well and even on long descents at speed I've never found them to heat up to a temperature where they cause issues. Wouldn't recommend touching them after a descent though ;-)