Discussions
Discussion of anything related to Tandems. Opinions expressed on this discussion board are those of the contributors and not necessarily those of the Tandem Club. Postings or extracts may be published in the Tandem Club Journal.
To add a response or post a new message you need to have an account and be logged in. You can get emails sent to you by enabling the Send Forum Emails tick box in your user preferences. Note you need to login to the website to add replies. See our help information
here
for more information.
You can add to this discussion topic using the entry box at the bottom of this page, when logged in.
Login
E-bike tandems
Bob Cordran
2019-05-22 11:30:30
New here, so apologies if this has already been discussed.

I have been riding an entry level Dawes tandem for about four years with my solidly-built nearly-teenage son who is profoundly autistic and so is not able to ride a bike on his own. Whilst he loves going out and about on the tandem, he is now getting quite tall and is less than 100% committed to putting much effort into pedalling (as an aside, this does make the apparently-compulsory comment that "he's not pedalling back there" even more irritating than it would be otherwise). It can also make the very many steep hills of West Kent something of a challenge, despite having swapped to a cassette with a larger range, as I am essentially doing all the work for both of us.

Conesquently, I'm considering acquiring an e-bike tandem, and would be grateful for any advice. From my research so far, I suspect that retro-fitting some sort of motor to my existing tandem is unlikely to be a winner, and the few e-bike tandems I have seen on the net which look like they might be suitable are on the expensive side, to say the least, so it will help to have some expert guidance to avoid a costly mistake.

Since I'm relatively fit and enjoy the exercise (mostly) I would only really want assistance on steep hills, which is presumably where the less robust motors struggle, so I suspect that getting a less-expensive model will be a false economy. That said, the models I have seen do appear to be very heavy so I am unsure how realistic it would be to shun electric assistance on the flat.

Any thoughts gratefully received.
Bob


2019-05-22 12:44:39
Retro fitting an electric device is not really an option as it would invalidate any form of warranty of the tandem
Tim Williams
2019-05-22 16:51:38
This is going to be no help whatsoever, but on a recent trip to Spain, I saw one of these:
https://propelbikes.com/product/moustache-samedi-27-x2-trk/
It was a stunning bit of kit, but I suspect far beyond the budget of most of us.
Would one of the Tandem Expert shops be able to advise – or Dawes might be able to comment on suitability of "conversion kits"?
TimW
tony@tonyhutt.co.uk
2019-05-22 17:24:22
That one looks as though it has two batteries - double the power or just double the range? Electric tandems suffer from the disadvantage compared with solos of sharing the 250W maximum between two people rather than one.
We hired the Circe Helios electric tandem (Shimano steps E6000, http://www.circecycles.com/products/e-bike-2/) for the weekend, squeezed it into the back of our Focus estate and cycled around Bristol. Great for the hills, and with the Alfine hub with electronic gearchange, it changes down to 2nd gear when you stop, which is great at traffic lights or when a car comes out in front of you and stalls when you're going up a hill! But we decided we didn't need it in relatively flat Suffolk. They do some retrofits too now.
David Ross
2019-05-22 17:54:43
I'm sure JD Tandems is too polite to highlight the range of tandems they offer, however it would be our first port of call if we were in the market for one.
Chris Bishop
2019-05-22 18:12:42
JD Tandems will let you try an E Tandem with no pressure to buy one
Richard Scrase
2019-05-22 19:51:19
I bought a retro-fit e-tandem on ebay, rear drive, battery in rack above, rather nice 1980's old Orbit tandem. My aim was to use it as family transport to move an adult, 11 year old and three year old in a child seat. The retro kit (@£300) moved us along reasonably well (10-12mph on flat without pedalling) but the overall weight of motor, battery, child-seat made the whole difficult to park, so I sold it on. So we're continuing with our Thorn discovery for now. I suggest test riding and then taking your time with ebay.
Steve Edmunds
2019-05-23 08:53:44
Just to endorse what was said re JD Tandems, in my experience they work hard to tailor options to your needs and there is no high pressure salemanship
Steve
Bob Cordran
2019-05-23 09:11:18
Thanks for all the very helpful comments.

It does sound as though retro-fitting is not the way forward for what I need.

Whilst the Circe looks good, I'm not keen on the small wheels - I'm a daily Brompton user which is fine for commuting but I would be wary of that wheel size for long distances on the dodgy road surfaces round my way.

The Moustache and Orbit tandems look the most suitable for what I need and I would be interested to know what difference the two motors on the Moustache makes (I assume more power when needed). There is no getting round the price, though - but I'm sure this is a "you get what you pay for" situation.

I will definitely speak with JD Tandems - and also hope for a lottery win...

Bob
Tim Dowson
2019-05-23 09:52:13
There was some discusion recently about retro-fitted systems using a motor in the front wheel, but the forks giving way under the strain. But if front tandem forks can be made to cope with a front disc brake, is it not possible to also retro-fit stronger front forks, for a front motor? I would expect the braking force of a disc to be rather greater than the accelerating force imparted by a motor.
Dennis Andrews
2019-05-23 20:40:56
We are currently in Snowdonia with our Moustache Samedi. We are finding that even in the hilliest terrain it's range is in excess of 40 miles with its two batteries. It will climb a 1 in 5 quite happily and it hasn't broken the 11 speed chain yet! Dennis
Michael Hughes
2019-05-24 19:48:40
Despite your concern about small wheels I strongly recommend you take a look on Ebay at the new bikes offered by Ecosmo a Birmingham based firm
They offer an electric folding tandem easy fit in a normal car boot and not a lot of hassle to fold and unfold.
It has 7 speed derailleur gears and a 36v 250 watt motor
It costs just under £1000 but you can return it within the first 30 days if it does not meet your needs. Normal protection for online purchases is return within 14 days
I have the non electric version which we decided to leave with our friends in Prague for them to enjoy and to have a tandem available to us to use there when we visit
Michael Hughes
Simon Ward
2019-05-26 18:21:09
I fitted a powered front hub to our 10 year old basic Viking Tarantino with 17Ah battery. I'm in a similiar(ish) situation in that I don't mind the exercise although the wife's input is slowly diminishing. I bought the conversion from 'Woosh' bikes and can thoroughly recommend them. I fitted it last August & although I've only done around 800 miles since conversion it has performed well. It certainly smooths out the undulations. Comes with throttle & pedal assist although I've never really used the throttle except to check it still functions every now & then. Check out pedelecs forum for more comprehensive discussions on ebike conversions et al..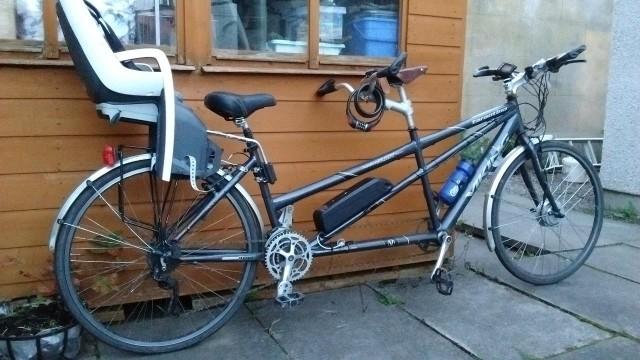 Simon Ward
2019-05-26 18:37:40
As an aside the total cost was around £550 delivered to Inverness. I fitted it myself in a couple of hours & the only real problems were getting the wheel centred in the dropouts (very tight clearances & 'tubular' fork construction) & drilling the holes for the battery/controller - hard access for drill due to frame tube configuration. I have heard that a rear wheel option would have been more beneficial although I think that option was screw on freewheel only (not cassette). I'm quite happy with my purchase & in this configuration it gives 'all wheel drive'!!
Geoffrey Booker
2019-05-26 19:59:21
I recently retro-fitted a Bafang mid drive kit to my tandem trike. Only had three hilly rides so far but it has been excellent so far. We are only using it on hills and long tiresome drags but it is a great help. The motor, controls and battery cost around £900.00. I had to buy a chainsett for the through drive as the old one didnt fit a square taper bottom bracket.
Sorry, Picture upside down!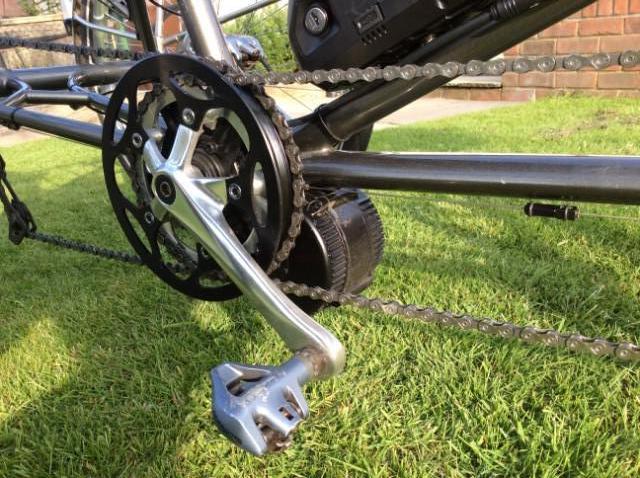 2019-05-26 22:13:17
For hills, the Bafang mid drive is very effiecient as the drive goes through the rear cassette gears, just like a car, so with two riders NOT pedalling a 250W Bafang could climb a 15% climb at 4.5 mph, 9% in 5th at 7.5 mph, or a 5% hill in 9th at 13 mph, and2 0 mph on the flat, but the Bafang software limits the assisted speed to 15 mph.
This is using a 36T chainring, and 9 speed 11 to 32 rear cassette.
If you go to the www dot wooshbike dot CO dot UK , and click on kits and then the BBS01 CD kit for pricing, and then click on the motor charts to bring up a separate page, then read the text and scroll down to the mid drive sirrico CD motor, to see the climbing advantage, AND having the motor at max efficiency (78 rpm) at any speed using the gears.
Michael Hughes
2019-05-26 23:56:40
DVLA website
Clearly states that it is the rating of the motor itself which is taken into account when classifying an electric bicycle as a bicycle or a motorcycle.
Above 250w the machine is regarded as a motorbike for which registration, driving licence, insurance and motorcycle helmets are required for use on public roads.
I t should also be noted that machines powered by motors above 250w are not allowed on cycle paths, hence can only be used on private land with the landowners permission.
The provision of switches and cicuitary to downgrade the motors performance does not make any difference,it is the rating on the motor that counts.
Perhaps the Tandem Club should press for a change in this rule, at least in respect of tandems maybe asking for the limit to be raised to 500w
2019-05-27 07:39:04
I think that 250 watts is more than enough, even for a tandem. I had an electrified tandem catch me whilst out on my solo bike, while out climbing a Derbyshire hill just recently - about 5%-10% gradient to 400m. I'm reasonably fit and often use electric bikes as pacers/targets to try and catch
Geoffrey Booker
2019-05-27 13:47:21
On a slightly different tack, the mid drive motor is best fitted to the rear bottom bracket.
Fitting the Bafang to the front eccentric is not possible due to insufficient clearance.
The main disadvantage with fitting it to the front bottom bracket, if it is possible, is that the captain and stoker pedals will go out of phase as the captain can stop peddling independent of the stoker. That is not ideal in my mind as it upsets the balance of the tandem, and will be different everytime both parties begin to pedal again.
Cliff Bruce
2020-07-24 12:53:32
My wife and I are new club members and have had a Thorn tandem from SJS for nearly three years. To help our ageing legs we are looking at electric assistance and SJS have suggested the Pendix system, which has to be professionally fitted. This is a bottom bracket fitting which doesn't look very elegant, makes the pedals further apart and has rather mixed reviews. We wonder whether anyone has any views or experience of it or any alternatives.
We have a Rohloff hub at the rear and I'm not keen on a front wheel motor. Thanks in advance for any comments.
John Saunders
2020-07-24 13:15:48
We read all the posts about motors and because we like our Santana so much decided on a front wheel power unit. I note that you are not keen on this but it has worked very well. We used Cytronex in Winchester and had several visits to satisfy ourselves it was the one for us. We had carbon forks and although contacting everyone including Santana no one would confirm they would take the torque so changed to steel. The fitting was easy the wiring short and discrete , the battery fitted on the water bottle mounts. Power is not a " hit you in the back " surge, more like a 3rd person starts peddaling. Worth a look.
Bob Cordran
2020-07-24 13:34:15
After kicking off this thread a year or so ago, I thought I would add an update. In the end I went for the Moustache Samedi 27 X 2 Trekking tandem. I have to say my only regret is not having bought it sooner. It is a simply amazing bit of kit. The pedal assist ranges from a little help through to enough to get me and my teenage son (who does not really pedal much) up York's Hill in Kent (if you know it, you will appreciate that this is no mean feat). It is sturdy, and always feels completely stable, even when hurtling downhill at 30mph plus. The four piston disc brakes inspire confidence and it really is a joy to ride. Since there is a lot of control over how much assistance you use, you can still get a real workout (or even turn it off completely). There are only two drawbacks - one is that they are few and far between, so difficult to track down. The other is the eye-watering price. It is worth every penny, but it is an awful lot of pennies.
Cliff Bruce
2020-07-25 20:16:26
Thanks for the comments. As we live near Winchester, we visited Cytronex and I rode a bike up the hill (conveniently next door!) I was impressed. It is a very simple system. You switch it on when you want it, as much as you need. We will still have our 14 Rohloff gears. Taking the tandem in next week for them to check that there are no difficulties.
If it's a failure, take it off and sell it. Put the original wheel back. But I think it will work very well.
John Saunders
2020-07-26 11:58:24
Please feel free to mention our name and ask for a referral discount, if you dont ask you dont get these days !!
Tim Goffe
2020-07-26 19:08:15
We bought our first e-tandem 2 years ago after 15 years of "normal" tandem riding, first with a KHS, then with our reliable, comfortable Thorn Discovery. We now ride a Gepida Thoris, an impressive bike which we love, and use it for touring and day rides. Highly recommended tandem!
It is stable and capable on road and also manages well on dirt and forest roads. It comes well equipped for road use with mudguards, lights, a kick stand and rack as standard. We like the low step-thru height and wide captain's handlebars. We added a larger range (11-42) cassette for easier hill climbing, a suspension seat post for stoker comfort and a second battery for longer all-day range.
We live near to JD Tandems (Gargrave, North Yorkshire) and can wholeheartedly recommend them for knowlegeable, appropriate and helpful advice on choosing an e-tandem, if you are buying new.
Tim, Kendal Cumbria
Cliff Bruce
2020-08-06 09:02:55
To round off my post 25th July, we took our Thorn to Cytronex and found that there were possible problems, mainly whether the forks would be strong enough, also adapting the wiring to deal with the S&S coupling.
Then I spotted the ad in the "Wanted" section for a tandem pretty well identical to ours. We decided that fate had told us which way to go and contacted James, who came to see our Thorn, took it for a test ride with his daughter and bought it. We now have a date to go to JD Tandems to ride and buy (we hope) an Orbit STEPS 8000, always assuming we are allowed to travel to Yorkshire!
Cliff Bruce
2020-08-23 13:42:14
We have now had our new Orbit fitted with Shimano E8000 motor for a couple of days after collecting it from JDTandems, who were extremely helpful. Of course, we had a test ride first.
it has revolutionised our cycling trips as we now go where we fancy going, regardless of hills. One local hill that always defeated us we now manage easily. It still requires effort and peddling so we still get the exercise.
Of the three levels of assistance, I think the top one is possibly excessive and the middle one could be stronger. I believe they can be adjusted but it is early days yet.
Our previous tandem had a Rohloff rear hub, which is heavy, so I am (being Pilot, of course) having to get used to the weight of the battery nearer the front.
Andrew Duncan
2020-08-31 15:24:46
Re 20" wheels on a circe tandem. We have a KHS folding tandem to avoid arguments on trains. I was sceptical at first about the small wheel size (20") but the difference to a single bike with these wheels in astonishing. It rolls surprisingly well and doesn't feel twitchy. Not as steady as a double marathon with normal wheels but a very competent bike and the dog is comfortable in its basket on the back. I've ridden an unpowered Circe and it was fine.
Michael Holley
2021-02-08 10:05:44
Re the post by Simon Ward above on 26th May 2019. I'm a new tandem club member and we also have a 10 yr old Viking Tarantino which we were thinking of converting to an e-tandem. However I'm a bit bewildered by the variety of kits available intended for ordinary bikes and and whether they would fit our tandem. Simon's set up looks exactly like we want, and I wondered if he's still happy with it he could just add a few more details so we could order the same kit from Whoosh bikes. Specifically did he have to specify the wheel size (ours has 48 spokes - will the new wheel be strong enough?), and was there any issue fitting the crank sensor as I've never split a crank before. If we know what details to supply we can make sure we get exactly the same kit and we'll know it will fit. Many thanks for any advice.
Simon Ward
2021-04-05 20:27:28
Hello Michael, apologies but I haven't visited the site for quite a while so this reply is probably a little late. The conversion kit I used was the XF07 with 17Ah battery.
'Woosh' were incredibly helpful to deal with. Obviously you will need a 700C sized wheel. The wheel they supply has 32 spokes but these are much heavier wire 'gauge' and of more than adequate strength. You will need longer motor/control cables than those usually supplied for solo bikes.Tony at Woosh has experience with tandem conversions so he is well aware - I sent him a couple of digital images of the anticipated setup (battery position etc) and he adapted cable lengths to suit (at no extra cost). The only thing I had to purchase to facilitate the installation were a slack handful of differing thickness axle spacers in order to get the motor to fit within the 'tubular' fork legs, and a couple of cheap long axle square taper bottom brackets to enable fitment of the pedal sensor (PAS). Fitting the PAS is fairly easy if you are familiar with removal/replacement of square taper cranks (pretty straightforward with the correct tools). Oh, and I did actually change the combined thumb shifter / brake levers in order to fit the supplied brake levers with power cut off function. This was probably not necessary if I had opted for the externally fitted brake cut out switches (designed really for hydraulic brake levers I believe).
The motor and ancilliary equipment is still performing well and has given only a couple of very minor problems dealt with swiftly (and at zero cost) via e-mail communications with Woosh. Admittedly I have only covered around 2000 miles since installation, and I rarely venture out during inclement weather. The tandem was out of action for a couple of months due to a fractured chainstay (not related to the conversion - probably too many kerbs I've bumped up and down!) but I managed to source a proficient welder of alloy who has made a good repair, touch wood.
Anyhow, hope that helps, all the best, Simon
Michael Holley
2021-04-06 10:14:24
Hi Simon, thanks for the info. I did actually start a new post on e-bike conversions, which if you look has a picture of our converted Viking tandem. I followed your initial suggestion and fitted a whoosh front wheel motor etc, although I did get our local bike shop to do it. Everything was fine except the pedelec sensor wouldn't fit the front bottom bracket as whoosh supplied one with a 90 degree cable exit which fouled the eccentric chain adjuster, as per my photo. Anyway having bought an in line cable exit pedelec sensor from Amazon as per the whoosh literature all is now well, and we've covered 250 miles so far with no problems. We love the ability to zoom up hills now where we would have got off and pushed, so a great result. Thanks for you advice, Mike.
2021-04-06 14:32:27
Sorry to hijack this thread but can anybody highlight the pro's and conn's of a front wheel hub and a rear wheel hub system. I'm thinking of converting our circa 2005 Dawes Discovery Twin.
Cheers
Derek
Lawrence McPhillips
2021-04-06 16:15:43
Hi Derek, you'll probably find it worthwhile to have a look on the 'Pedelecs' site for more information on conversion kits.
https://www.pedelecs.co.uk/forum/
I posted on here about my rear hub conversion of my Orbit tandem and I have also added more information in a thread I started on the pedelecs site:
https://www.pedelecs.co.uk/forum/threads/orbit-tandem-woosh-dwg22c-48v-rear-hub-kit.40584/
I really don't think there a single 'right' way to do a conversion as front hub / mid drive / rear hub all have their own plus and minus points. You'll find quite informed views of each on the pedelecs site.
For what it is worth, I am very pleased with my rear hub motor and would have no hesitation in recommending it to others.
Lai-Fun Russell
2021-04-23 14:29:34
My wife and I "went electric" three years ago after 25 years of standard tandems. We purchased a Samedi Moustache 27x2. Now completed 4000 miles. It's superb! We went for the Trekking version - but it's easy to change tyres and turn it into a mountain bike version: takes me about 1-2 hours.
Both on-road and off-road it is a delightful ride. Stiff frame. Large tyres and front suspension make for a comfortable ride. Amazing stopping power. Range is well in excess of 80 -100 miles fully laden.
We've gone off-road many times now. WOW! A whole new experience for demure tandemists. We can't manage very tight corners, but it flies along dirt tracks and can manage "red" runs easily at our local mountain bike centre. The 250W motor can handle almost all inclines.
If you want a machine capable of both road and off-road trips it should be your first choice. But start saving now. And think hard about how you'll transport it. Ours goes on the roof with an adapted carrier.
Trevor Muddimer
2021-04-23 21:48:39
Dear Forum
Like Lai-Fun Russell, a few years ago we bought a Moustache eTandem. It's the orange model and by far the best tandem we have owned in our 40 years riding normal models of tandem. The Moustache has a great range and offers support up to 15mph then you are on your own. We used to cruise in the upper teens MPH, and this machine allows that in its highest gear.
So we're going to try a replacement gear cassette (11-46) and change the motor gear to 20T, to maintain the low gears but increase the higher gears. I'll let you know how it goes!
Colin Smith
2021-06-09 01:36:59
Hi my wife and myself are new to tandems. I progressed to riding electric MTB's for a good few years due to Osteoarthritis in my knees and ankle. My wife has lost most of her field of vision last year, making riding a bike impossible. Hence the purchase of a 2nd hand tandem on the spur of the moment. Its a 26" wheel MTB style which is stored away from the house because of its size.
So……. I'm going to modify it to electric. After reading many articles I decided on Bafang mid drive, its would not have been easy because our tandem is cross over configuration without free wheel on the 'stokers' position. (sorry I hope that terminology is correct).
I have sold my beautiful Bosch Mid drive MTB today, but my wifeys Woosh (Befang front hub) bike with new battery is proving harder to sell. I don't intend giving it away, so now changing plan.
Transferring her front hub (Currently in 700c rim) and rest of gubbins over to the tandem. I've watched a few video's on YouTube on wheel building, but I'm now looking for your recommendations and advice on the rims. Given its a tandem, any recommendations of 26" rim and type of spoke construction. The advice I've seen says a (single crossover pattern) with offset centre L & R spoke holes is sufficient because of the size of electric hub (shorter spoke length) resulting in increased angle of spoke lean, a single crossover is sufficient. Your thoughts would be welcomed.
Andrew Brooke
2021-06-12 08:55:46
The Bafang bottom bracket conversion kit works very well with crossover drive. I now have 2 tandems with this conversion. My first conversion was a front wheel hub drive but eventually this led to a fork leg failure, hence the move to the bottom bracket conversion. The Bafang bottom bracket motor uses a square taper spindle so you can use your existing crossover drive crank on the left with the Bafang crank and chainwheel on the right. I hope this is clear.
Colin Smith
2021-06-12 19:42:26
Thank you Andrew Brooke. I've ordered one from Amazon, not due for 2 or 3 weeks. Can you remember whitch cables need extending? I presume brakes x2, display & assist level. How long was the extension cables? And did you fit the gear sensor? Thanks again.
Andrew Brooke
2021-06-12 20:35:22
Actually I don't think I needed to extend any cables. On the Bafang kits I have fitted the cables that come with the kit were plenty long enough to go from the rear bottom bracket to the front handlebars with cable to spare. I did need to extend the speed sensor cable, but only because I was fitting the kits to tandem trikes rather than tandem bikes so the sensor was further away from the motor.
I thought that a gear sensor would be necessary but found it wasn't needed for derailleur years but was useful for Rohloff hub gears. I have run the Bafang/derailleur combination for thousands of miles without problems.
Colin Smith
2021-06-12 21:52:17
That sounds good news, fingers crossed. Cannot wait to get started on it. Thank you
Colin Smith
2021-06-12 21:52:17
That sounds good news, fingers crossed. Cannot wait to get started on it. Thank you
Stephen Barnes
2021-07-11 10:43:57
I have ordered myself a Tongsheng TSDZ2 mid drive kit for my Schauff tandem which has Shimano hub 7 speed gears. I chose Tongsheng over Bafang because of Tongsheng's inbuilt torque sensor. (And I chose a mid drive so that the motor would work through the gears).
I am wondering on which bottom bracket to place the motor. Chris Killer's experience at https://electricbikeaction.com/readers-rides-tandem-ventana-el-testigo-experto/ suggests that having it on the front bottom bracket may work well. It would require me to move the front chain to the right hand side, but that is not difficult to achieve. However, nearly all other configurations I see show tandem mid drives installed on the rear bottom bracket.
I sometimes ride the tandem without a stoker. My stoker is not strong even when present!
I assume that even if riding the tandem solo, if the Tongheng is mounted on the rear bottom bracket I would still get most of the benefit of the torque sensor since my pedalling torque would be transmitted to the rear bottom bracket. However, I guess the torque sensor will work a little better if it is on my (captain's) front bottom bracket. I would like maximum responsivness to my torque. (My stoker just follows my movements).
Does anyone have any thoughts on the best position for the motor? I don't want to add a second torque sensor because of cost, and anyway, I guess the controller is not designed for two sensors.
I also am uncertain about the best way to programme the Tongsheng. I live outside the UK and can legitimately exceed 250W. My battery is 36v. The Tongsheng is adverstised as being both 250W and 350W when using a 36v battery (and 500W with a 48v battery), and I am wondering if anyone has any idea on how one selects the higher 350W power rating (since I can't see it on the menu options), and whether anyway there is any advantage in doing so. I have read that the performance seems to be the same however configured, and that the 250W rating is only to make the unit compliant where 250W is the maximum power allowed. My use is urban, but with some hills. I am not looking to ride much fast, only further.
Any comments would be very welcome.
Colin Smith
2021-07-11 13:08:15
I installed my Bafang in the stokers bottom bracket. The reason being that the front bottom bracket has the elliptical fixing for adjustment of chain. I was concerned with torque on the non-standard bracket. Not sure how your motor is installed. I also had to change my front drive ring over to the right because the drive ring I had on the left, stoker position fouled the motor housing.
Stephen Gray
2021-07-11 14:38:45
I don't think it is really possible to install a mid motor on the B/B which has the eccentric for adjusting timing chain tension. On a derailleur geared tandem, the eccentric is usually on the captains B/B. Hence the reason that most tandems with a mid motor have it on the stoker's B/B.
I would like to fit a mid motor at some point but we have a Rohloff hub gear and eccentric B/B front and rear, so unless I can modify the motor mounting to work with an eccentric B/B, it would need significant modification to our tandem requiring a change of front B/B (shell) and a timing chain tensioner.
Colin Smith
2021-07-11 18:45:22
I can only speak from experience with the Bafang. There is a plate that screws on to the new bottom bracket. This plate also bolts on to the motor. This plate stops the motor rotating under torque. It is not adjustable. Fixed distance from centre of bottom bracket to motor.
Stephen Barnes
2021-07-11 19:08:59
My Schauff has two standard bottom brackets and a front chain tensioner, so that is not an issue for me. But perhaps the issue of the plate, which I now realise is clearly designed to fit between the bottom bracket and two chain stays, will prevent mounting on the front. I hadn't thought of that. Perhaps there is a workaround.
Has anyone with a torque sensor on the back b/b had experience of riding without a stoker? Would the torque on the front b/b be transferred to the torque sensor on the second bb?
Stephen Barnes
2021-07-13 11:27:05
Hi Stephen Gray, just wanted to say that you are right in saying that the two eccentric b/bs complicate things. A Brit engineer working in California installed the Tongsheng on his front bb, despite it being eccentric, but he told me it required some work on a lathe to do so. Still, if you can do it, it would be great to have a Tongsheng working with a Rohloff! I am putting an 8 speed Samsung on my tandem, but have a Rohloff on another bike. With a Rohloff and a Tonsheng, you would not be defeated by any hill!
See here
https://electricbikeaction.com/readers-rides-tandem-ventana-el-testigo-experto/
Stephen Gray
2021-07-13 21:32:30
Hi Stephen Barnes
Thanks for the link I will check it out with interest. I have a Cytronex kit that I will move from my single to the tandem at some point but would prefer a motor that takes advantage of the gears for a better performance on hills if that is possible eventually. Good quick response torque sensing is very important when using hub gears as you need to back off the power to get a proper change especially between gears 7 and 8 on a Rohloff hub.
Stephen Gray
2021-07-13 21:32:30
Hi Stephen Barnes
Thanks for the link I will check it out with interest. I have a Cytronex kit that I will move from my single to the tandem at some point but would prefer a motor that takes advantage of the gears for a better performance on hills if that is possible eventually. Good quick response torque sensing is very important when using hub gears as you need to back off the power to get a proper change especially between gears 7 and 8 on a Rohloff hub.
Stephen Barnes
2021-07-14 10:41:55
I did think to swap my Rohloff on my single bike to my tandem, but the Rohloff gear hub is quite wide and bike shops don't know Rohloff too well for obvious reasons. I guess you might manage a torque sensor with the Cytronex, but it's not so easy with eccentric bottom brackets.
Les Stephenson
2021-07-20 18:50:46
Hi all,
Thinking of electrifying an Orbit tandem. I was seriously considering the Woosh DWG22C-48V rear hub drive kit but it is not in stock at the moment and neither is much else after enquiring. My attention has turned to a mid drive motor, namely the Bafung BBS01 or the Tongsheng TSDZ2. At the moment the TSDZ2 seems more appealing both on price and the fact it has a torque sensor which obviates the need for a throttle and accompanying brake sensors, so the blurb says. The bottom bracket takes a double chain ring which appears to be necessary as the timing chain needs to be swapped to the right hand side. The front BB is elliptical so rear BB fitting.
Stephen Barnes
2021-07-20 20:15:09
I think you are right to go for a mid drive motor. If you go for a motor in either wheel, it will not be strong enough to do much good unless you get illegally large motors, whereas a motor mid drive will take advantage of the gears and be much more useful even though confined to 250w.
Colin Smith
2021-07-20 22:13:58
I have successfully fitted a Bagang drive to the stoker bottom bracket. When attempting to use my existing left hand chain ring it fouled the motor. I am sure I could have found another chain ring with less throw, that could have enabled me to continue a cross over system. Changing to an inline system suited me. I have an artificial left knee which reduces my pedalling circumference. I have a 100mm length left hand crank arm and use a standard 175mm right hand crank arm.
tony barcroft
2021-08-28 22:57:02
A quick question for any e tandem owners with Bosch type drive motors. What is chain wear like?
We have been told that it is horrific and you should opt for a hub based drive system ( front or rear)?
views much appreciated.

tony
Alan Morgan
2021-08-29 14:37:31
Hi Tony,
I don't own a Bosch or any other mid drive motor but have friends that do, albeit none are on tandem bicycles.
Excessive chain wear is an age old argument put forward by hub motor lovers. There is some truth to it, but 'horrific' is maybe an exaggeration.
Chain wear is of course dependant on usage and the power that you apply through the drive chain either with just plain pedal power, or assistance gained from a mid drive motor.
If the combined usage/power with a mid drive motor is great than that that you normally exert with your pre-electric powered riding, then yes, chain wear will be more than previously experienced.
The existence of a mid drive motor in itself will not necessary cause more chain wear, rather, it will be more down to the way you use the motor.
Chris Allen
2021-08-29 16:35:57
Hi Tony
I don't have a Bosch mid drive motor (it's a Tongshen) on our tandem so I can't comment on that particular motor. However, our experience is that we've not noticed any excessive wearing of our chain. To mitigate any excessive strain on the chain, I always try (but occasionally forget!) to make sure that we're in a low gear when we pull away, as we'd do on a non assisted bike.
The technical arguments for and against hub vs mid drive motors are many and varied (spurious?) but as far as I could ascertain during my research a year ago, the main benefit of the hub over the mid is that its cheaper.
Go with what you feel comfortable.
Regards
Chris
tony barcroft
2021-08-29 19:54:27
Alan and Chris - thanks for the helpful advice;
"If the combined usage/power (with a mid drive motor) is great than that that you normally exert with your pre-electric powered riding, then yes, chain wear will be more than previously experienced."
Alan - very pithy and very logical and is really helpful.
Not worried now.
If anyone has a Moustache Samedi tandem - I'd really appreciate a chat - this is high on our list but would be good to talk real life experience before parting with a not unsubstantial pile of cash. (I'm sure there's a way of sending me a private message with contact details?)
We live in Chester.
Tony
Bob Cordran
2021-08-29 20:31:27
Tony - I am very happy to share my thoughts on owning one (I've had it since May last year). Don't know if this site supports PMs, but I'm sure we can figure something out.
tony barcroft
2021-08-30 13:32:50
Bob - thanks for the offer of a chat re the Moustache Samedi - if you would kindly just email me on tony.barcroft@me.com and we can swap phone numbers and arrange a time to talk.
Tony
Mai-Ling Savage
2021-08-30 14:36:12
I ride a Circe Helios with my son. No problems with the wheel size - we have camped and toured in Devon. It's surprisingly good off road. I know what you mean about the Brompton and it doesn't have the same feel at all.
We don't have the electric version but there are very positive comments on the FaceBook page. Also, Circe are extremely helpful and will answer any questions. There's also the possibility of hiring one to give it a try. Good luck!
Mai-Ling Savage
2021-08-30 14:36:12
I ride a Circe Helios with my son. No problems with the wheel size - we have camped and toured in Devon. It's surprisingly good off road. I know what you mean about the Brompton and it doesn't have the same feel at all.
We don't have the electric version but there are very positive comments on the FaceBook page. Also, Circe are extremely helpful and will answer any questions. There's also the possibility of hiring one to give it a try. Good luck!
Peter H Spickett
2021-08-30 20:20:17
Greetings,
we have an electric Circe tandem which we purchased around two months ago.
it is ideal for the hills and yes it is heavier than the normal tandem but worth it. The battery and motor together do add but what they give back more than compensates.
Alternatively, you could get a motorised Orbit from JD Tandems, if you are okay with larger wheels; JD have machines to test and are very helpful, as are Circe.
The cost is more but you pay for the quality of the build and the bespoke frame to house the motor.
Les Stephenson
2021-10-23 19:47:42
Got a Tongsheng TSDZ2 kit with VLCD6 display. The display cable is a Y type which accommodates the display and a throttle. I want to fit the display to the pilot's handlebars as the stoker will be visually impaired. I therefore need an extender cable, but the only cable I can find is a 6 pin cable. I will need to fit the Y cable 8 pin connector directly to the motor cable then the extender cable on to the display. Unless anyone knows of an 8 pin extender cable?
Les Stephenson
2021-11-20 18:22:05
Tongsheng TSDZ2 with VLCD6 display now fitted to Orbit tandem. Battery is Hailong 36V 13A. Unfortunately there is no pedal assist! Connected the throttle and the motor sprung into life, however still no pedal assist. So is it the torque sensor or the controller or can anyone suggest something else? Could it be the wrong firmware, e.g. set up for a 48V battery? I will contact the Chinese supplier, the kit came via Aliexpress.
Chris Allen
2021-11-20 19:06:09
Hi Les, I have the same motor, display and bike and it works fine.Don't put any pressure on the pedals when you switch on the display. It can confuse the torque sensor. Switch the unit on and leave it 10 secs before putting any pressure on the pedals.
Hope that works!
Chris
Les Stephenson
2021-11-20 19:54:25
Thanks for the reply Chris. I have read that about waiting until the system initialises before putting any pressure on the pedals. I look at the display until it stabilises, the last thing being the battery strength shown. I will try giving it the full 10 seconds! but i think I have.
Alan Morgan
2021-11-20 21:49:43
Hi Les,
> I have fitted 4 TSDZ2 kits to solo bikes albeit, none with throttles.
> When you ordered your kit, did you buy a 36v version of a 48v version? There should be label on the motor casing indicating the voltage to be used
> If you'd bought the 48v version and then fitted a 36v battery (and vice versa), I would say this is your likely cause of the malfunction.
> The only difference between these two options is indeed a firmware setting in the controller - if you want to get into what is called Open Source Firmware (OSF) which gives you the ability to change that setting (amongst other things), ask away and I'll post some links.
> Have you tried the 'walk assist' function? For the VLCD6 you hold the Assist '+' button for 2 secs to activate it.
> Other obvious things to check are the connection points, especially the speed sensor - those little yellow plugs can be fiddly and if you get the orientation a bit out, you can bend the plug pins (but easily remedied with long nose pliers). I would guess the throttle connection point on the 'Y' cable is small too - have you tried peddle assist with the throttle unplugged (just in case the throttle is an issue)?
> As said above, at power on keep the bike stationary and feet free of the peddles. Power up initiation is complete when you see the battery bars fully displayed
Les Stephenson
2021-11-21 11:18:49
Hi Alan, thanks for the reply.
There is a sticker on the underside of the motor body which states 36VDC 4000rpm 250W.
I tried the "walk assist" function and it works.
I have checked the connections and they seem fine. The speed and distance covered are working. Incidentally will the pedal assist work without the speed sensor connected?
I only added the throttle to see if it would make a difference. Without brakes to cut the power I think the throttle is dangerous.
I think I have waited long enough for the system to initialise.
Alan Morgan
2021-11-21 15:42:31
Hi Les,
Re the speed sensor - strictly speaking I don't know if pedal assist would work with it disconnected - I do know that assist works when the magnet is not registering with the sensor (as in too distant/dislodged).
Regrettably I'm out of ideas as to what to suggest next but you've done a lot of diagnostics for the seller to recognise that you have a problem.
Youve been unlucky as the 4 units I've installed (from PSW Power) have been fine.
You could post the problem on the pedelec UK forum as there are some knowledgeable guys there.
Les Stephenson
2021-11-21 20:43:10
Hi Alan
Thanks for your help. I have posted on the Pedelec forum and contacted the supplier.
Chris Allen
2021-11-21 21:56:22
Hi Les
I'm sorry you're still having difficulty as my experience with the TDZ22 has been excellent. At the risk of sounding like I'm stating the bl--din' obvious; 1) have you tried riding the bike on throttle only? We use the throttle to get us off from a standing start and have found it really useful. Once we're moving, I let the throttle go, we start pedalling and the assist kicks in (when necessary). This technique has got us out of trouble on a couple of uphill starts. It is vital that you don't pedal when using the throttle. If you try to pedal when using the throttle, the motor cuts out. 2) Sometimes one can't sense that the assist is working, especially if you are in a low gear, pedalling fast-ish. Try going up a gear and see if you get a slight surge. Voltage-wise our motor is a bit larger than yours, as I thought that a tandem might need a bit more of a push than a solo. Apparently it's illegal - Hrrmph! You might find a 250v motor doesn't give you quite the kick you were expecting. 3) Try cycling with the unit on but with no assist, then press the + and ramp up the assist level to feel any push. If you feel some but not enough, it could be the battery is faulty.
Oh, and the pedal assist shouldn't be affected by the speed sensor. We lost our speed sensor (came loose) once but the assist continued working normally. It would be expected as the torque sensor is built into the motor and the speed sensor only feeds into the the display.
I'm sorry if I've told you stuff that you've already done but like Alan, I'm at a loss to as to what more to suggest.
Alan Morgan
2021-11-22 09:49:40
Hi Les,
I'm following the pedelec forum post with interest
Some useful suggestions from Chris above - here's another one :-(
The Hailong battery you are using - you didn't mention if it was a new one or used from somewhere else?
Either way, do you have a way of monitoring the voltage at the time you engage 'walk assist' and ask for normal 'assist'?
I say this, as if there was a battery problem of some sort, you'd see the monitored voltage drop right off
I have a little voltage monitor that plugs into the charging port - I've just plugged it in and the battery voltage drops by 0.1v when 'walk assist' comes on.
Alan Morgan
2021-11-22 10:05:55
There is a question around whether a faulty speed sensor will give problems (as in no assist) - opinions vary - so I've just been out on my TSDZ2 (VLCD6, 36V, 250W running OSF) to see what happens if I remove the wheel magnet:
The system boots up and I can pedal off and assistance kicks in
The display DOES NOT show any speed (as you'd expect)
After pedalling a few 10's of metres, the assist stopped and error E08 showed on the display.
Error E08 is Faulty speed sensor or magnet too far away.
I powered down from the display and replaced the magnet:
The system boots up and on pedalling, the speed is shown but still no assist
Powered down again FROM THE BATTERY SWITCH and this time I left power off for about a minute
On powering back up, all was good ie speed shown on the display and assist working
Whether this is the same for those running stock firmware, I couldn't say but it does seem that the speed sensor does play a part in system control, or at least if running OSF.
Chris Allen - are you running stock firmware or OSF?
Les Stephenson
2021-11-22 11:31:39
Hi Chris
Thanks for the post. I have now removed the throttle but I have used it and then tried pedalling and got no assist.
Les Stephenson
2021-11-22 11:40:11
Hi Alan
It is a brand new battery. Thanks for the tip about monitoring the battery voltage. It is reading 41V. When I engage "walk assist" it drops to about 39V at first then back up to about 40.5V. I tried pedalling and the voltage remains at 41V so no "assist" as expected.
Chris Allen
2021-11-22 16:17:39
Alan, I use the the bog standard software, un-modified.
Chris
Les Stephenson
2021-11-22 17:48:48
I got a reply from the supplier (BOLLFIT Ebike Store) requesting a video to show my problem? As somebody said perhaps a video of me at the top of a hill all red in the face and sweating because I don't have pedal assist.
Alan Morgan
2021-11-22 21:13:24
That should be a laugh then Les - getting the video that is!
I should think that if you raise the back wheel off the ground (suspended from a garage roof beam on a piece of rope or similar?) take 3 video clips of
1 - the VLCD6 display showing the screen with battery bars and being able to select different assist levels and then someone to turn the wheel with the speed sensor on it to show that speed is being 'seen' by the system
2 - a shot of the chainwheel going around whilst someone activates 'walk assist' and audio clear enough that the motor can be heard running
3 - another shot of the chainwheel and cranks whilst turning the pedals but with audio pickup sufficient to demonstrate that the motor IS NOT running. Even if audio is poor, the video will show that when you stop pedalling then the chainwheel also stops immediately. If the motor where running, the chainwheel normally runs on for a further second or so.
be sure to mention that you don't have ebrakes fitted and what you'd tried with the throttle.
sounds simple - NOT! - anyway, good luck with it all. Hopefully the seller won't want you to return the motor to China at your cost.
I once had a problem with an Android car stereo touch screen - I had to video that - they then sent me a replacement touch screen which I had to replace myself - just as well my professional background was in electronics!
How are you as TSDZ2 dismantling?
Les Stephenson
2021-11-24 12:27:21
Hi Alan
Thanks for the advice. I had a first stab at making a video showing most of your points but it was too large to send even after compressing the files. I have now sent two videos, one "assist" and the other "walk". I'm not sure about the quality of the videos - Steven Spielberg I am not!