Discussions
Discussion of anything related to Tandems. Opinions expressed on this discussion board are those of the contributors and not necessarily those of the Tandem Club. Postings or extracts may be published in the Tandem Club Journal.
To add a response or post a new message you need to have an account and be logged in. You can get emails sent to you by enabling the Send Forum Emails tick box in your user preferences. Note you need to login to the website to add replies. See our help information
here
for more information.
You can add to this discussion topic using the entry box at the bottom of this page, when logged in.
Login
E-bike tandems
Bob Cordran
2019-05-22 11:30:30
New here, so apologies if this has already been discussed.

I have been riding an entry level Dawes tandem for about four years with my solidly-built nearly-teenage son who is profoundly autistic and so is not able to ride a bike on his own. Whilst he loves going out and about on the tandem, he is now getting quite tall and is less than 100% committed to putting much effort into pedalling (as an aside, this does make the apparently-compulsory comment that "he's not pedalling back there" even more irritating than it would be otherwise). It can also make the very many steep hills of West Kent something of a challenge, despite having swapped to a cassette with a larger range, as I am essentially doing all the work for both of us.

Conesquently, I'm considering acquiring an e-bike tandem, and would be grateful for any advice. From my research so far, I suspect that retro-fitting some sort of motor to my existing tandem is unlikely to be a winner, and the few e-bike tandems I have seen on the net which look like they might be suitable are on the expensive side, to say the least, so it will help to have some expert guidance to avoid a costly mistake.

Since I'm relatively fit and enjoy the exercise (mostly) I would only really want assistance on steep hills, which is presumably where the less robust motors struggle, so I suspect that getting a less-expensive model will be a false economy. That said, the models I have seen do appear to be very heavy so I am unsure how realistic it would be to shun electric assistance on the flat.

Any thoughts gratefully received.
Bob


2019-05-22 12:44:39
Retro fitting an electric device is not really an option as it would invalidate any form of warranty of the tandem
Tim Williams
2019-05-22 16:51:38
This is going to be no help whatsoever, but on a recent trip to Spain, I saw one of these:
https://propelbikes.com/product/moustache-samedi-27-x2-trk/
It was a stunning bit of kit, but I suspect far beyond the budget of most of us.
Would one of the Tandem Expert shops be able to advise – or Dawes might be able to comment on suitability of "conversion kits"?
TimW
tony@tonyhutt.co.uk
2019-05-22 17:24:22
That one looks as though it has two batteries - double the power or just double the range? Electric tandems suffer from the disadvantage compared with solos of sharing the 250W maximum between two people rather than one.
We hired the Circe Helios electric tandem (Shimano steps E6000, http://www.circecycles.com/products/e-bike-2/) for the weekend, squeezed it into the back of our Focus estate and cycled around Bristol. Great for the hills, and with the Alfine hub with electronic gearchange, it changes down to 2nd gear when you stop, which is great at traffic lights or when a car comes out in front of you and stalls when you're going up a hill! But we decided we didn't need it in relatively flat Suffolk. They do some retrofits too now.
David Ross
2019-05-22 17:54:43
I'm sure JD Tandems is too polite to highlight the range of tandems they offer, however it would be our first port of call if we were in the market for one.
Chris Bishop
2019-05-22 18:12:42
JD Tandems will let you try an E Tandem with no pressure to buy one
Richard Scrase
2019-05-22 19:51:19
I bought a retro-fit e-tandem on ebay, rear drive, battery in rack above, rather nice 1980's old Orbit tandem. My aim was to use it as family transport to move an adult, 11 year old and three year old in a child seat. The retro kit (@£300) moved us along reasonably well (10-12mph on flat without pedalling) but the overall weight of motor, battery, child-seat made the whole difficult to park, so I sold it on. So we're continuing with our Thorn discovery for now. I suggest test riding and then taking your time with ebay.
Steve Edmunds
2019-05-23 08:53:44
Just to endorse what was said re JD Tandems, in my experience they work hard to tailor options to your needs and there is no high pressure salemanship
Steve
Bob Cordran
2019-05-23 09:11:18
Thanks for all the very helpful comments.

It does sound as though retro-fitting is not the way forward for what I need.

Whilst the Circe looks good, I'm not keen on the small wheels - I'm a daily Brompton user which is fine for commuting but I would be wary of that wheel size for long distances on the dodgy road surfaces round my way.

The Moustache and Orbit tandems look the most suitable for what I need and I would be interested to know what difference the two motors on the Moustache makes (I assume more power when needed). There is no getting round the price, though - but I'm sure this is a "you get what you pay for" situation.

I will definitely speak with JD Tandems - and also hope for a lottery win...

Bob
Tim Dowson
2019-05-23 09:52:13
There was some discusion recently about retro-fitted systems using a motor in the front wheel, but the forks giving way under the strain. But if front tandem forks can be made to cope with a front disc brake, is it not possible to also retro-fit stronger front forks, for a front motor? I would expect the braking force of a disc to be rather greater than the accelerating force imparted by a motor.
Dennis Andrews
2019-05-23 20:40:56
We are currently in Snowdonia with our Moustache Samedi. We are finding that even in the hilliest terrain it's range is in excess of 40 miles with its two batteries. It will climb a 1 in 5 quite happily and it hasn't broken the 11 speed chain yet! Dennis
Michael Hughes
2019-05-24 19:48:40
Despite your concern about small wheels I strongly recommend you take a look on Ebay at the new bikes offered by Ecosmo a Birmingham based firm
They offer an electric folding tandem easy fit in a normal car boot and not a lot of hassle to fold and unfold.
It has 7 speed derailleur gears and a 36v 250 watt motor
It costs just under £1000 but you can return it within the first 30 days if it does not meet your needs. Normal protection for online purchases is return within 14 days
I have the non electric version which we decided to leave with our friends in Prague for them to enjoy and to have a tandem available to us to use there when we visit
Michael Hughes
Simon Ward
2019-05-26 18:21:09
I fitted a powered front hub to our 10 year old basic Viking Tarantino with 17Ah battery. I'm in a similiar(ish) situation in that I don't mind the exercise although the wife's input is slowly diminishing. I bought the conversion from 'Woosh' bikes and can thoroughly recommend them. I fitted it last August & although I've only done around 800 miles since conversion it has performed well. It certainly smooths out the undulations. Comes with throttle & pedal assist although I've never really used the throttle except to check it still functions every now & then. Check out pedelecs forum for more comprehensive discussions on ebike conversions et al..
Simon Ward
2019-05-26 18:37:40
As an aside the total cost was around £550 delivered to Inverness. I fitted it myself in a couple of hours & the only real problems were getting the wheel centred in the dropouts (very tight clearances & 'tubular' fork construction) & drilling the holes for the battery/controller - hard access for drill due to frame tube configuration. I have heard that a rear wheel option would have been more beneficial although I think that option was screw on freewheel only (not cassette). I'm quite happy with my purchase & in this configuration it gives 'all wheel drive'!!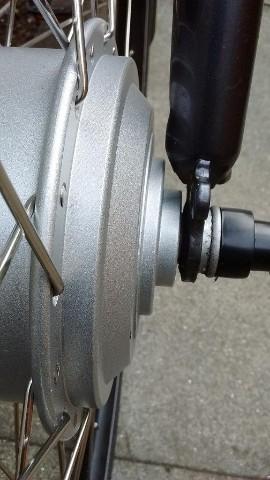 Geoffrey Booker
2019-05-26 19:59:21
I recently retro-fitted a Bafang mid drive kit to my tandem trike. Only had three hilly rides so far but it has been excellent so far. We are only using it on hills and long tiresome drags but it is a great help. The motor, controls and battery cost around £900.00. I had to buy a chainsett for the through drive as the old one didnt fit a square taper bottom bracket.
Sorry, Picture upside down!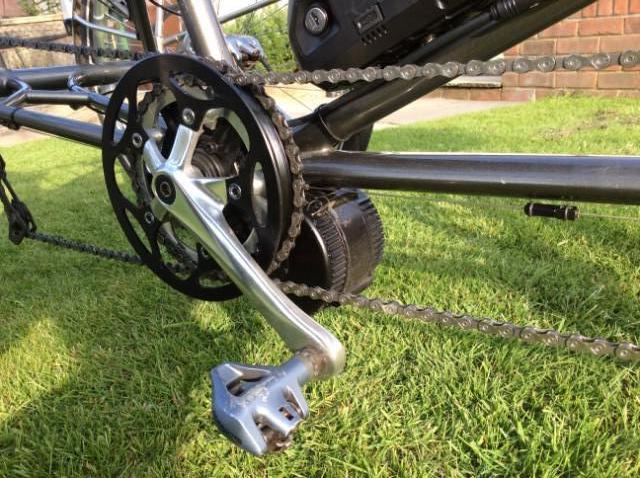 2019-05-26 22:13:17
For hills, the Bafang mid drive is very effiecient as the drive goes through the rear cassette gears, just like a car, so with two riders NOT pedalling a 250W Bafang could climb a 15% climb at 4.5 mph, 9% in 5th at 7.5 mph, or a 5% hill in 9th at 13 mph, and2 0 mph on the flat, but the Bafang software limits the assisted speed to 15 mph.
This is using a 36T chainring, and 9 speed 11 to 32 rear cassette.
If you go to the www dot wooshbike dot CO dot UK , and click on kits and then the BBS01 CD kit for pricing, and then click on the motor charts to bring up a separate page, then read the text and scroll down to the mid drive sirrico CD motor, to see the climbing advantage, AND having the motor at max efficiency (78 rpm) at any speed using the gears.
Michael Hughes
2019-05-26 23:56:40
DVLA website
Clearly states that it is the rating of the motor itself which is taken into account when classifying an electric bicycle as a bicycle or a motorcycle.
Above 250w the machine is regarded as a motorbike for which registration, driving licence, insurance and motorcycle helmets are required for use on public roads.
I t should also be noted that machines powered by motors above 250w are not allowed on cycle paths, hence can only be used on private land with the landowners permission.
The provision of switches and cicuitary to downgrade the motors performance does not make any difference,it is the rating on the motor that counts.
Perhaps the Tandem Club should press for a change in this rule, at least in respect of tandems maybe asking for the limit to be raised to 500w
2019-05-27 07:39:04
I think that 250 watts is more than enough, even for a tandem. I had an electrified tandem catch me whilst out on my solo bike, while out climbing a Derbyshire hill just recently - about 5%-10% gradient to 400m. I'm reasonably fit and often use electric bikes as pacers/targets to try and catch
Geoffrey Booker
2019-05-27 13:47:21
On a slightly different tack, the mid drive motor is best fitted to the rear bottom bracket.
Fitting the Bafang to the front eccentric is not possible due to insufficient clearance.
The main disadvantage with fitting it to the front bottom bracket, if it is possible, is that the captain and stoker pedals will go out of phase as the captain can stop peddling independent of the stoker. That is not ideal in my mind as it upsets the balance of the tandem, and will be different everytime both parties begin to pedal again.
Cliff Bruce
2020-07-24 12:53:32
My wife and I are new club members and have had a Thorn tandem from SJS for nearly three years. To help our ageing legs we are looking at electric assistance and SJS have suggested the Pendix system, which has to be professionally fitted. This is a bottom bracket fitting which doesn't look very elegant, makes the pedals further apart and has rather mixed reviews. We wonder whether anyone has any views or experience of it or any alternatives.
We have a Rohloff hub at the rear and I'm not keen on a front wheel motor. Thanks in advance for any comments.
John Saunders
2020-07-24 13:15:48
We read all the posts about motors and because we like our Santana so much decided on a front wheel power unit. I note that you are not keen on this but it has worked very well. We used Cytronex in Winchester and had several visits to satisfy ourselves it was the one for us. We had carbon forks and although contacting everyone including Santana no one would confirm they would take the torque so changed to steel. The fitting was easy the wiring short and discrete , the battery fitted on the water bottle mounts. Power is not a " hit you in the back " surge, more like a 3rd person starts peddaling. Worth a look.
Bob Cordran
2020-07-24 13:34:15
After kicking off this thread a year or so ago, I thought I would add an update. In the end I went for the Moustache Samedi 27 X 2 Trekking tandem. I have to say my only regret is not having bought it sooner. It is a simply amazing bit of kit. The pedal assist ranges from a little help through to enough to get me and my teenage son (who does not really pedal much) up York's Hill in Kent (if you know it, you will appreciate that this is no mean feat). It is sturdy, and always feels completely stable, even when hurtling downhill at 30mph plus. The four piston disc brakes inspire confidence and it really is a joy to ride. Since there is a lot of control over how much assistance you use, you can still get a real workout (or even turn it off completely). There are only two drawbacks - one is that they are few and far between, so difficult to track down. The other is the eye-watering price. It is worth every penny, but it is an awful lot of pennies.
Cliff Bruce
2020-07-25 20:16:26
Thanks for the comments. As we live near Winchester, we visited Cytronex and I rode a bike up the hill (conveniently next door!) I was impressed. It is a very simple system. You switch it on when you want it, as much as you need. We will still have our 14 Rohloff gears. Taking the tandem in next week for them to check that there are no difficulties.
If it's a failure, take it off and sell it. Put the original wheel back. But I think it will work very well.
John Saunders
2020-07-26 11:58:24
Please feel free to mention our name and ask for a referral discount, if you dont ask you dont get these days !!
Tim Goffe
2020-07-26 19:08:15
We bought our first e-tandem 2 years ago after 15 years of "normal" tandem riding, first with a KHS, then with our reliable, comfortable Thorn Discovery. We now ride a Gepida Thoris, an impressive bike which we love, and use it for touring and day rides. Highly recommended tandem!
It is stable and capable on road and also manages well on dirt and forest roads. It comes well equipped for road use with mudguards, lights, a kick stand and rack as standard. We like the low step-thru height and wide captain's handlebars. We added a larger range (11-42) cassette for easier hill climbing, a suspension seat post for stoker comfort and a second battery for longer all-day range.
We live near to JD Tandems (Gargrave, North Yorkshire) and can wholeheartedly recommend them for knowlegeable, appropriate and helpful advice on choosing an e-tandem, if you are buying new.
Tim, Kendal Cumbria
Cliff Bruce
2020-08-06 09:02:55
To round off my post 25th July, we took our Thorn to Cytronex and found that there were possible problems, mainly whether the forks would be strong enough, also adapting the wiring to deal with the S&S coupling.
Then I spotted the ad in the "Wanted" section for a tandem pretty well identical to ours. We decided that fate had told us which way to go and contacted James, who came to see our Thorn, took it for a test ride with his daughter and bought it. We now have a date to go to JD Tandems to ride and buy (we hope) an Orbit STEPS 8000, always assuming we are allowed to travel to Yorkshire!
Cliff Bruce
2020-08-23 13:42:14
We have now had our new Orbit fitted with Shimano E8000 motor for a couple of days after collecting it from JDTandems, who were extremely helpful. Of course, we had a test ride first.
it has revolutionised our cycling trips as we now go where we fancy going, regardless of hills. One local hill that always defeated us we now manage easily. It still requires effort and peddling so we still get the exercise.
Of the three levels of assistance, I think the top one is possibly excessive and the middle one could be stronger. I believe they can be adjusted but it is early days yet.
Our previous tandem had a Rohloff rear hub, which is heavy, so I am (being Pilot, of course) having to get used to the weight of the battery nearer the front.
Andrew Duncan
2020-08-31 15:24:46
Re 20" wheels on a circe tandem. We have a KHS folding tandem to avoid arguments on trains. I was sceptical at first about the small wheel size (20") but the difference to a single bike with these wheels in astonishing. It rolls surprisingly well and doesn't feel twitchy. Not as steady as a double marathon with normal wheels but a very competent bike and the dog is comfortable in its basket on the back. I've ridden an unpowered Circe and it was fine.