Discussions
Discussion of anything related to Tandems. Opinions expressed on this discussion board are those of the contributors and not necessarily those of the Tandem Club. Postings or extracts may be published in the Tandem Club Journal.
To add a response or post a new message you need to have an account and be logged in. You can get emails sent to you by enabling the Send Forum Emails tick box in your user preferences. Note you need to login to the website to add replies. See our help information
here
for more information.
You can add to this discussion using the entry box at the bottom of this page, when logged in.
Login
Lifting a tandem onto a car roof
Chris Peachey
2018-08-11 22:03:45
I have been asked for ideas as to the best way to load a tandem onto a car with a high roof.
Can anyone help please?
Chris Peachey, Technical Officer
This is a copy of the original request...
My wife is quite tiny, about 5'9" and partially-sighted (AMD). We have ordered a Landescape with a custom frame from Pete Bird. We have a standard Pendle tandem carrier,as yet unused, and a Ford Kuga with a relatively high roof line. I am concerned that I might have difficulty in loading the Landescape (aluminium frame) on my own. Given that there is little information on the web, I wonder if the there is a recognised technique? We have an array of step ladders, but these seem a little unsafe for a ascent with a tandem held at head height! Work platforms are about 50cm high and this is a big step up. We also have a domestic plastic stepping stool with a height of 23cm. I feel sure that other tandem riders have met and overcome this problem. If you have any suggestions they would be very welcome.
Roger Pratt
Peter Weeks
2018-08-12 10:44:11
Chris, Roger and TC friends
There are at least 2 and probably several more kinds of tandem roof carrier. Not an expert, as we carry our tandem inside an estate car when split, but I have seen tandems carried upright as well as tandems carried lying on their side. There is at least one make of carrier with built-in lifting assistance, using I think gas struts, to allow just one person to carry out the lift-and-locate manoeuvre from ground to car roof and to drop it safely.
Chris I feel a review article coming up in the Journal on this subject!
Regards
Peter Weeks, TC Publicity Officer
Alastair Mackie
2018-08-12 12:50:17
We live in South Africa and carry our tandem on the back of the vehicle with a Thule rack (you get ones that clip onto a tow bar or on the back of a vehicle. If yo ucar is quite narrrow you can take the front wheel off to make it fit quite comfortably.
It is going to be easier for you to get a new rack, in my opinion.
Steve Edmunds
2018-08-12 13:15:15
Hi, I have used the gas strut BTS tandem lift for years but it is not now available although SJS have odd spares
Therefore I recently purchased an ATOC Tandem toper carrier from SJSbut my Hase Pino is hsort wheelbase and the rear has to sit on a picnic table to reach the front forks and secure them. Not ideal
Ruth from JD tandems recently sent me this, they can get them
and I think the extra reach would help with a higher roof line. I would have purchased this if I had seen it beforehand.
Hope this helps
Steve
R.N. Goodman
2018-08-12 15:38:02
Hi,
Sorry I can't offer advice about the Pendle carrier. I do think that steps etc sound precarious!
We have used a Helton carrier for many years and I would recommend these. It carries the tandem flat on the roof. The advantage is that the carrier will slide across and down to rest against the side of the car. So you mount and attach the tandem to the carrier with a vertical lift of just under a metre (for my Mondeo but would be a higher lift for a higher roofed vehicle).
But still much easier than trying to get the tandem up onto the roof! Once mounted at the side of the car you lift and pivot the carrier (with tandem) across the roofbars then tighten the rack to the roofbars.The carrier needs to be assembled but has proved very reliable for over 10 years and easy to adjust to support our latest tandem.
There is a video of mounting a tandem on this carrier here: https://www.youtube.com/watch?v=5DsdgAKcQz0
Note that several parts of this video are about setting the carrier frame to fit your roofbars and your tandem - these only need to be set on first use.
Good luck
Richard
Don Crabtree
2018-12-21 16:44:31
We have used an early version of the Helton rack (a Mirrit) for over thirty years. The disadvantage of the Mirrit was that it could not be tweaked or altered for different tandems. The Helton is fully ajustable and I have been able to use it to load on a people carrier (and I have very short legs). Having three tandems and needing only one rack is ideal - besides who knows when yet another one will appear?
Good luck with whatever you get and Merry Christmas.
Don
Neil Plant
2018-12-31 10:12:13
I've been using a Pendle rack for a number of years now on cars with relatively high rooflines (Toyota Yaris and Aygo) but not as high as a Kuga! I ask my partner to steady the tandem as I lift to chest height and then over my head. Having someone to just steady the bike, take a bit of weight or guide the wheels into the wheel tracks makes a big difference. I've also found it best to have the front wheel bungeed to the frame to stop it flapping about and making it easier to get the wheels into the wheels tracks on the carrier. Obviously you need the vertical support of the carrier in place on the far side of the tandem so you can hold the tandem upright while attaching the second vertical upright on the near side of the tandem (I loosely attach the second upright horizontally to the carrier beforehand so I can get to it while holding the tandem upright).
When taking the tandem down, watch out for the stoker bars hitting you on the head.....!
Neil.
Chris Bishop
2019-01-26 16:28:31
We are in our 60's and my wife is just over 5' we have a Cmax which is higher than average.
We have used a pendle carrier purchased from JD Tandems a long time ago, this involved lifting it up above our heads and onto the rack, my wife used a plastic step to get sufficient height. This feels quite precarious, getting more so as we get older on one occassion after a particularly tiring ride we did drop it.
We now have a swing rack from JD tandems. This works by fitting the front forks (front wheel removed) into a swinging arm at the front of the rack. The handlebars are secured using a strap so the forks, bars and frame move together. The tandem can then be lifted and swung into place on the rack. Care taken to ensure the front pedals are clear of the car. The tandem is then fixed using a wedge under the front bottom bracket, a stabalising strut on the stoker down tube and a strap round the rear tyre.
Much easier than before and I can do it on my own but easier with a little help from Mrs B
Looked for a picture or link without success, perhaps that was the link in an earlier post which doesn't seem to work now.
Mr Tom Crispin
2019-10-17 12:06:49
We have a VW California - same as a VW Transporter, but with a lifting roof making a double bed inside a pop-up tent.
We are on the cusp of buying a Thorn triplet for the school run (boys aged 4 and 5). I have been practicing getting the new triplet onto the roof by using our engagement Thorn Raven Twin and lifting that onto the roof mounted Pendle Carrier
bungee front wheel to stop it rotating 145 degrees or more
place plasterers step up about 2 inches away from the van
lift tandem by the seat post tubes just above the boob tube
step up onto the step up
lift tandem onto pendle carrier
secure to upright
secure wheels
position second upright and secure
The step up also serves as a handy picnic table for little boys.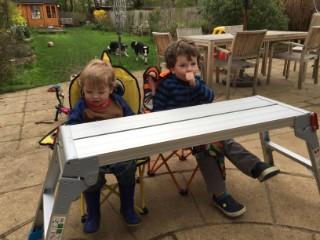 Jon Watt
2019-10-17 14:39:45
I lift our tandem up by myself but it is onto the roof of a normal height car.
Strap the front wheel to the frame first. Hold a strap between my teeth. Open the drivers door.
Grab the tandem by the frame and lift it off the ground to chest height. That's high enough for me to angle the tandem to get the front wheel into the roof rack gutter.
Leaving the front wheel in the gutter, lift the back end up so both wheels are in the gutter. The tandem is now leaning over towards me with me holding the frame forwards.
Step onto the drivers sill, pushing the bike upright.
hold the bike upright while I strap it to the rack.
After that it's easy.
P.S. 5'9" for a lady is quite tall ;-) Mine is 5'2" and next to no use for this activity.
Andy Barkley
2019-12-22 12:06:18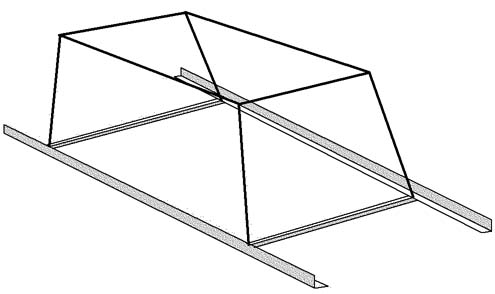 I welded up a rack like this from angle iron in 1990. 20mm steel angle, and 30mm for the long wheel-rails. Got it powder coated back then, and it's sat outside in all weathers, rust free ever since.
I attach it to the car roof using 4xU bolt "exhaust clamps" onto standard roof bars. It's good for a tandem along each side. Or two bikes per side, plus a bike lying flat on the top. Use pipe insulation at rubbing points.
I bought a 500 450 x 100 nylon cable ties - (work out about 10p each) to hold everything in place. They're strong and secure and defeat the casual thief - but obviously use once only. (I was at Oban Tesco checkout once, in 2012, and looked out across the car park to see a guy at my car, clearly having great interest in the cable ties and how easily he might remove them. I completed my purchase and returned to the car and asked him what he was trying to do. Words failed him!) Which reminds me - don't leave home without a juicy pair of side cutters to liberate your tandem from the rack when necessary!
We lean a tandem against the car, then position 2 x folding kitchen step stools at front bars and rear saddle. . We stand on the ground, reach over the step-stools, and lift the tandem while simultaneously stepping up onto our step stool and getting the wheels onto the long rail. Our focus is just to get the wheels onto the rail and then let the tandem fall back onto the pipe-insulation-protected rack.
When camping, and we fancy a bike free day, we lock the bikes to the rack and lock the rack to a fence or similar - or if we're leaving the car at the tent, chain the rack to the car through two spokes of an alloy wheel.
Maybe there's an idea in the above that might suit some readers - I know tandem transportation is a hot topic - and when you find a system that works for you it's best to stick with it.
If you decide to make, or have made, a rack like ours, a key point is to ensure the distance between the uprights is not the same as the distance between your tandem bottom brackets. I think 50cm larger or smaller would work. Also ensure the height of the rack is less than the lowest handlebar - you dont want the rack supporting a handlebar or any brake lever etc attached to it.
And finally - be VERY careful to position the rack sufficiently far forward so that the back ends of the long "wheel rails" don't contact the rear windscreen when you raise the tail gate. That REALLY WILL spoil your holiday!
Andy Barkley
2019-12-22 13:12:06
Just a big shout out for my taller than average wife - and a note to Roger Pratt to watch his back!
In the UK, the average height of a man – according to the Office of National Statistics – is 5ft 9in (175.3cm) and a woman is 5ft 3in (161.6cm).23 May 2018