Discussions
Discussion of anything related to Tandems. Opinions expressed on this discussion board are those of the contributors and not necessarily those of the Tandem Club. Postings or extracts may be published in the Tandem Club Journal.
To add a response or post a new message you need to have an account and be logged in. You can get emails sent to you by enabling the Send Forum Emails tick box in your user preferences. Note you need to login to the website to add replies. See our help information
here
for more information.
You can add to this discussion using the entry box at the bottom of this page, when logged in.
Login
can anyone identify this?
philip tregear
2018-06-22 09:10:29
Hi
I bought this at the cycling eroica festival last weekend. It looks like it is circa 1980 and was possibly set up for racing. The decals say
S.A.B. Tandem Club
and
In memory of Alan Brock
So I am guessing it is one off built to commemorate a well known local cyclist to the club.
can anyone provide any provenace for this bike? It is in basically good nick.
many thanks
Phil Tregear
Suffolk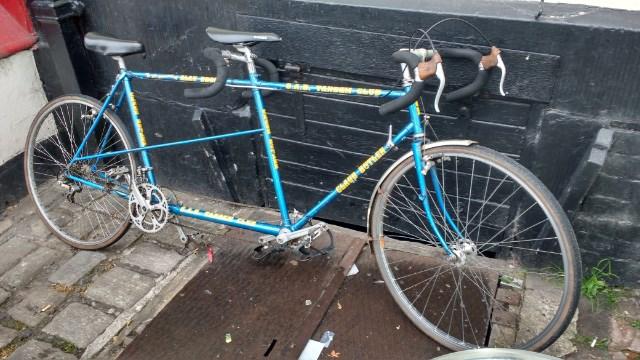 Graham Riley
2018-08-01 14:12:57
Hi Phil,
This looks like a Claud Butler Majestic Two (the same as we ride) which I think was around from 1985 onwards. Its a lightweight tourer which should also have an Arai drum brake on the rear. They ride very well. Sadly I can't help with the provenance of this particular bike and its decals.
Graham Riley
Yorkshire