For Sale: HASE Pino Allround 2019
By: Ben Saunders /br>Email: (Login to view)/br>Telephone: (Login to view)/br>Location: Newbury/br>Listing ends on: Friday 9th September 2022/br>Price: £2950/br>
We bought this tandem from JD Tandems in Yorkshire in 2019 and have loved every ride. The Pino is a great way to ride together. Both pilot and stoker get an unobstructed view and conversation is really easy as you sit close together. No more shouting over your shoulder. We have decided to upgrade to the new version.
The aluminium frame can be split behind the stoker's seat, which makes it more manageable for travel. This bike includes the strengthening gusset under the frame at the splitting point (early Pino frames apparently had a reputation for cracking at this point).
One size. The boom length can be adjusted to suit the stoker. The front seat can be adjusted for height and angle. The pilot's handlebars can be adjusted for height.
Front dyno hub powers front and rear lights
Microshift bar end shifters with Ergo grips
Shimano Deore 3 x 10 gears
2 freewheels so the stoker can take a rest while the pilot pedals
Spinner 300 suspension fork
SRAM Guide hydraulic disc brakes 200mm front 150mm rear
Front kickstand that can support 100kg, also acts as pannier rack
Rear kickstand also included. Its not strictly necessary as the front kickstand takes the load, but it makes some maintenance easier.
There are lots of places to mount water bottles, including under the stoker's seal (cage included), behind the pilot's seat (cages not included), on the downtube (cage included), on the boom (cage included). Other Pino owners have mounted bottles on the handlebars.
Bike weight is approx 25kg
We have more pictures available. Please email me
PLEASE NOTE, the Brooks saddle shown in the pictures is not included and will be replaced with the original Hase saddle. Also the pedals are not included and will be replaced with flat pedals. I've included one picture which shows the bike part loaded with bottles, bags, pump etc. These are not included in the sale, just to illustrate the bike part-loaded.
Collection from the Newbury area only.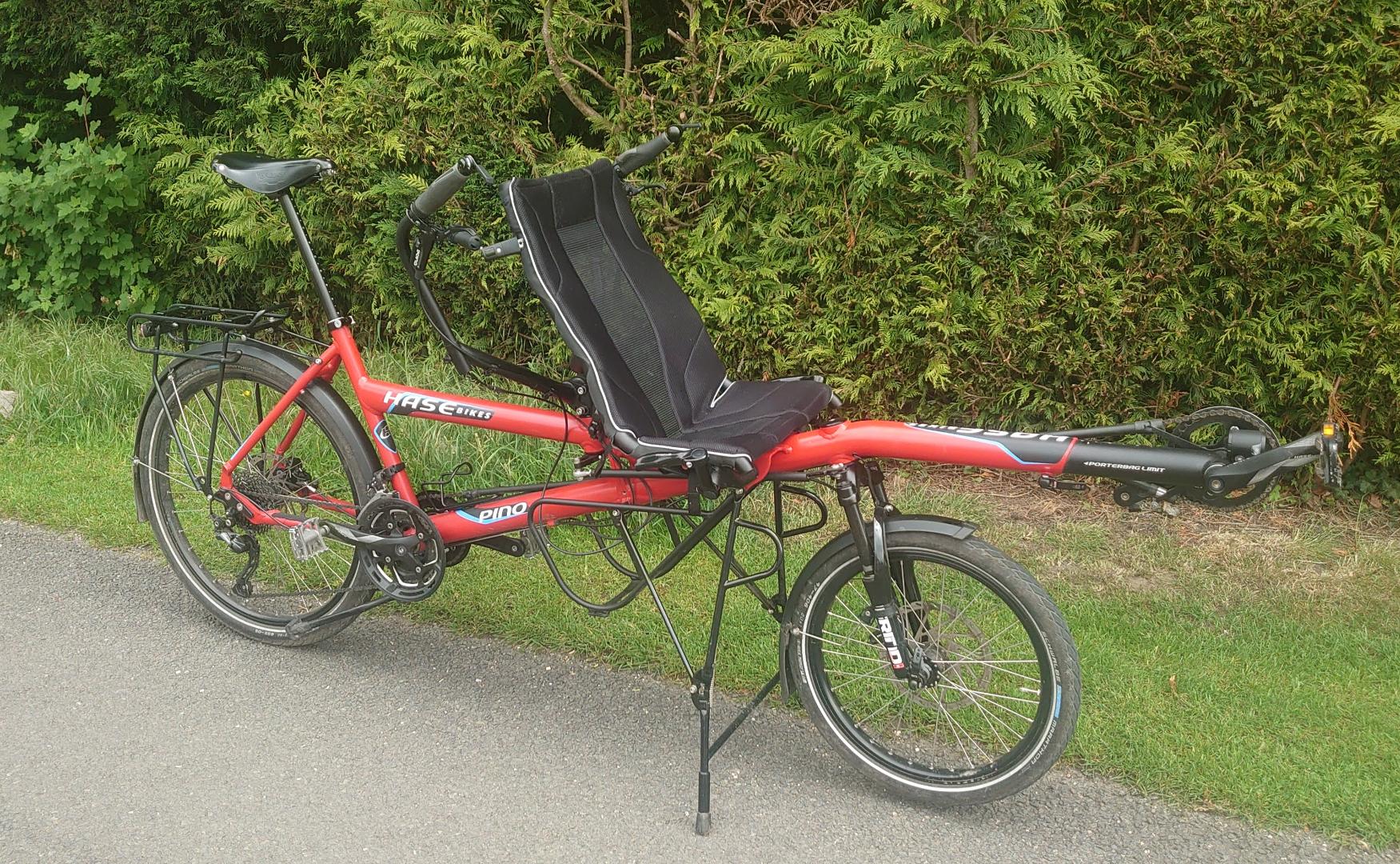 Show all items for sale