For Sale: C T Wallis Tandem ( Marathon) 531 ST Frame Set and Parts
By: Daniel Billington/br>Email: dan@studygo.co.uk/br>Telephone: 07815700758/br>Location: BROUGH/br>Listing ends on: Sunday 2nd June 2019/br>Price: £950/br>
I have this for sale on behalf of the frame builder, a member of our local club.
The frame has got almost everything you;d need - apart from parts obviously :-) , though there are some excellent parts included - you would need the others. It includes wheel set (drum brake) and Stronglight chainsets.
About this Bike:
A Tandem BIcycle Frame hand built by local artisan frame builder C T Wallis in the 'Marathon' style using Reynolds 531.
It is sized 22"/22" with the stoker being suited to a 25" for additional leg room etc.
The Tandem comes with some parts (photographed) but you will need additional items to suit.
Should you wish to buy this Tandem Frame and have it built up, we can do that at an extra cost.
Make: C T Wallis Bespoke build
Model: Marathon
Year: Mid 1980's
Size: 22" / 22" (25")
Tubing: Reynolds 531 Special Tandem + Reynolds Ends including Forks, Crown and Stays. Lugs are Prugnat
Brakes: To suit: Wheel with Drum Brake Included.Brake Cable Guides are for Cantilever Brakes plus there are Braze-ons for Stokers Rear Brake.
Crankset: Stronglight 100LX 53-42-30
Hubs: Large Flange Suzue Sealed Bearing with Suzue Skewers
Rims: Mavic 48 Hole Rims. (takes 38mm Tyre)
Headset: Campagnolo Athena
Seatpost: Bespoke Double Seat Bolt/Binder Bolt for Stokers Stearer.
Bottom Bracket: Haden Eccentric
Other : Custom Cut Haden Lugs, Fitments:Load loading Rack. Panniers,Full Complement of Braze-ons; Bottles x 4, Pump, Chain, Mudguards.
If you would like more pictures please contact me or you canview them here too www.63velo.com/c-t-wallis-tandem
many thnaks, hope its of interest to someone
Dan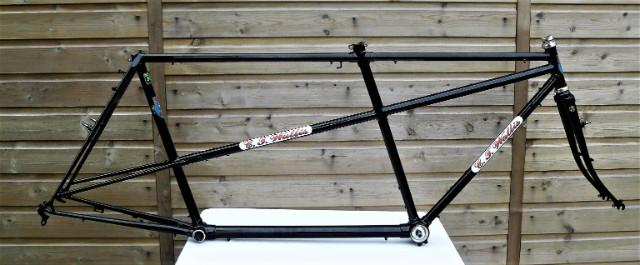 Show all items for sale