Picture 1 of 2: 2020-09-14 added by Stephen Webb
Enjoying a picnic lunch at Carnforth Truckhaven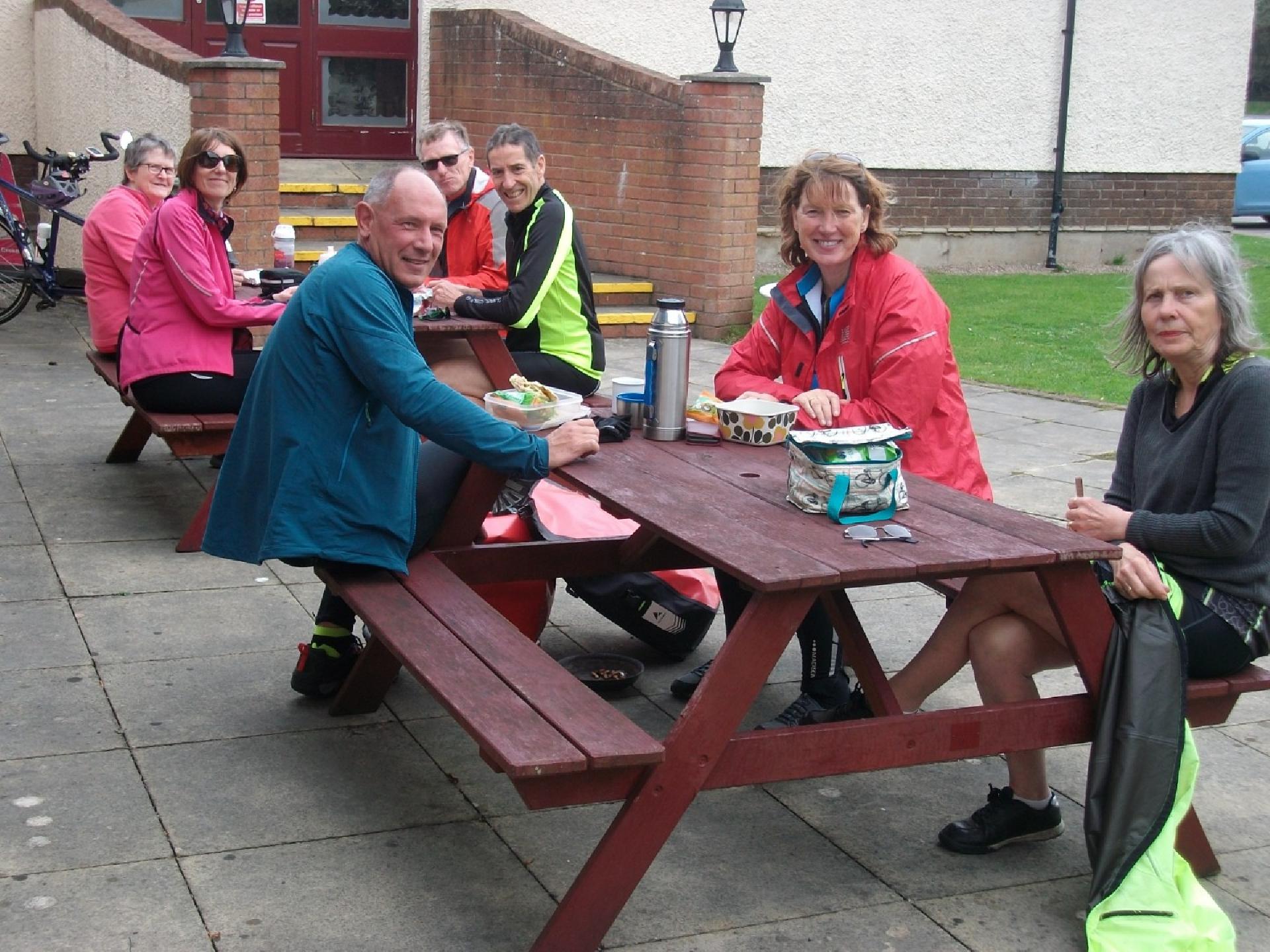 Four tandems turned up at Kendal Leisure Centre for our September ride. It was a damp day, but fortunately not too cold.
We split into two groups of two tandems in each to maintain social distancing. The route took us past Oxenholme Station on the B6254, later crossing the M6 near Old Hutton. By now we had climbed to around 200 metres, a steady pull from the start. We took the old drover's road known as "Scotch Road" which is always peaceful and quiet, and it doesn't go a lot higher, rejoining the main road at Old Town.
An attraction of this route, are the fast descents, ideally suited to tandems. We soon arrived at Kirkby Lonsdale for elevenses at the Royal Hotel, after fourteen miles. We booked this stop in advance, and it made a welcome stop. We enjoyed scones and cream in very comfortable surroundings.
From Kirkby Lonsdale we took the A683 towards Lancaster. This is a nice open road with good views. A regular feature of this route, are motorbikes, who head for Devil's bridge, at Kirkby Lonsdale. We turned right before Hornby, to cross the River Lune, which provides an excellent view of the river from the impressive Loyn Bridge which is estimated to be over three hundred years old.
Our route then took us through Over Kellet, to Truckhaven, at Carnforth for lunch (27 miles). Normally this road, the B6254 has good views over Morecambe Bay, but today it was misty. By this stage, the earlier fine rain we had ridden through, had gone.
The return route took us through Holme village to Farleton view, which is a farm café, near junction 36 of the M6. Here we enjoyed tea and cakes before heading back to the start, on well used lanes back to Kendal, a total of 44 enjoyable miles.
Paul Rodman