View Item
Ian and Lisa Warren
2020-08-16 20:52:09
Taunton
August 2020 Report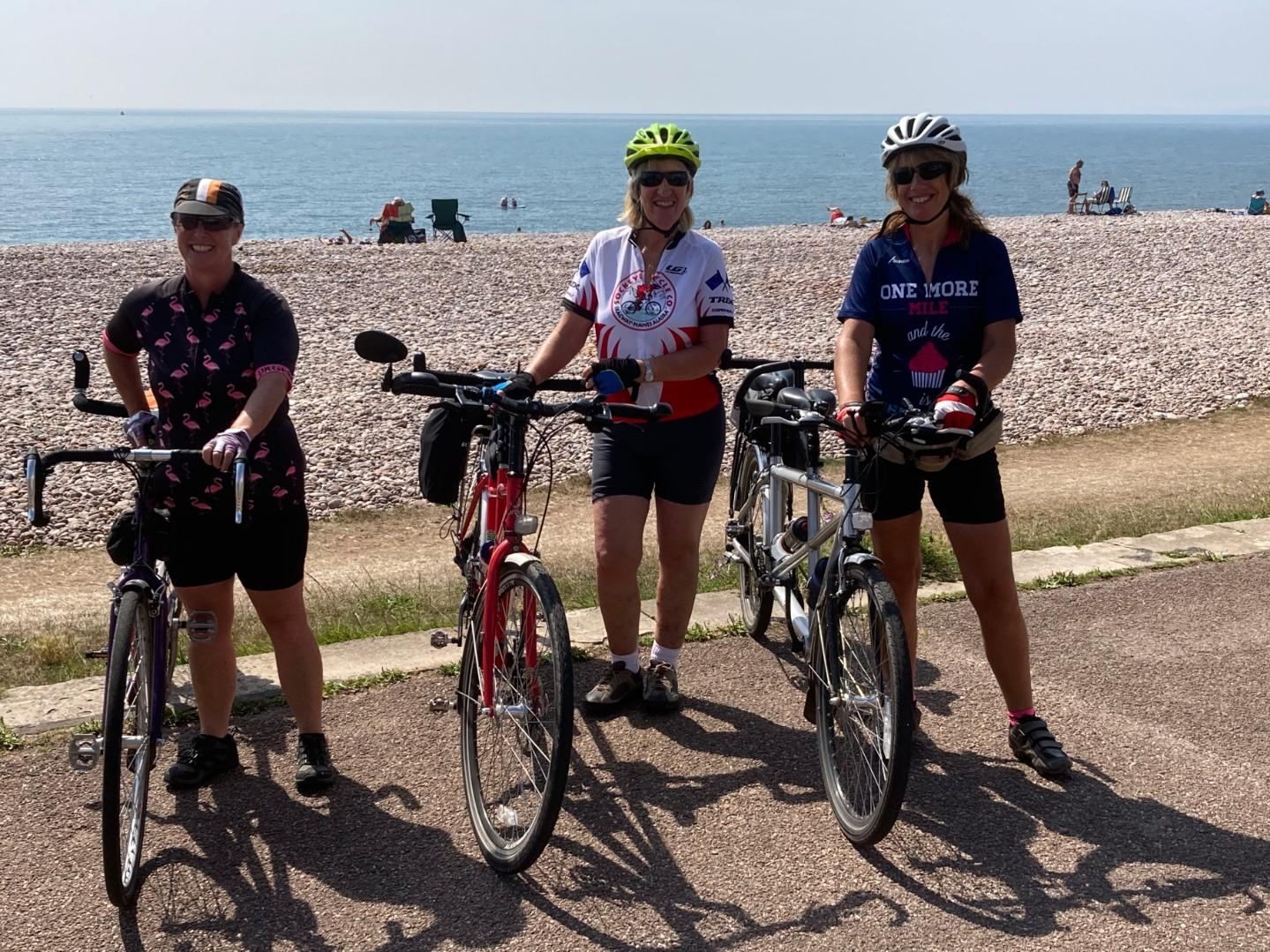 Eighteen cyclists, on 8 tandems and 2 singles, met at Darts Farm, Topsham on Sunday 9th August. It was one of the hottest days of the year but we were off cycling in 3 groups before the heat built up and later there was time to relax and converse in the picnic area with plenty of space. It was impressive that people had travelled so far to be there, most folk from Somerset but special mention to Lisa and Ian who came across from Bournemouth, James who interrupted his holiday at Lydford and also Anita and Andy who cycled in from near Crediton.
Two of the three groups went south, with staggered start times, to Exmouth on the East side of the Exe Estuary trail including boardwalks and views of the Estuary. The first group, kindly led by Andy and Anita, went straight onto Budleigh Salterton for a coffee stop, picking up the cycle track on the old railway route through farmland and woods. They then went over Woodbury Common, a renowned pebble bed heath, on quiet roads to make a circular route back to Darts Farm.
The second group, led by Ruth at the front and James as sweeper, stopped for coffee at the National Trust Farm on the edge of Exmouth. The foresight and generosity of a farmer leaving this farm to the National Trust stopped ribbon development along the East side of the Estuary. The group then cycled onto Budleigh using the same route as group one. After a pause at the seafront, they returned to Darts the same way with less hills than group one though in fact a longer route.
The third group, led by Liz and Mark (who also planned the overall day), went north through Topsham to Countess Wear then across the Exe onto Exminster. After a short, steep hill to the Exminter golf course, extensive views opened up over the Estuary. Back roads through the countryside were taken down to Powderham Castle then along the Estuary to Starcross. There was welcome coffee and flapjacks at an enterprising coffee trailer in the carpark, then a return on the cycle path past Turf Hotel and under the motorway to Countess Wear. The route was then retraced back to Topsham and Darts.
All three groups were miraculously back within half an hour of each other. As well as fulfilling social distancing, we reflected on the advantages of these smaller groups of six people. These included making it easier for cars to pass, creating a good social group and helping the role of the leaders with a smaller group to keep together. Thank you everyone for coming to the Exe Estuary on such a hot day, enabling us to share our local and wonderful Exe Estuary trail for the three routes.
Liz and Mark Nicholson