For Sale: Classic Swallow EXPA SW093
By: Richard Ednay/br>Email: Richard@Ednay.com/br>Telephone: 07778568598/br>Location: Skipton/br>Listing ends on: Monday 29th August 2022/br>Price: £1450/br>
NEW PRICE and extras included!!!
Classic touring tandem with drop handlebars, black frame with green highlights. With the elegant EXPA frame design that is very strong with no flex, made of Reynolds 753 tubing, serial number SW093.
Hand built by Rob Wade of Swallow Tandems for himself and his (then) girlfriend c1986?. At that time Swallow Tandems were based in Basildon, before moving to mid Wales. Rob Wade and Pete Bird are now in Ironbridge, still making "Bicycles by Design" https://www.bicycles-by-design.co.uk/
We bought the tandem from Swallow in about 1987 (Rob's new girlfriend was a different size!)
Upgraded by Swallows in 1995 to better brakes, gears etc.
Largely retired from active duty in 2005 when we bought our Landescape tandem.
The tandem has outstanding frame quality, the best brazing you will ever see, tandem specific frame set, curvy stoker seat tube to provide spacious stoker reach (without increasing wheelbase), many bosses for front and rear carriers and 6 (yes 6) bottle cages. Rear rack, bottle cages and 6x Sigg aluminium bottles included.
Adjustable reach stoker handlebar mount.
Campagnolo Ergo power combined brake levers and gear shifters.
Cateye Mity computer
All brake and gear cables are Goretex.
Middleburn chainrings 50/36/24 & Shimano Hyperglide 8 speed cassette 13-34 give great range of gears, including very low for twiddling a heavily laden tourer up steep hills.
Hope titanium bottom bracket
Cantilever brakes
Hope disc drag brake, stoker operated, for slowing things down on the descents.
Super-strong 48 spoke tandem 700c wheels (never gone out of true or broke a spoke, even with heavy touring loads), Fir rims, Campagnolo front hub, Hope rear hub. Vredestein Perfect Flex touring tyres 700-622.
Currently with double sided Shimano SPD pedals.
Also included are matching 'his and hers' classic black Brooks B17 leather saddles, not currently fitted. Very little used with 'care kit'.
Also included original pair of 48-spoke wheels with Swallow hub on front and Swallow drum brake on rear.
Frame size
Currently set up for 5'11" (180cm) captain and 5'7" (170cm) stoker
Probable seat high adjustment Captain +/- 2" (5cm), Stoker +3/-1" (+7/-3cm)
Front down tube 60cm, Front top tube 49cm.
Rear down tube 59cm, top tube 64cm.
Ill health means we will never be able to ride the Swallow again, and after a number of years as elegant wall art in our garage, we have come to terms with the fact that this hand crafted masterpiece deserves a new lease of life in the hands of someone who will appreciate the quality of this exceptional tandem.
Get in touch for more photos.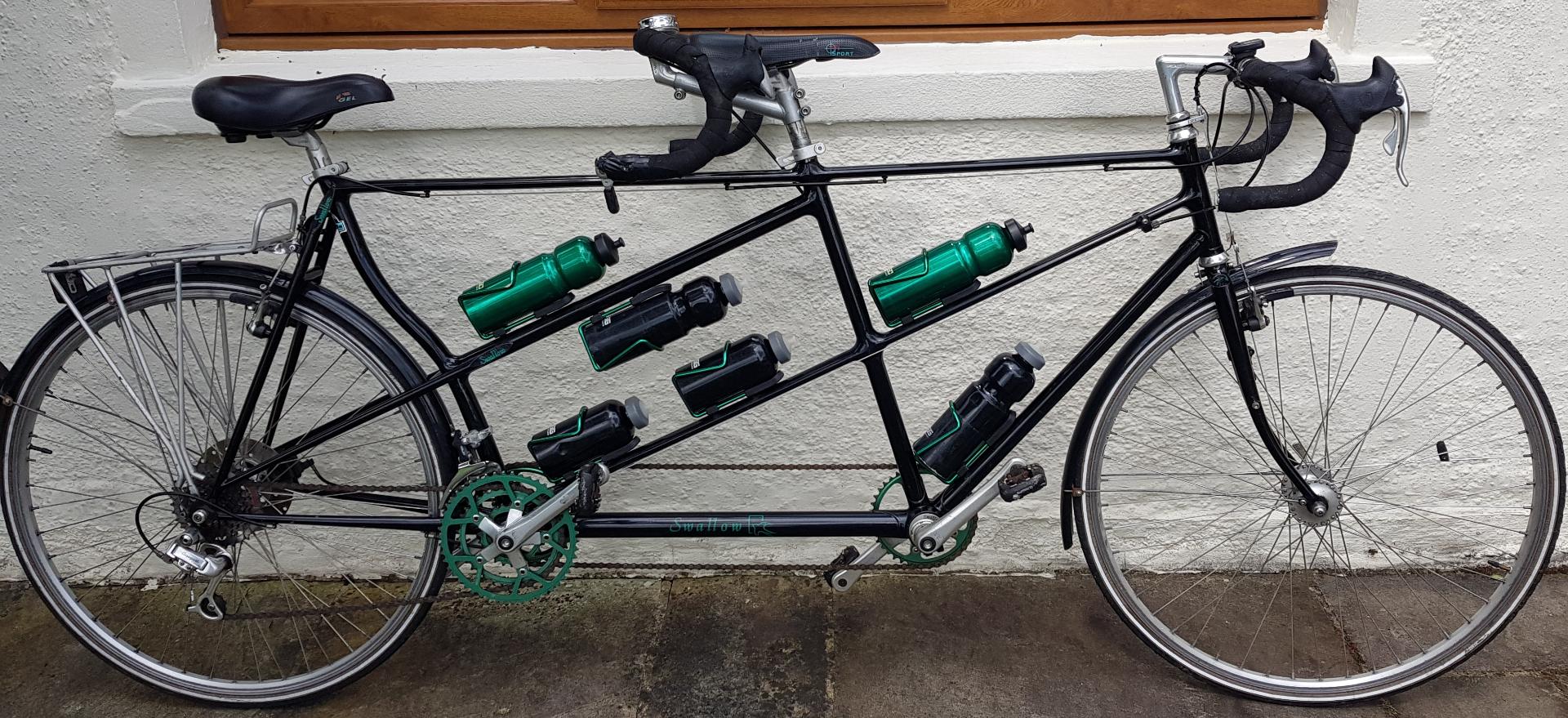 Show all items for sale