For Sale: Longstaff Tandem Trike
By: Kevin Simpkins/br>Email: Kevinsimpkins1566@gmail.com/br>Telephone: 07951914343/br>Location: Redhill/br>Listing ends on: Tuesday 2nd August 2022/br>Price: £995/br>
Longstaff Tandem Trike For Sale
Price dropped now was £1850 now £995 or best offer
Built in 1996 for the original owner, this Trike was ridden to several national competition records.
I bought it four years ago and had the original 7 speed two wheel drive updated with modern Trykit 10 speed 2 wheel drive.
I swapped out the time trial set up for a more general riding set up.
I had plans for it but due to various reasons they have not materialised so it's done almost zero miles since.
I,m now without my Stoker and am riding other machines so realistically it's time to move it on and let someone else enjoy it.
The frame is Reynolds 853 tubing fillet brazed.
Seat tube length CTT is 21 1/2 " pilot and Stoker.
Top tube length 21 1/2".
Drive train is TA specialities chainrings 54/34. 48t tandem drive chainrings.
10 speed cassette 12/27.
Shimano Ultegra front and rear mech.
New Shimano Ultegra chains.
Cinelli Criterium drop bars 46cm front 40cm rear.
Comes with 62 and 58 drive chainrings for TT and 2x50 tandem drive chainrings.
Fast forward seatpost,time trial Handlebar,elbow rests and time trial bar end brake levers.
This is a lovely example of George Longstaff's British engineering craftsmanship and a fast trike to ride.
Collection from East Surrey.Phone me on 07951914343 fr more information and photos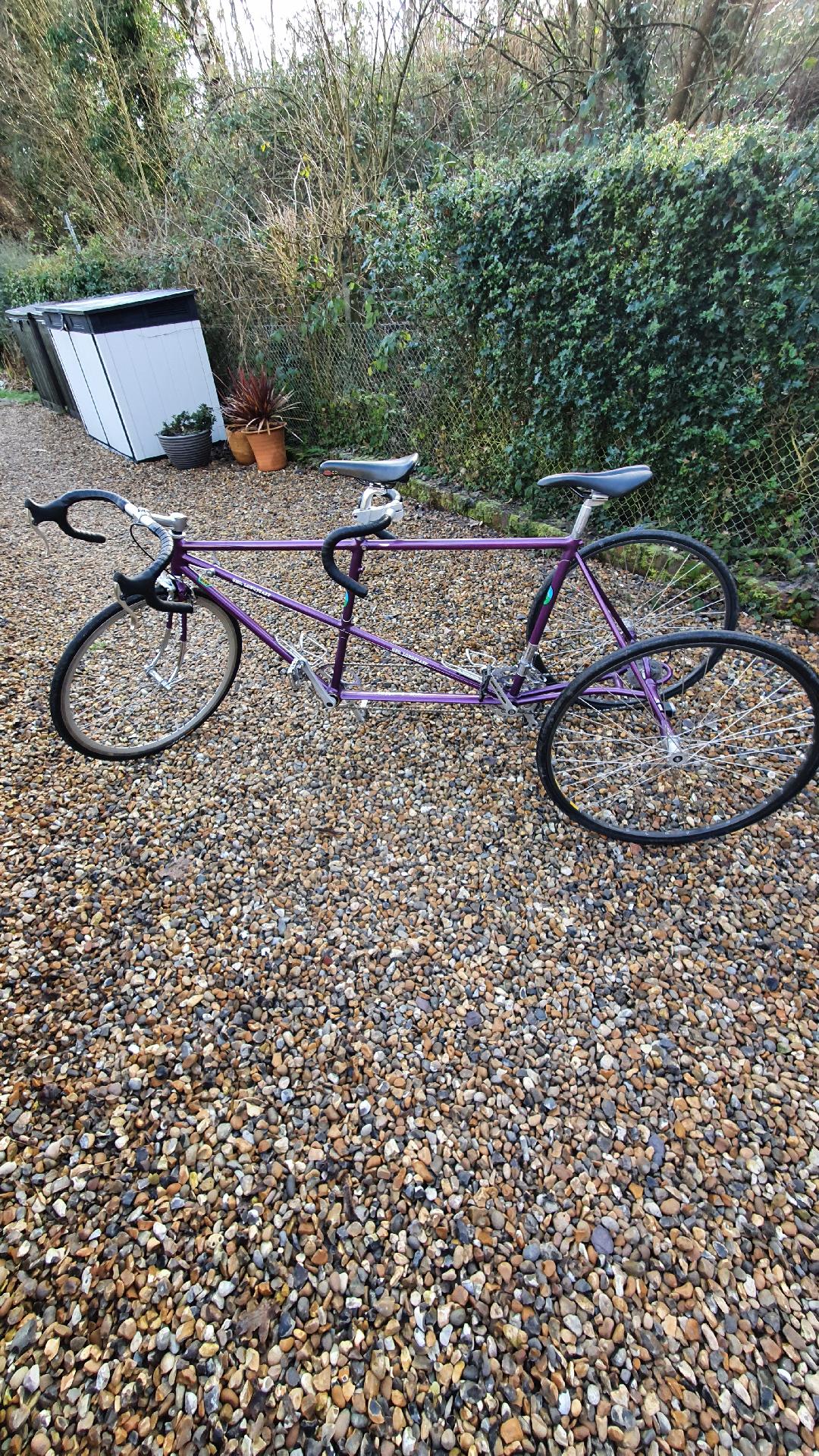 Show all items for sale