For Sale: Greenspeed GTV recumbent tandem trike DEPOSIT TAKEN
By: Andrew Brooke/br>Email: katebrooke@waitrose.com/br>Telephone: 01460 242664/br>Location: Seavington TA19 0PZ/br>Listing ends on: Friday 15th April 2022/br>Price: £3500/br>
Greenspeed recumbent tandem trike for sale.
Collection only from Somerset TA19 0PZ.
£3500 or near offer. No collection without payment.
In theory, can be converted between solo and tandem configurations by removing the middle section using the S&S couplings - but this is not a trivial procedure.
Estimated build around the year 2000 but Greenspeed failed to respond to my enquiry so build date unconfirmed. I have a photo of the ID plate.
Owned by us for 2 years during which it gave great joy during the pandemic lockdowns. Now for sale because we finally managed to buy the Trice tandem we had been seeking for many years.
In our ownership the rear S&S coupling cracked, possibly due to us or a previous owner riding the trike without the coupling being completely tight. The replacement coupling was professionally fitted by Argos framebuilder in Bristol and the local repainting was done by me. Ford Radiant Red is a very close match.
Overall the paint is in very good condition for its age, including the repaired section.
Gearing is SRAM X7 9 speed derailleur at the back and a triple chainset at the front, giving a wide spread of gears suitable to the machine.
Front brakes are Hope hydraulic disks which work well but the RH brake squeals at the start of every ride before settling down. There is a rear Shimano mechanical disk drag/parking brake operated by the stoker on a thumb shifter. Note that the bolt spacing for the brakes is to an obsolete standard so if you wanted to update the brakes you would need to use an adapter bracket or have new fittings brazed on.
Rear tyre is a brand new Schwalbe Marathon Plus and the front tyres are nearly new Trykers.
Steering has been transformed by adding low profile thrust bearings on the kingpins. The stiff and jerky steering is now light and smooth. Morgan car owners do the same for the same reason!
Since the repair to the S&S coupling I have only ridden the trike a couple of times but basically it works well, is comfortable and is immense fun.
The sale also includes a tool for the S&S couplings and a tool for the Hope disk calipers, also a spare inner tube and the original bungee cords for lacing the seat covers.
Please come and try out the machine and make an offer. Locations is near Ilminster in South Somerset. I can also send more photos including the unpainted repair and close-ups of the repainted section.
The trike will also be advertised elsewhere.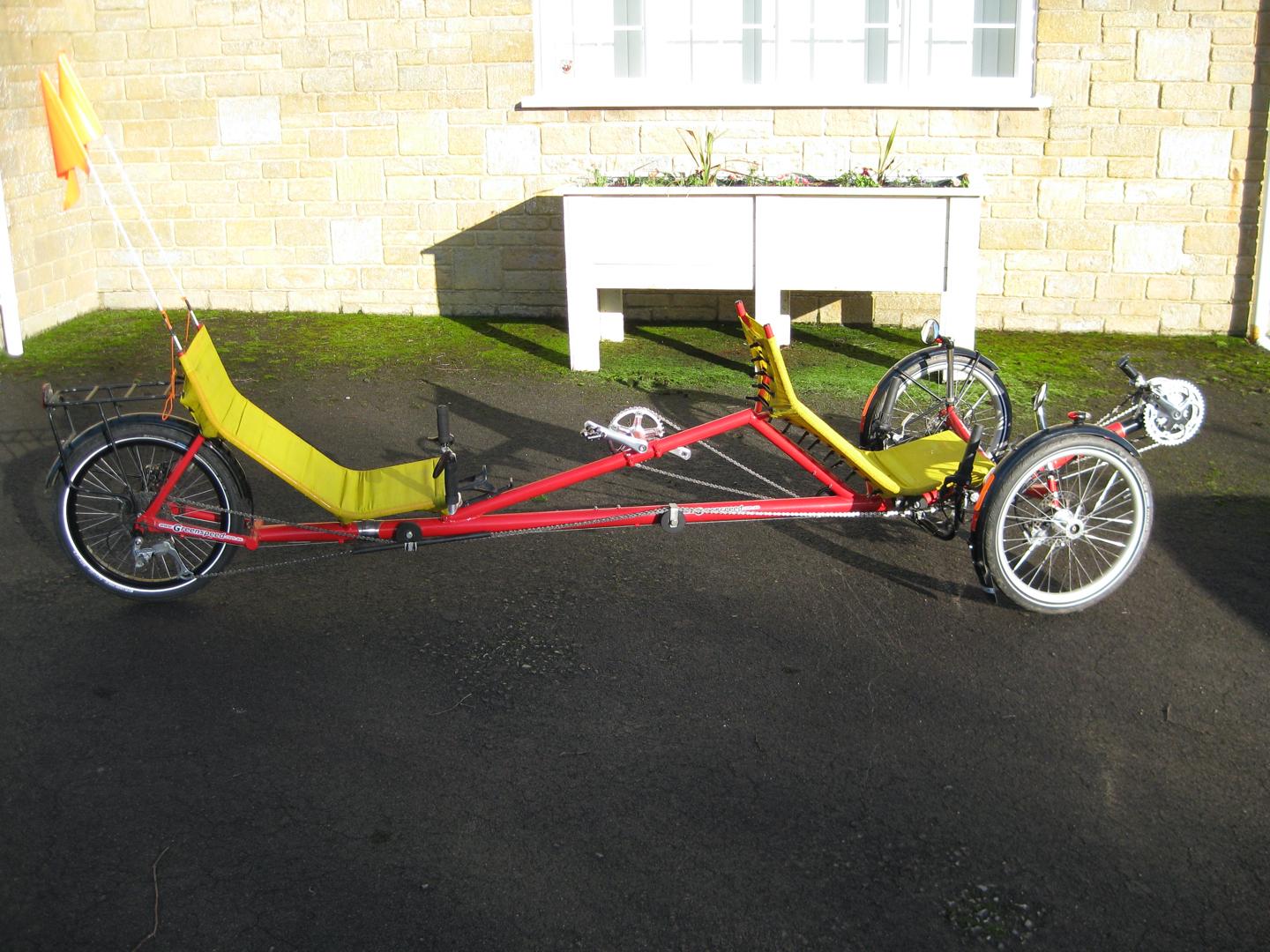 Show all items for sale