For Sale: Thorn Explorer tandem
By: David Else/br>Email: mail@davidelse.com/br>Telephone: 07963698570/br>Location: Chippenham, off M4 near Swindon / Bristol/br>Listing ends on: Sunday 15th August 2021/br>Price: £795/br>
For sale: this Thorn Explorer tandem in excellent condition.
Purchased brand new from Thorn (St John St Cycles) in 2002, but minimal use ever since, so still very low mileage, with wheels, transmission etc in excellent condition.
My wife and I rode this tandem for a few months after purchase, then discovered she was pregnant (unrelated to buying the tandem, I am assured) so this Explorer was stored and not used for several years.
When kids were primary school age they occasionally rode the back of this tandem, fitted with kiddy cranks, but the entire family preferred solo bikes, so it was used only a few times a year at events like the CTC New Forest Week. I'd estimate it's done just a few thousand miles since new.
It's been very well looked after, regularly maintained and always stored in dry damp-free conditions.
The frame and components are as follows:
Frame is 4130 chomoly, described by Thorn as "low-cost entry-level serious tandem".
Frame size: M/M (ie medium front and back), sizes 20" front 18" back seat tube c-c. Thorn (the tandem manufacturer) indicate in their brochure that this size of tandem is suitable for most average-sized people in male/female combinations. I have the original brochure, which has two pages of information on sizing, and I can send copies to interested buyers if required. (For an idea of real-world size, I am 5ft 9, my wife is 5ft 2. Obviously, there's some adjustment of the saddles up and down from our heights.)
Wheels: Rear rim Sunrace CR18 36-spokes, front rim Mavic 138 rim 32-spokes, both on Shimano Deore LX hubs. The rear Sunrace wheel was provided by Thorn with the tandem; I fitted the front Mavic wheel when the original Sunrace front went in another bike.
These wheels are relatively light, and we found they gave tandem a nice lively feel on the road, but they are not recommended for two heavier riders or fully-loaded touring, especially in hilly areas. (If that's what you're planning, Thorn recommend, and can supply, a stronger set of wheels.)
Crankset and cassette: Thorn tandem-specific cranks and chain rings, with cross-over drive. Triple chain rings with a 9-speed cassette. Very little wear on the teeth of chain rings and cassette – please see pictures
Crank size: 170mm front, 165mm back.
Gear mechs: Shimano Deore LX rear mech (indexed, thumb shift), Suntour CX front mech (non-indexed at Thorn's recommendation to avoid chain rub).
Handlebars: Thorn-branded flat handlebars on the front, Thorn's own-design tandem stoker handlebars on the back, which can be swivelled in various directions and so suitable for kids or adults and offers various hand positions. Conventional flat bars could be fitted instead, if required.
Monza bar-ends are fitted to front handlebars, but can be removed if not required.
Front stem: 130mm. This suits me as top tube is relatively short. However I have some spare stems, so this 130mm stem could possibly be swapped for something shorter if required.
Brakes: Shimano Deore V-brakes (rim brakes) front and rear. V-brake-specific flat brake levers on the front handlebars.
Tyres: the tyres are Schwalbe City Jet 26x1.50 (40-559). These replaced the original tyress (which were starting to perish even though the tread was fine) and have very little wear. We found them ideal for road and light gravel use.
Mudguards are included. These are in good condition, but please note the small holes at the back where a mud-flap was fitted.
Saddles and pedals are not included in the sale, as these tend to be a personal choice. Some basic pedals and saddles are fitted currently (for test rides etc) and can be supplied free of charge if required by buyer.
Paintwork is in mostly good condition, with a few scuffs here and there, but nothing serious. Worth noting is some chips on the front top tube where the handlebars swung round and the bar-end-bolt chipped the paint. And there are some bigger scratches on the rear seat tube, where the kiddy cranks were bolted on.
The extra chain ring for the kiddy cranks is still in place; this can be removed prior to sale if not required by buyer.
The equivalent Thorn tandem is currently selling for over £2000 new. For this tandem I am asking £795. Sensible offers considered. Please contact me for more photos or more information, or to arrange viewing and test-ride.
Collection only please, or local delivery could possibly be arranged (I have a van).
Separately I'm also selling a tandem roof-rack, and the kiddy crank attachment.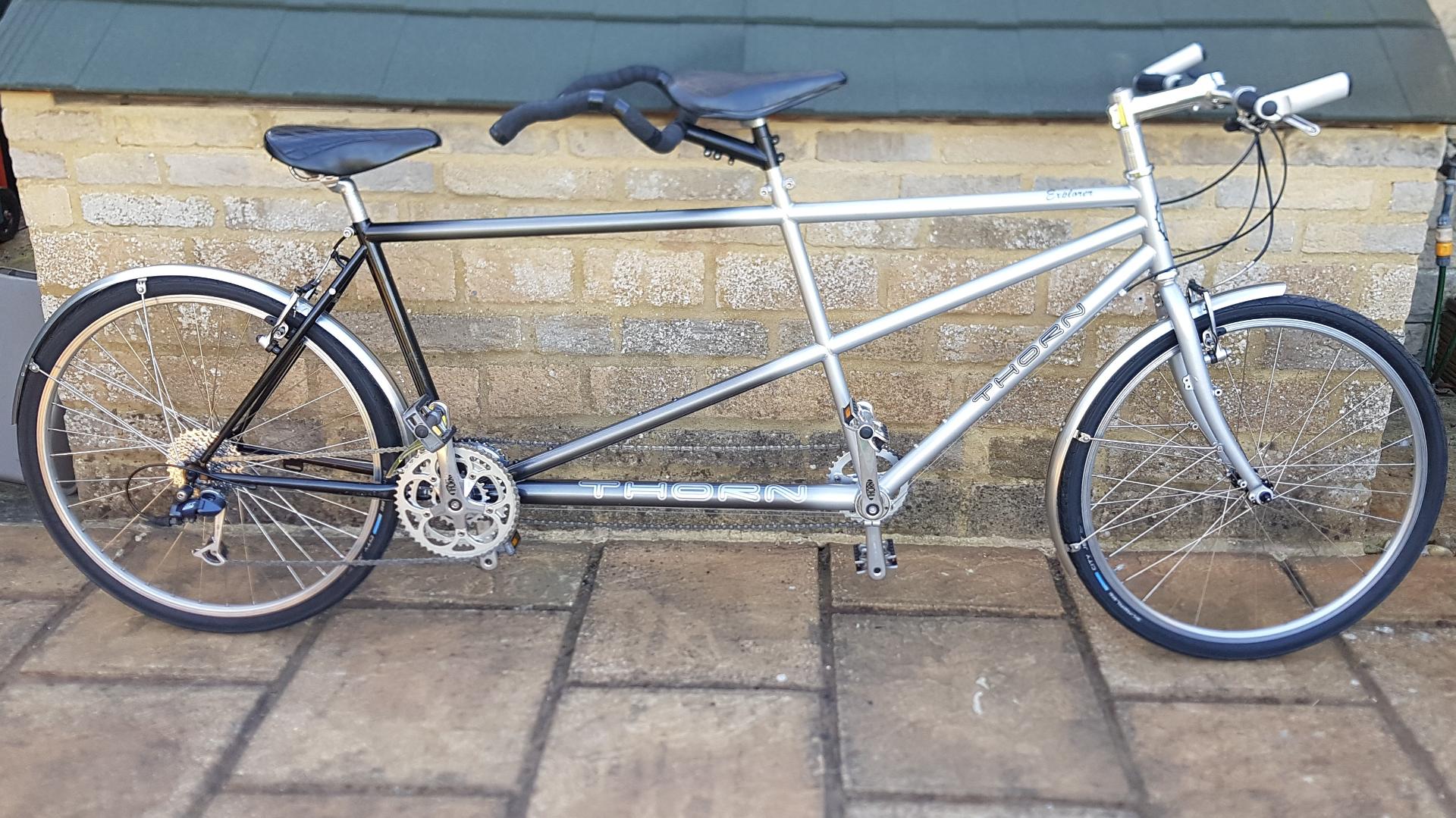 Show all items for sale