For Sale: Tony Oliver Off-road/Trekking Tandem
By: Will Sillar/br>Email: will@sillar.net/br>Telephone: 07760 178970/br>Location: CHURCH STRETTON/br>Listing ends on: Monday 28th June 2021/br>Price: Free to a good home/br>
I'm looking for a good home for this rather special tandem with a couple or a family who will use it and enjoy it. I'm prepared to let it go without charge, with fittings and spares, in return for an undertaking to use it, take care of it, and in due course to return it to me when it has outlived its usefulness.
The tandem was built for me and my wife in1987 by Tony Oliver, a legendary cyclist and frame builder working then in Anglesey. At the time we worked as teachers in Iceland and we used the tandem in the school holidays to tour the country, back in the days when very little of the road network was surfaced, and the upland trails like Sprengisandur and Kjolur were strictly for serious four-wheel drive vehicles only.
As far as I know, this was the first mountain bike tandem made in this country. I had a lot of fun designing it with Tony, who was immensely knowledgeable on all aspects of frame building and touring generally. (His 1990 book, Touring Bikes, is a classic of the era, and well worth reading even now.) Tony took a great deal of trouble in selecting the tubes, lugs and fittings for the frame. There were no off-the-peg combinations in those days. Most of the frame joints are lugless, fillet-brazed and hand-finished (I know because Tony told me how bored he got of all the filing and sanding.) The Stronglight roller bearing headset and the Specialised cup-and-cone bottom brackets were good choices: they're still in excellent condition.
The frame is on the larger side - we are 6' and 5'9". It is very comfortable, with lots of room for the stoker, long 18" chainstays for pannier clearance, and an old-fashioned but highly effective steel fork which gives a cushioned ride without losing any steering feel. It is an immensely reassuring ride on road, and surprisingly capable off it. (We once entered the Polaris Mountain Bike challenge on it and got most of the way round before the timing chain gave up the ghost completely and we had to withdraw.)
The tandem has had very little use in the last twenty years. It has always been maintained carefully. It was resprayed in 1999 by Chas Roberts, and the brakes and drivetrain have been upgraded a number of times over the years
Nowadays the tandem has 24 speed indexed gears and Magura hydraulic rim brakes. Wheels are 26", still with the original Campag Record SF hubs spaced 140 rear and 120 at the front, with 36 13g spokes onto Mavic ceramic rims. The braking is pretty powerful, and there is an Arai drum brake also which can be fitted to the front as well as the rear wheel.
Gears are indexed Shimano derailleurs, with twist-grip shifters. Ratios are as follows (thanks Sheldon and RIP):
For 26 X 2.125 / 54-559 / MTB tire with 170 mm cranks
With SunRace 12-14-16-18-21-24-28-32 8-speed Cassette
28
50.0 %
42
23.8 %
52
12
60.5
90.8
112.4
16.7 %
14
51.9
77.8
96.3
14.3 %
16
45.4
68.1
84.3
12.5 %
18
40.4
60.5
74.9
16.7 %
21
34.6
51.9
64.2
14.3 %
24
30.3
45.4
56.2
16.7 %
28
25.9
38.9
48.2
14.3 %
32
22.7
34.0
42.2
Currently the tandem has wide-ish Schwalbe City tyres, but comes with a set of offroad tyres too. There are front and rear racks, and even the original framefit pump! I also have a stainless steel upright roofrack which was fabricated specially in Iceland at the time.
Please get in touch and let me know if you'd like to give this bike a new home. I'm afraid I may be a little inquisitive about your cycling plans, but it's only because a great bike like this deserves to be used and enjoyed.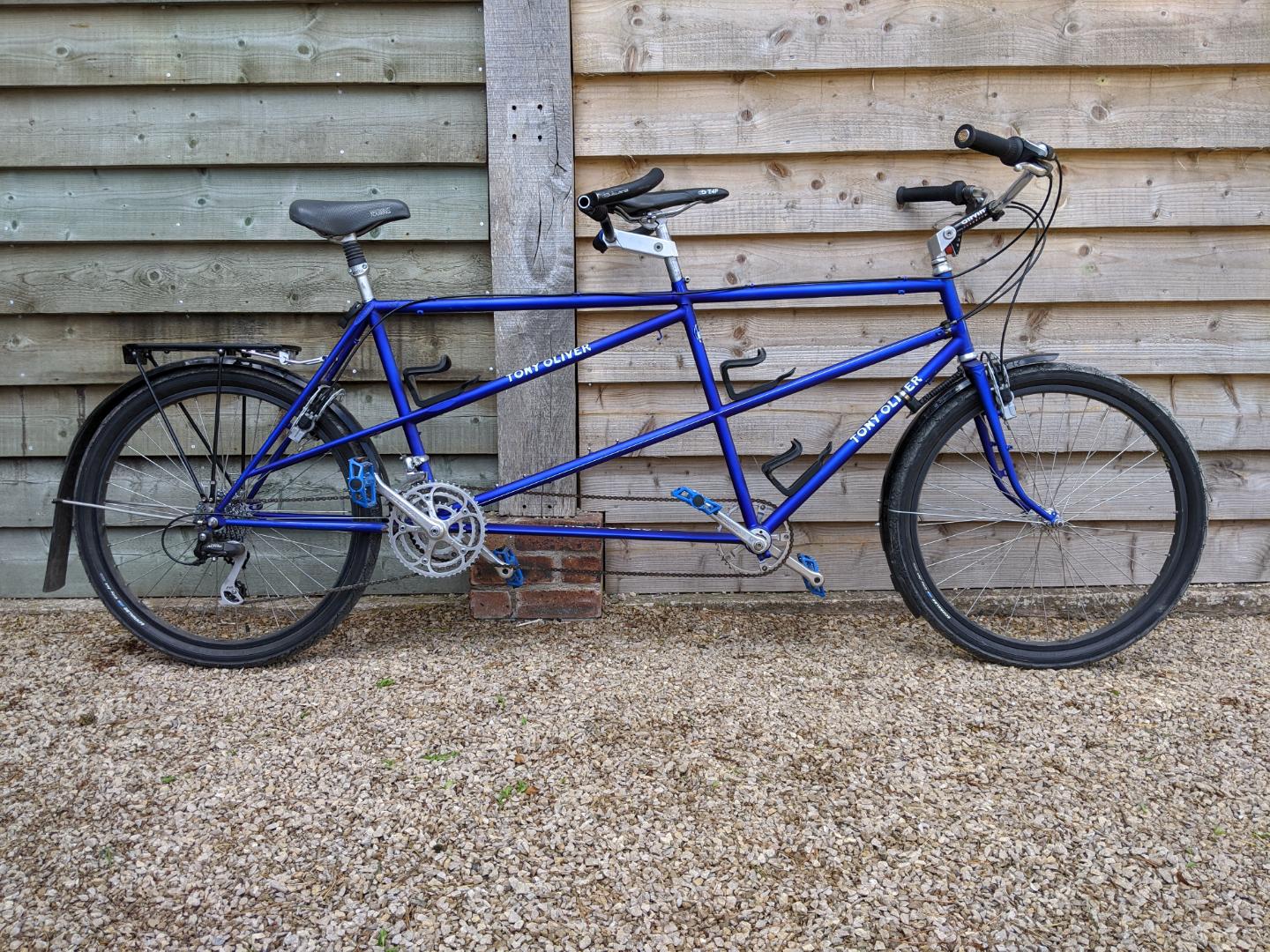 Show all items for sale