For Sale: Vintage Bob Jackson Reynolds 531 Tandem
By: John Pringle/br>Email: john@johnpringle.co.uk/br>Telephone: 01873 821881/br>Location: ABERGAVENNY/br>Listing ends on: Tuesday 2nd March 2021/br>Price: £750/br>
Bespoke 531 frame from 1982 by Bob Jackson for 5'9/5'4 riders.
It is a beautiful bike to look at and a delight to ride and it has given so many happy memories. I am very sad to sell it but want it to be enjoyed again
Comes with a bespoke Mirit tandem roof rack - same design as adopted by Helton tanden carriers - very easy to load.
As seen it has been used for touring so relatively lightly used - a couple of weeks for 10 summers.
TA Specialitiesd triple chainset with gears down to 1:1
Shimano derailleurs
Mostly original with a hub rear brake and caltilever brakes, downtude shifters.
Has a Blackburn aluminum rack.
The wheels are true have Atom hubs, never had a spoke breakage
I have improved it slightly since the photos were taken and it has a parking brake with a bar end shifter rather that the dual brake lever. I changed the handlebars and added a modern stem. I have the original brakelevers, bars and quill stem if you wanted to revert to the full 1980 look.
Happy to sell the 1980s Karrimor Iberian panniers.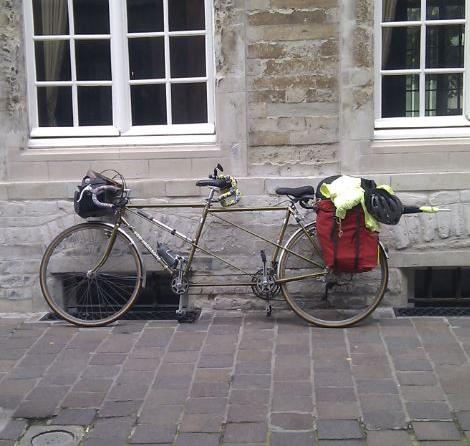 Show all items for sale