For Sale: Longstaff tandem
By: noel Mackenzie/br>Email: info@sportsturfconsulting.co.uk/br>Telephone: 07739505862/br>Location: kempsford, Gloucestershire/br>Listing ends on: Thursday 22nd October 2020/br>Price: £795/br>
Description:
Frame: George Longstaff Frame Reynols 531 tubing c.64cm centre to top (captain), c.52cm (stoker). (Suitable for 6'5" – 6' depending on leg/back length ) and stoker (around 5'2 ½ -5'7) .
Wheels: Mavic 700c wheels, 48 spokes, Shimano Deore hubs. Tyres: Schwable Marathon comfort tyres 700x35c
Brake levers: Dia compe brake levers
Brakes: Front: Shimano wide profile cantilever Rear brakes: shimano cantilever + hub brake
+ long drop side pull (Hub + long drop side pull brake operated by stoker)
Gears: 105 downtube shifters, Deore Dx front and rear derailleur, 6 speed rear block (nice strong chain)
Drive Train: Triple campag chainset 48 36 26 Shimano Campag tandem chanrings with 170mm cranks Front
Misc: SPD pedals: Shimano M540 + bontrager (optional), will set up with flats for test riding if needed.
Blackburn rear rack
Blackburn front pannier rack (not in pic)
Full length mudguards
Cat eye computer mounted.
Comes with a roof rack of its own but I have never used it as I have estate cars.
History:
Longstaff tandems are the very pinnacle of frame construction, especially in tandems. Although it's obviously not a new bike it probably hasn't done that many miles in its life (I'm it's third owner) purchasing it in 2013. It's a bombproof build and very stable and comfortable to ride. There are some minor scuff marks on the paint in a few places, but all the paintwork is sound and no metal is exposed. The attention to detail is superb as you would expect on a longstaff frame with decals and inlays touched up with gold paint which looks fabulous against the burgundy metallic finish.
I have only ridden it two or three times due to the fact I bought it to use with my partner and then we split up (grr) … so I rode it with my son a few times, but he discovered mountain biking and besides which is now too tall to stoke. I doubt we have done more than 15-20 miles altogether (that's embarrassing to admit!!). As a Longstaff it's sad to see it gathering dust so it needs a good home before it deteriorates and it would be lovely to see it enjoyed as a bike of this quality should be. I have never ridden it in the wet. It was obviously well looked after and I have kept it mostly hung in my garage keeping it dry.
The previous owners were 6'3" and 5'6". I am 6'5" and I would probably put a longer stem on but I have a longer back and very wide shoulders, in truth it's a fraction small for me because of my long back and as with all bikes adjustability is fairly straightforward by changing stems and altering seat post length. The stoker gets a carbon saddle stem to ease road shock although the 531 frame soaks up a lot of the buzz off the tarmac beautifully. It rides really well and is smooth and solid.
Coming with racks it is obviously set up for touring or day rides and mudguards to stop the muck flying about too much.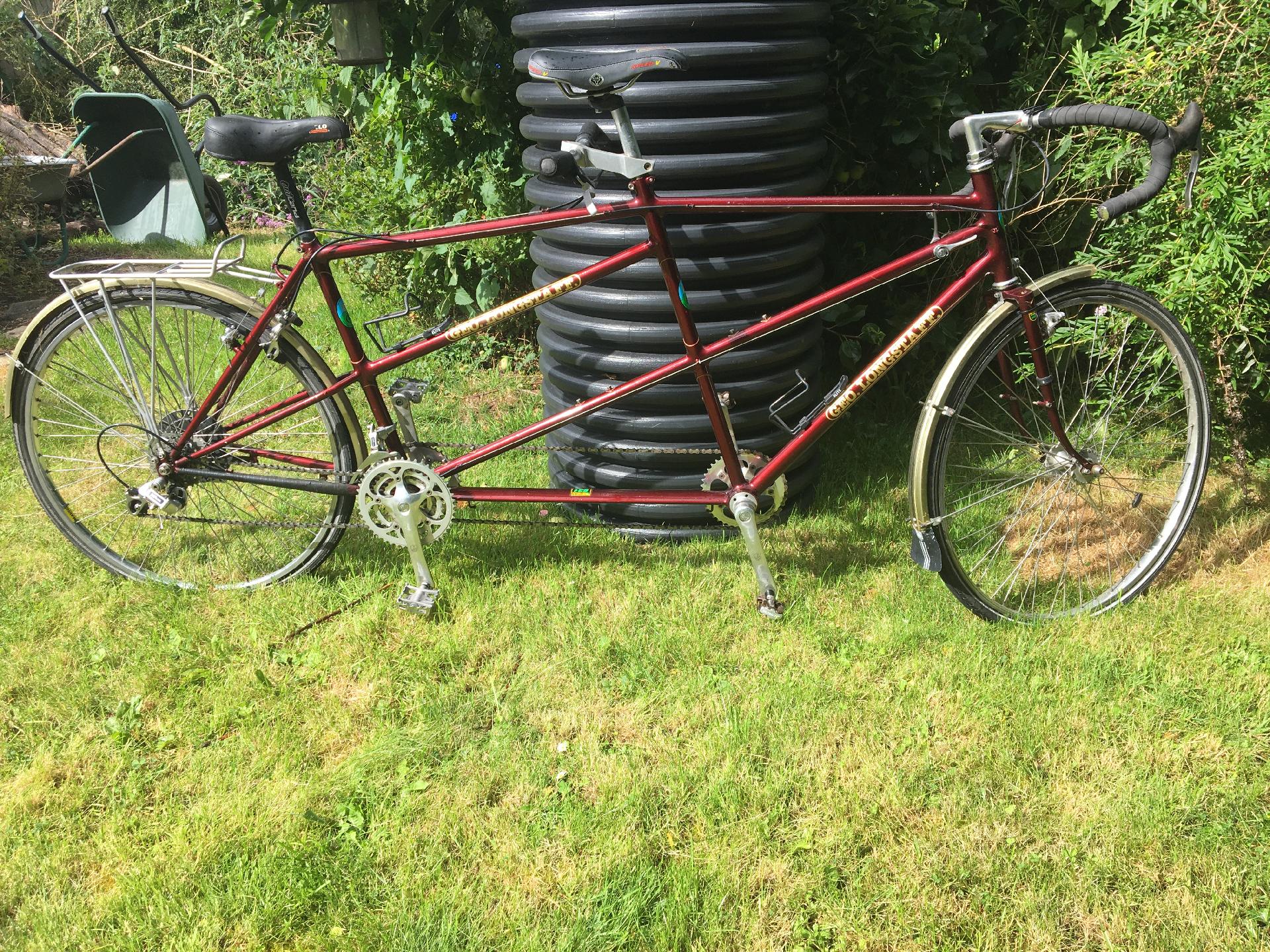 Show all items for sale