For Sale: Hase Pino Steps e-tandem 2018
By: John Beveridge/br>Email: johnbeveridge10@gmail.com/br>Telephone: 07702 447475/br>Location: Nairn, Highland IV12/br>Listing ends on: Friday 12th January 2024/br>Price: £4200/br>
Hase Pino Steps half recumbent power-assist tandem 2018
Original design Hase Pino Steps Europa 11 Speed (topseller version in grey) purchased new May 2018. Shimano Steps electric motor and BM-E-8010 battery. Choice of three power-assist settings: eco, normal and high
Fitted with front and rear lights (powered from battery) and Hase Double Kickstand.
Photo shows the front crankset at closest possible distance to the recumbent seat to suit a petite stoker. Can easily be extended as needed to suit a taller stoker.
The tandem has been regularly maintained with a recent service 28 April 2023, mileage 6087. Our weekly rides over the five years have typically been 20 to 25 miles.
The question we are always asked 'how far can you go without charging he battery?' The answer of course is it depends how much you use it! We typically only add power for going uphill or if battling a stiff headwind.
The Shimano website states that after 1000 charge cycles the battery will charge to 60%. We have usually charged weekly over the five years since new (estimate 250 to 300 charge cycles).
Personal note: this tandem is ace! Her name is Ellie: she's grey, electric and weighs as much as an elephant!
Riders sit close together so conversation is easy and both have fantastic views ahead. Regain your love of cycling and lose your fear of hills with power-assist!
Only selling in order to upgrade to the new Pino Steps telescopic design that can be taken on a train.
We also have a JD Tandems Swing Tandem Carrier, designed by JD Tandems specifically for carrying the Hase Pino on car roof bars. To be listed separately for £80, or free with purchase of our tandem.
Note Brooks saddle not included.
The front chainring is currently converted to a 155mm crankset (to fit petite stoker), this will be swapped back to the original (brand new and never used) 165mm crankset prior to sale.
Stoker pedal toe clips and straps will be removed (unless wanted).
Feel free to get in touch by e-mail, phone or WhatsApp anytime. Collection from Nairn, Highland IV12 Scotland 🏴󠁧󠁢󠁳󠁣󠁴󠁿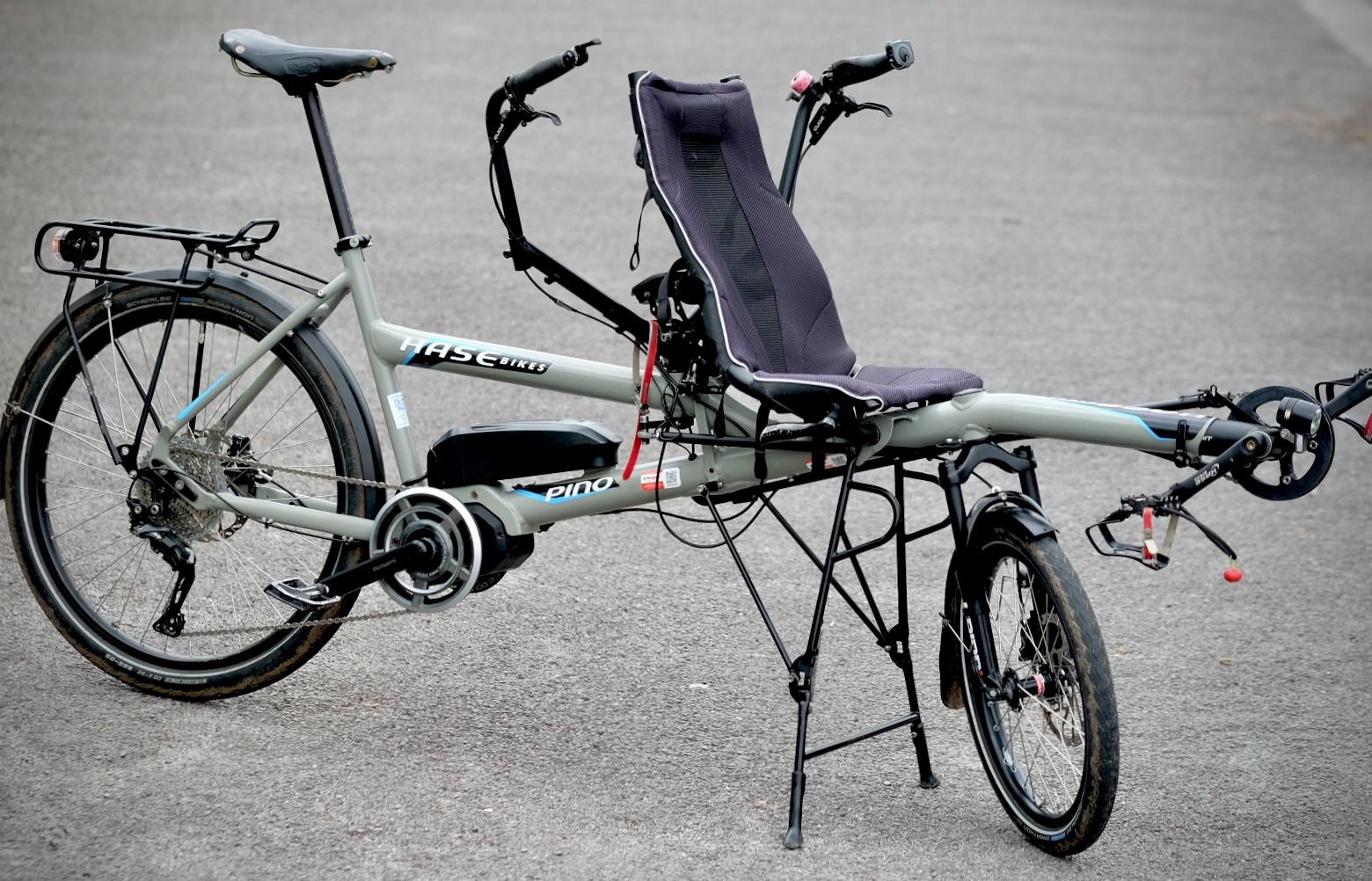 Show all items for sale