New Year 2005 ~ UK National Tandem Rally
Fort Purbrook, Portsmouth, Hampshire, England
Thursday, 30th December - Sunday, 2nd January 2005
New Year at Fort Purbrook, Portsmouth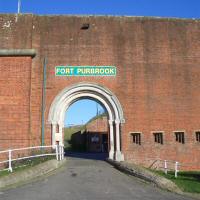 Entrance to Fort Purbrook

View overlooking Portsmouth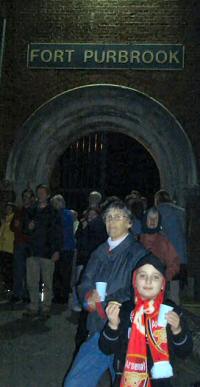 Bucks Fizz and Mince Pies

We arrived at the Fort on Friday afternoon and could see the Fort as we approached. It looked spectacular.

We unlatched large wrought iron gates and drove through an arch into the courtyard to find the majority of tandemists coming back from their rides.

Pam and Dave had prepared a special New Year's Eve meal for 50 people, consisting of 4 courses including wine. The food was superb. The atmosphere was brilliant; we celebrated with party poppers and tooters!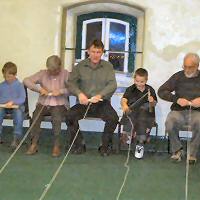 Racing Milk Bottles

After dinner we proceeded to the games room to play musical hats, racing milk bottles, musical islands and musical chairs.

At 11:45 we all proceeded to the front gates where we had a fantastic view overlooking Portsmouth. Pam and Dave had laid on Bucks Fizz and hot Mince Pies for us to enjoy as we celebrated the arrival of the New Year, whilst watching the fireworks from the town below.

The following morning we enjoyed a full English breakfast, which set us up for the day's ride. There was a choice of a long or short ride. As we had Jake (9) we took the short ride to Fort Nelson.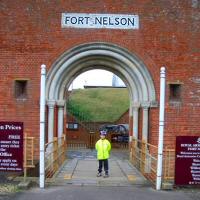 Fort Nelson

At Fort Nelson we met up with many of the other riders. The Fort was very interesting. There were scheduled talks throughout the day and guided tours. Jake loved going through the underground tunnels and looking at the many cannons.

As the wind was very gusty and Jake was on his solo, we decided to head back to Fort Purbrook and made it back just before the heavens opened.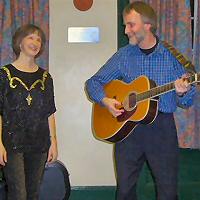 Double Measure
Music & Monologues

Again we had an enjoyable evening meal, which was followed by a duet called Double Measure Music & Monologues.

On Sunday, our last day, we had a leisurely breakfast and then spent some time looking around the grounds of Fort Purbrook, again Jake found underground tunnels which we had fun exploring.

We had a great weekend and our thanks go out to Pam and Dave for all the hard work that made the weekend so enjoyable.


Report and pictures by: Liz, Mark & Jake
---
Looking northwards towards
Fort Purbrook from the sea
Tandem parking within Fort Purbrook


Pictures by: Andy Parsons
---
This page written and maintained by