Tandem 2006 (UK National Tandem Rally)

Edinburgh, Lothian, Scotland

Saturday, 22nd July - Saturday 29th July 2006
Mortonhall Camping Park is a few miles to the South and on the outskirts of the lovely city of Edinburgh. The site was chosen by Lindsay Mackay and Sophie Shaw, the organizers, as it provided a large variety of pitches for camping, motorvans and caravans as well as fixed accommodation in Wigwams and "statics". There was room for a large marquee adjacent to the "tented" area and lots of space for the Tandem Games.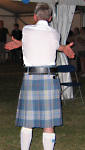 Lindsay

in his kilt




Eighty four bookings were made representing 224 riders, and at the welcoming party on Saturday evening, we all turned out in force to be addressed by the fine figure of Lindsay in his kilt and partake of tasty oatmeal biscuits and cheese washed down by wine and whisky. (Not necessarily in the same glass!) A Scottish Piper added to the sense of occasion.

As always 3 routes of varying distance were provided with detailed directions. The weather was set fair and the attractions of the city and the surrounding area beckoned.



Sunday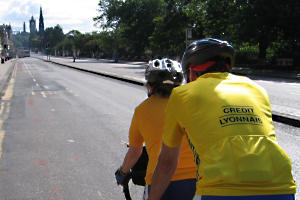 A quiet Princes Street on Sunday morning


As traffic in the city center would be lightest on Sunday, this was the day for the route into the main thoroughfares of Edinburgh and onwards to see the bridges over the Forth. The tourists had an extra treat as they watched our contingent of solos; trailers; tandems and triplets trundle through Princes Street. The old waterside village of Queensferry was charming and a great stop for picnic or a café lunch in the sunshine. The views were grand and the massive bridges dominated the scene. The route homewards followed trails along disused railway lines before passing the busy city airport and suburban roads up hill to the campsite.



Monday

Monday's rides again used the various cycle tracks alongside this time, the Union Canal.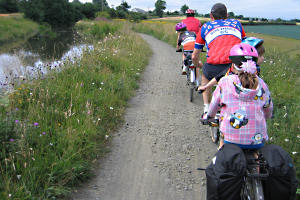 Beside the Union Canal


Although the longest route headed for Falkirk and the famous "Wheel", few got that far in the heat and opted for shorter versions returning via National Cycle Route 75, again along some old railway tracks by the side of the "Waters of Leith". Very picturesque riding in fine weather either alongside the canal or the wooded river on well made paths, but still demanding concentration from the pilot.



The Tandem Games was scheduled for the evening and took the format of "Ye Olde Jousting Event". Long lengths of pipe insulation had been made into "lances", decorated for extra authenticity and carried by the tandem pilot. The stoker carried a tray of cups filled with water. The 2 mounted contestants charged at each other down the track in front of the marquee, attempting to force their opponents to spill their water. This proved very popular for all concerned and raised much debate about who was the champion overall. Needless to say few mentioned (out loud!) the major contest in which the Chairman was bested by his fair lady!

Other activities included the slow tandem race and various contest involving yet more water! Obviously there was no drought order in force in Edinburgh!



Tuesday
Rosslyn Chapel was the objective for most riders on Tuesday, which is a highly decorated and intricately carved place of worship dating back to the 15th Century. Those of us who ventured further on in the heat, climbed into the hills and eventually found cool shade by the side of a reservoir for our picnic on (I think) the nicest ride of the week. Swooping lanes returned us quickly to the city outskirts and the campsite. The Hill Climb event was some distance away and as a result poorly attended.



Hill Climb results: - Wednesday

Wednesday was designated a rest day, and everyone planned their own activities either visiting the surrounding tourist attractions or venturing further afield in their cars. The evening activities brought us all together again for a fun "Concours d'Elegance" and its opposite "Scruffiest Bike" and most decorated bike. The inclusion of solos swelled the entries to a reasonable level and the Bring & Buy sale resulted in the usual parading of useful "junk".



Thursday
The retired Royal Yacht Britannia was the goal for Thursday. The cycle path allowed us to pedal through the city centre following The Waters Of Leith; the Union Canal and some disused railway tracks to Leith. The whole area is seeing massive redevelopment with the building of flats and offices all around the docks overlooking the harbours. Returning along the sea front to Cramond was a pleasant ride without traffic and then back on the tracks through the centre to the campsite.

A Celidh was held in the evening and rallygoers leaped and twirled in the marquee to the traditional strains and tunes of Scottish Country Dances led by a couple of accordions. Great Fun.



Friday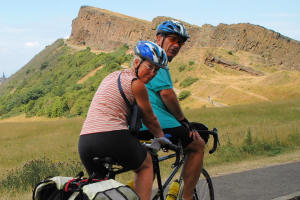 Velocio in the Park


"Velocio in The Park" was the theme for Friday's activities. Holyrood Park was reached again by use of tracks rather than major roads, and was the venue for the usual fun competition. The list of questions led us through the park and up and around Arthur's Seat returning to the Palace and the new Scottish Parliament building. The evening was the Barbecue and farewell get together. Again the weather was good and a great mass picnic was a success.



Report by: Richard Whiteley

Photos by: Neville Frost



Click here for more pictures

Click here for pictures from the Tandem Games



Click here for an American's View of the rally from Sheila Hoffman