Tandem 2003 ~ UK National Tandem Rally, Great Longstone, Derbyshire, England
18th Aug 2003 - 24th Aug 2003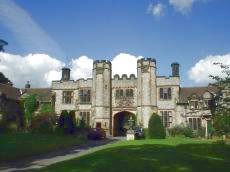 Thornbridge Hall
The Venue
The 2003 Tandem Club National Rally was based at Thornbridge Outdoor Centre in Great Longstone, Derbyshire in the Derbyshire dales. Once the estate of nearby Thornbridge Hall, it has 55 acres of grounds, giving space for our camping and caravan requirements. The site has two accommodation buildings providing beds for 61 people, mostly in twin and four bed rooms. Each building has kitchen facilities, toilets, showers, and washrooms. For those using their own tents and caravans there were site facility buildings providing showers, toilets and cooking facilities. In addition a marquee was erected in the grounds and used as a meeting place.



The Monsal Trail runs adjacent to the site and it was possible to cycle to Bakewell, some 3 miles distant, without going on a road.




Gathering in the Marquee on the first evening





The Event



From Monday through to Sunday (except for Friday) three routes were available varying in length from 25 miles (or less) to 70 miles, thus providing something for everyone. Due to the number of hills, rather more people than usual seemed to take part in the shortest rides and claimed, at the end of the day, that they felt as though they had taken place in rides of much greater distance.



The routes, constructed by local members, were designed to visit all the places of historic, cultural, and scenic interest in the area. The short, medium, and long rides all shared the outgoing and homecoming stages so there was plenty of opportunity to meet other cyclists "en route". We departed from the campsite when we pleased and cycled at our own pace.



This location offered rides to some of the most stunning countryside in England, and the opportunity to visit sites of great cultural, historical, and industrial interest. Bakewell is a fascinating and very busy, touristy place and nearby Haddon Hall and Chatsworth House were definitely worth visiting. It was also easily possible to get well away from the crowds at these places and enjoy the magnificence of the hills and countryside.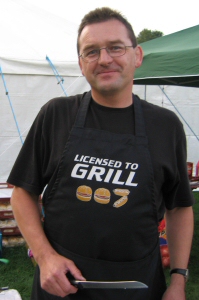 Licensed Griller at the Barbecue
click here for more pictures.