Discussions
Discussion of anything related to Tandems. Opinions expressed on this discussion board are those of the contributors and not necessarily those of the Tandem Club. Postings or extracts may be published in the Tandem Club Journal.
To add a response or post a new message you need to have an account and be logged in. You can get emails sent to you by enabling the Send Forum Emails tick box in your user preferences. Note you need to login to the website to add replies. See our help information
here
for more information.
You can add to this discussion topic using the entry box at the bottom of this page, when logged in.
Login
Tandem on LNER Azuma trains
Chris Lee
2020-08-01 08:58:53
For anyone who might be interested we just about managed to cram our tandem in to one of the bike bays on an LNER Azuma train (Durham to Edinburgh).
Their website explicitly says tandems up to 2.5m can be stored with wheels removed. So we removed wheels and rammed it in as per photo, not particularly elegant but they did let us travel
As we've come to expect, default response at the station was 'well you won't be traveling with that' we showed the ticket inspector a print out of the website Bicycle policy and he said he had no problem but the train manager would probably refuse, the train manager wasn't at our end of the train when we put the bike on so no problems.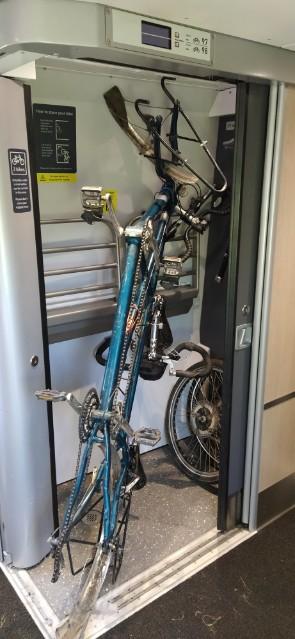 Martyn Aldis
2020-08-03 10:54:47
Very helpful Chris. I've been hoping someone would report an actual loading since the new policy for Azuma was posted by LNER (as shown and linked in our Tandems on trains page).
Did you use a strap to hold the front up? We used an Arno strap when we loaded our Thorn into the mock up carriage in winter 2014. The LNER policy appears to be a direct result from the report on that trial so the cold ride up there from Didcot parkway has been well rewarded.