Discussions
Discussion of anything related to Tandems. Opinions expressed on this discussion board are those of the contributors and not necessarily those of the Tandem Club. Postings or extracts may be published in the Tandem Club Journal.
To add a response or post a new message you need to have an account and be logged in. You can get emails sent to you by enabling the Send Forum Emails tick box in your user preferences. Note you need to login to the website to add replies. See our help information
here
for more information.
You can add to this discussion topic using the entry box at the bottom of this page, when logged in.
Login
Please help identify our vintage touring tandem
Llewellyn thomas
2020-05-13 11:34:55
Hi everyone!
New user here, and relatively new tandem rider! Me and my fiance bought a gorgeous vintage tandem a couple of years ago and have both fallen in love with it. I'm in the process of restoring it visually to how it once was, and I'd love to get hold of the original decal set for whatever brand it is.
It has really nice lugwork and some quite high-end components, but the frame was resprayed and all badges removed long before we bought it. The only identification I can find is the serial number on the bottom bracket which is 2652.
From what I can tell I think it's circa 1970's, and looks very similar to a Gitane, Peugeot for cinelli track frame from that time period. However, there are a few distinct differences from both of those. The first being the forks - they're much sleeker and are curved from the top down rather than having a square top. The double downtube is also different. It doesn't have a support brace until quite far down toward the back end of the bike. Finally, the bottom tube which connects the bottom brackets is very wide and shallow, eliptical in shape rather than round. I haven't seen this on any other tandems so far.
List of components:
Cinelli handlebars x 2
Laprade seatposts x 2
Weinmann alloy 2313 27 x 1 1/4 front wheel (Probably original)
Weinmann alloy 591 rear wheel 700c wide (probably not original)
Shimano cantilevers front and rear
campagnolo front derailleur
shimano 600 rear derailleur (probably not original)
Stronglight cranks and chainsets throughout
Gipiemme sprint pedals
Serial number 2652
I'd really love to identify this so I can get it looking as it should! Please help!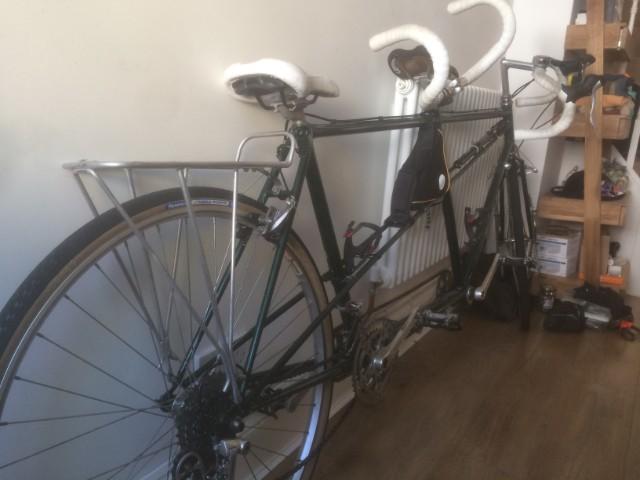 Llewellyn thomas
2020-05-13 11:57:46
Mark Elmy
2020-05-13 13:05:59
Looks like an Orbit tandem from early - mid 80s

Check underside of stokers bottom brachet for serial number
I think the format is yymmnn
yy - year
mm - month
nn - number produced that month
Llewellyn thomas
2020-05-13 13:42:30
Hey Mark, thanks for your reply.
The only numbers on the stokers bottom bracket are 2652. I did have a look at the Orbits, but couldn't find one which matched. The seller of this said he thought it had been built in the UK as a custom build, but I don't think he really knew.