For Sale:
By: Graham Joyce/br>Email: graham.joyce1@btinternet.com/br>Telephone: 07713242345/br>Listing ends on: Wednesday 28th August 2019/br>Price: £99/br>
V
intage 1930s Saxon Twin tube frame and forks- ultra rare.
I have owned this frame since 1978 (original receipt included) and had it re-enamelled (white) in 1979. The frame and forks are in good condition but the rear stay was repaired at some time in the past. Also one of the clamps on the front bottom bracket was repaired. The tandem was raced at Meadowbank track in Edinburgh and would have been very quick due to to it's very short wheelbase, with the rear wheel sitting under the stoker between the twin seat tubes.
The frame size is 21''/21'' and comes with the front eccentric unit, rear bottom bracket, seatpin/stoker stem and original headset and original transfers.
Frame number is 01518 (on rear dropout)
The buyer will have the option to buy a pair of 27" Dunlop steel wheels, built on Airlight tandem hubs (rear fixed/freewheel) with tandem guage spokes and a set of unused Mafac cantilever brakes which fit this frame , if interested.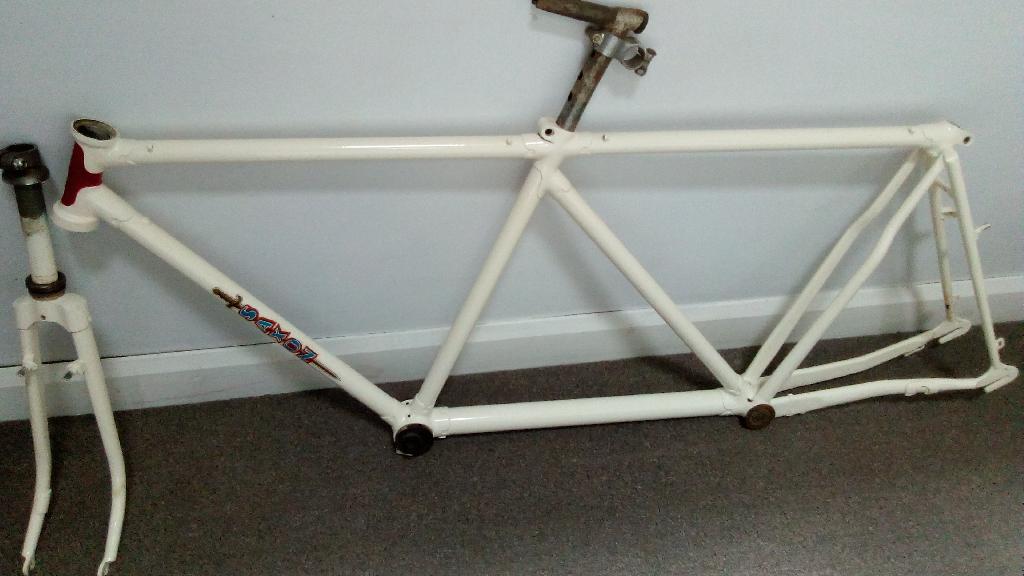 Show all items for sale