For Sale: Dawes Super Galaxy 531
By: Lauren Anne/br>Email: laurenannereeves@hotmail.com/br>Telephone: 07515775105/br>Location: Dorking/br>Listing ends on: Thursday 13th August 2020/br>Price: £1500/br>
Dawes Super Galaxy Tandem 531.

The time has come for us to reluctantly sell our beloved Dawes Super Galaxy 531 tandem. This bike has been lovingly refurbished and treated with the utmost mechanical care.

You will notice that both saddles are brand new Brooks specialist leather seats (£100 per saddle). Brooks are intended to mould to your shape to provide the most comfortable ride.

The brand new bar tape was chosen to match the Brooks saddles and creates an attractive contrast with the gun met grey frame.

The frame is in excellent condition with no nicks or scratche, including brand new chrome seat posts and handle bar stem. Our beloved bike has never been ridden in winter and is always kept indoors.

Caliper breaks as well as a rear drum break ensure that you are in complete control of the tandem. Both breaks and gears are meticulously cleaned and serviced to ensure a smooth ride.

In addition, the tandem comes complete with 32mm tyres encased in protective mudguards, and front and rear panier racks.

We are very aware that this will be a significant purchase and therefore encourage you to ask questions, request further details and photos as you wish. Please call to discuss your thoughts.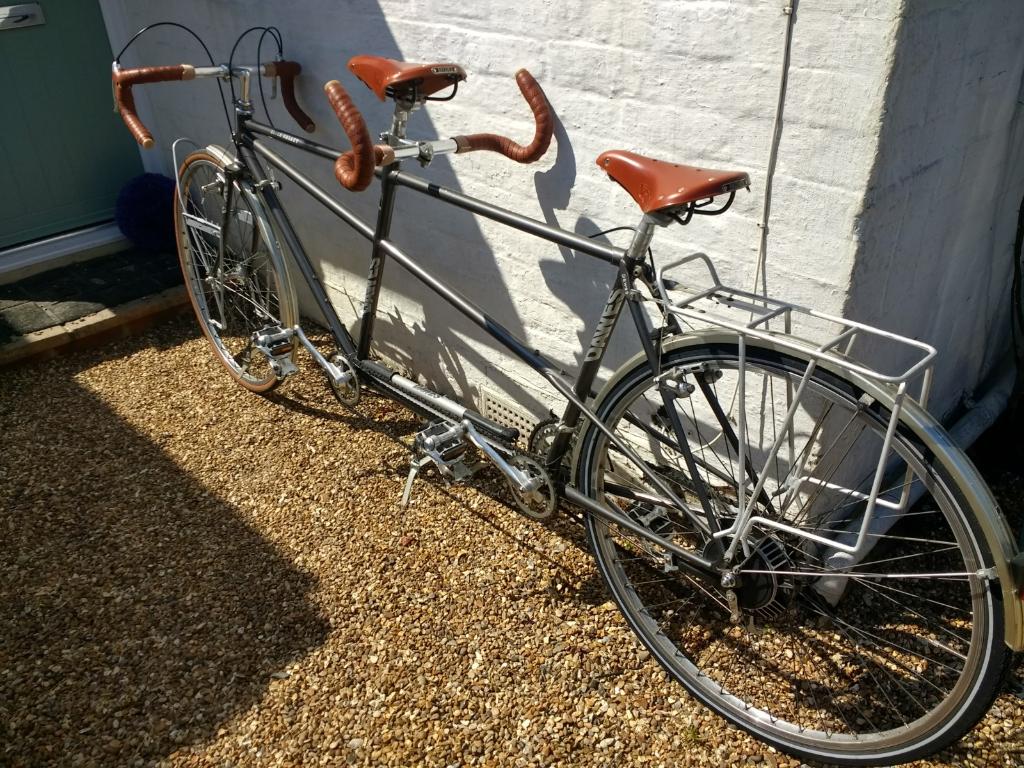 Show all items for sale