For Sale: Longstaff Tandem plus roof carrier
By: Mr Dennis Joyner/br>Email: denjoyner@hotmail.com/br>Telephone: 01785851662/br>Location: Eccleshall, Staffs/br>Listing ends on: Saturday 6th June 2020/br>Price: £500/br>
Due to excessive birthdays, we can no longer do our beloved custom built Longstaff Tandem justice and are thinking of selling and purchasing an electric assisted tandem. This will depend upon receiving an offer that we consider to be suitable. The price states £500 but we consider that as an absolute minimum.
It was measured and built in 1999 by our friend, the Late George Longstaff himself. It has been regularly serviced and maintained by Longstaff Cycles until their recent sad closure.
As stated, it was custom built for:
Captain: 5 feet 9 inches, inside leg 32 inches
Stoker: 5 feet 4 inches, inside leg 29 inches
The roof carrier is an old merit design so that the tandem lifts easy and sits flat on the roof bars. The outside distance of the roof bars (front to back) is vital and currently set for 82 cms.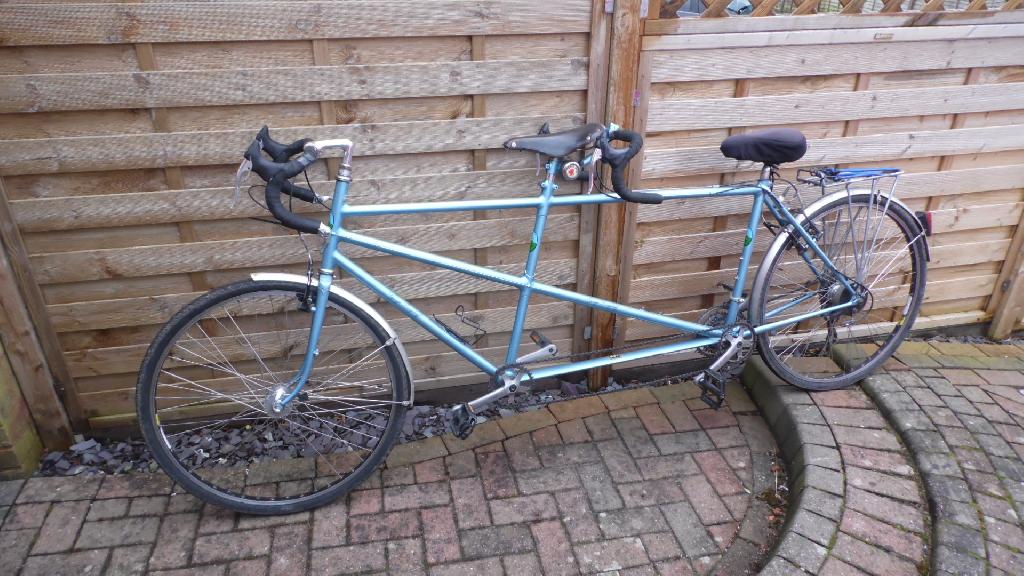 Show all items for sale